"Destination ARTS!" activities continue in Waynesboro with special events and live music scheduled at Gallery 50, Gallery 20 East and 42 West ARTS Co-Op. The Ceramic Arts Center of Waynesboro and The Contemporary School of the Arts & Gallery will also have art and pottery for sale and art classes available.
Marjorie Tressler returns to Gallery 50 at 1:00 on Thursday afternoon to demonstrate the "Old Masters" painting technique.
"Wine Down Friday" receptions, featuring live music, wine and light refreshments, are scheduled from 5:00 to 8:00 p.m. at Gallery 50, Gallery 20 East, 42 West ARTS Co-Op and The Ceramic Arts Center of Waynesboro. All musical performances set for inside of the galleries will begin at 5:30.
In January, "The Dressing Gown," an oil painting created by Brad Clever, was chosen to represent the Arts Alliance of Greater Waynesboro in the "Inaugural Exhibit of the Pennsylvania Arts" at the State Museum of Pennsylvania in Harrisburg. Now, Clever's work is returning to town as part of a new show dedicated to his artistry inside of Gallery 50.
Starting on Friday, the west window of the gallery will be devoted to celebrating Gallery 50 and the entire "Destination ARTS!" initiative. The east window will feature a spring and summer theme, complete with floral paintings, photographs and sculptures created by Lesa Cook.
The artwork of faculty members from the Schuler School of Fine Arts will remain on display for another month.
Music for Gallery 50's special "Opening Night" reception will be provided by the Hagerstown-based acoustic duo of David Foutch and Bill Sinclair, who will perform a mix of original Americana and blues music including cover songs spanning six decades.
Patric Schlee will again be using flute, drums and guitar to make music at 42 West ARTS Co-Op's reception.
Two demonstrations are scheduled at 42 West ARTS on Saturday afternoon. Jennifer Caldwell, who specializes in sterling silver jewelry, will be fabricating a love knot bracelet beginning at 1:00. She says she developed a passion for working with metal at an early age, when she would bend horseshoe nails and pound silver dimes in an effort to create rings for her family members and friends.
Also at 1:00, Donna Bingaman will show an audience how she uses oil paint to depict people and pets. Starting on Saturday, April 4, Bingaman will offer a three-week series of painting classes at 42 West ARTS from 1:00 to 4:00 p.m. Anyone interested in participating is asked to call 717-762-8394.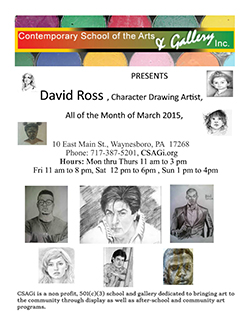 The character drawings of David Ross remain on display at The Contemporary School of the Arts & Gallery throughout the month of March and on Saturday, an artist reception is planned in his honor between the hours of 2:00 and 4:00 p.m.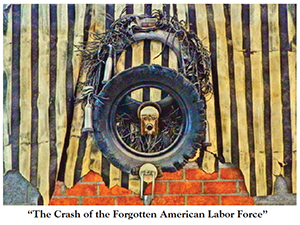 David Gibney's exhibit known as "The Crash of the Forgotten American Work Force" has been extended until the end of June.
Gallery 50 will be the place to be for poetry on Sunday afternoon. Kathleen Renninger, Eliane Ambrose, Becky Dietrich and Joseph Weagley have all either published books or contributed material to magazines in the area. They invite art enthusiasts to come hear them read excerpts of their work from 2:00 to 4:00 p.m.
During the same block of time, Andrew Sussman and Tom McFarland will be playing a variety of blues tunes and standards at Gallery 20 East.
These performances are supported in part by the Pennsylvania Council on the Arts, a state agency funded by the Commonwealth of Pennsylvania and the National Endowment for the Arts, a federal agency.
The Contemporary School of the Arts & Gallery Class Schedule
Student Art Classes
Easter Art Classes – Elementary School Students
– March 21 & 28, 2015 – Limited space so sign up now! ronlytle3@netzero.net or  717 -387 -5201
"Destination ARTS!" currently features six galleries –
Gallery 50 (50 West Main Street)
Gallery 20 East (20 East Main Street)
42 West ARTS (42 West Main Street)
The Ceramic Arts Center of Waynesboro (13 South Church Street)
The Contemporary School of the Arts & Gallery (10 East Main Street)
Together, the galleries feature oil paintings, watercolors, pottery, fiber arts, sculpture, photographs, furniture, prints and much more. They are open each week as follows:
Thursdays from 1:00 to 4:00 ( Gallery 50 and 42 West ARTS Co-Op only)
Fridays from 5:00 to 8:00 p.m.
Saturdays from 12:00 to 6:00 p.m.
Sundays from 1:00 to 4:00 p.m.
For more information, visit artsalliancegw.org.