December Book Club-no meeting this month
December 8, 2019 @ 1:30 pm

-

3:00 pm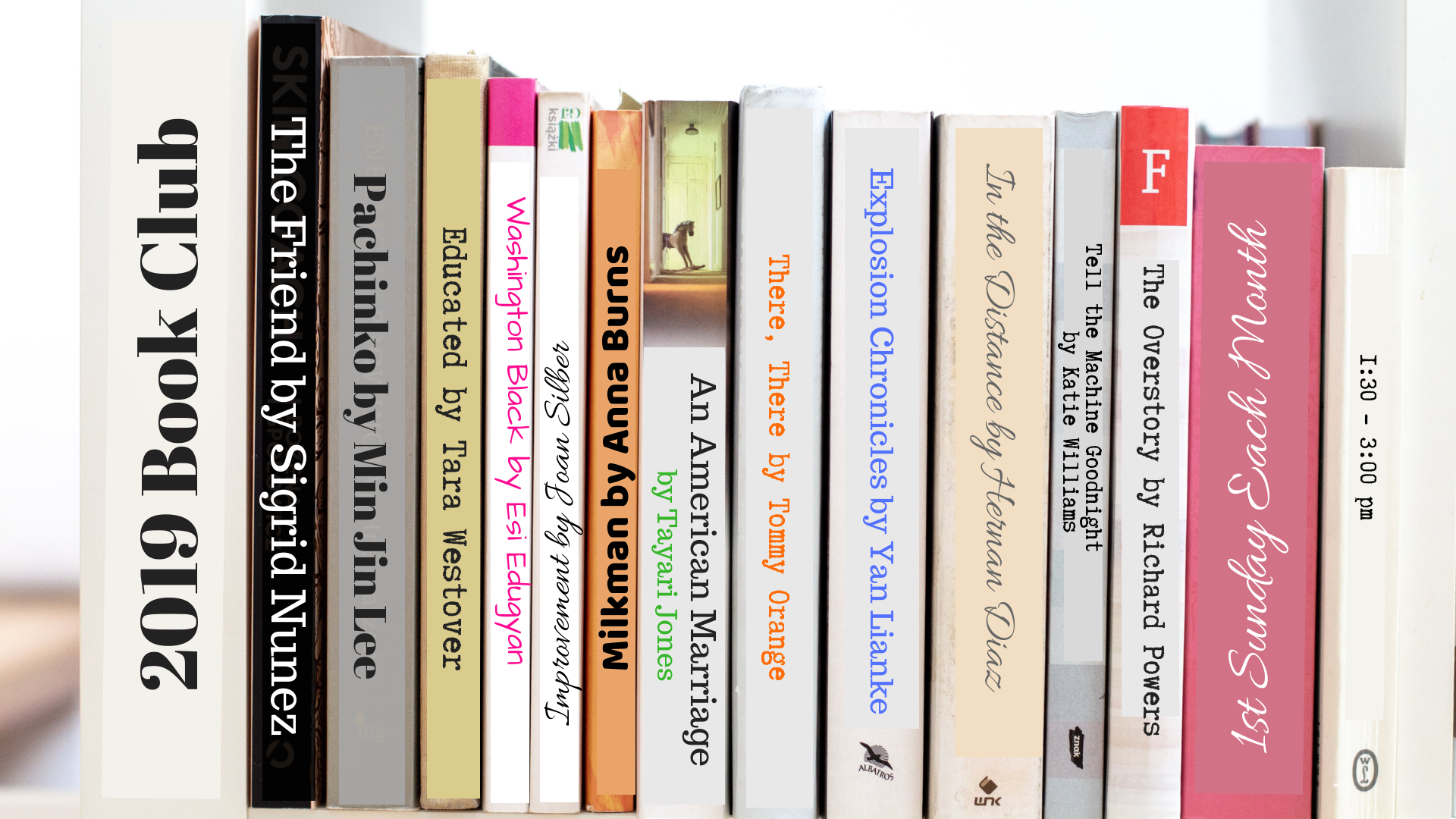 No regular meeting in December.
The first 2020 meeting is set: On January 5, join us as we discuss The Overstory, by Richard Powers.
Excerpt from The Washington Post review:
"The Overstory" moves the way an open field evolves into a thick forest: slowly, then inevitably. For a while, its various stories develop independently, and it's not apparent that they have anything to do with one another. But have faith in this worldmaker. Powers is working through tree history, not human history, and the effect is like a time-lapse video. Soon enough his disparate characters set out branches that touch and mingle: Before the Civil War, a Norwegian immigrant travels to Iowa and begins homesteading in the largely empty new state. Just after World War II, a young man sails from Shanghai to San Francisco. In the late 1970s, an odd kid from a troubled family gets accepted to college. And a sergeant in the Vietnam War barely escapes death when a 300-year-old banyan catches his body falling from a cargo plane. "He owes his own life to a tree," Powers writes.
Full Review at: https://www.washingtonpost.com/entertainment/books/the-most-exciting-novel-about-trees-youll-ever-read/2018/04/03/bb388a4e-3686-11e8-8fd2-49fe3c675a89_story.html?utm_term=.4ba7f9b47061
Inclement Weather Policy
The Arts Alliance of Greater Waynesboro (AAGW) recognizes the fact that inclement weather can affect the organizations's ability to be open for business, hold events, and the employees' and volunteers' abilities to get to and attend events. The safety of the AAGW's employees and volunteers is paramount to the organization. If any of the following events occur, Gallery 50, Music Makers, and all events associated with the AAGW are considered cancelled for that day:
(1) The governor declares a weather emergency and asks people to stay off the roads
(2) Waynesboro Area School District cancels school or after-school activities due to inclement weather
(3) Penn State Mont Alto cancels evening classes.
The AAGW will make every attempt to update social media to reflect the cancellation by 3pm for any evening events and by 8:30am for any morning events, but any notification stating one of the (3) events listed above has occurred should be considered notification of the cancellation.