July Book Club: The Testaments, by Margaret Atwood
July 5, 2020 @ 1:30 pm

-

3:00 pm

Free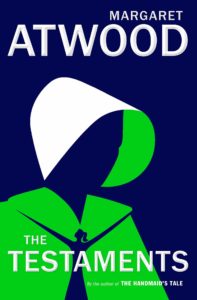 The book club meets every "First Sunday" throughout the year from 1:30 to 3 p.m. in the Music Makers space at 46 West Main Street, Waynesboro, Pa.
This month, join us for a discussion of The Testaments, by Margaret Atwood.
Excerpt from The London Review of Books about The Testaments:
"…the sequel, The Testaments, published 34 years after The Handmaid's Tale. In between, Atwood has created ever more voguish sci-fi dystopias – she prefers the term 'speculative fiction' – chock-full of viral pandemics, antibiotic resistance, mass flooding and forest fires, crop failure, mass extinction. No current anxiety is left behind. Governments become subservient to wicked multinationals; every other child has autism; coastal cities disappear one by one. In these novels, the status of women is no longer in dispute, just in time for the world to end, in a surfeit of ways, including starvation as a result of overpopulation. "
Inclement Weather Policy
The Arts Alliance of Greater Waynesboro (AAGW) recognizes the fact that inclement weather can affect the organizations's ability to be open for business, hold events, and the employees' and volunteers' abilities to get to and attend events. The safety of the AAGW's employees and volunteers is paramount to the organization. If any of the following events occur, Gallery 50, Music Makers, and all events associated with the AAGW are considered cancelled for that day:
(1) The governor declares a weather emergency and asks people to stay off the roads
(2) Waynesboro Area School District cancels school or after-school activities due to inclement weather
(3) Penn State Mont Alto cancels evening classes.
The AAGW will make every attempt to update social media to reflect the cancellation by 3pm for any evening events and by 8:30am for any morning events, but any notification stating one of the (3) events listed above has occurred should be considered notification of the cancellation.