Live Music FRIDAYS! with Frank -n- Bob
June 7 @ 5:30 pm

-

8:00 pm

Free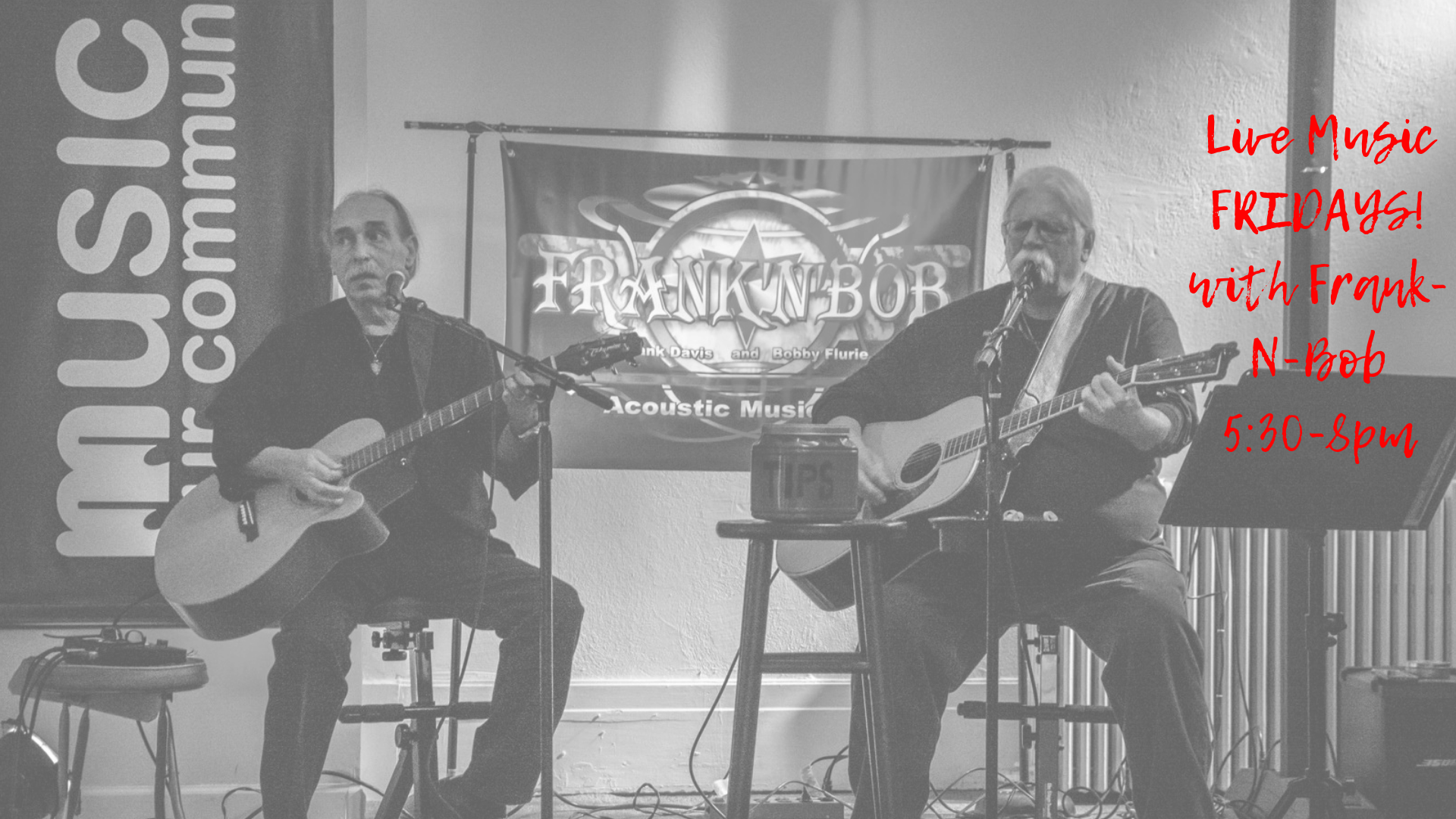 FRANK ͚n͛ BOB are an acoustic duo, known for stretching the boundaries of what an acoustic guitar can do. Often characterized as ͞Piedmont blues highlighted with San Francisco improv͟, the genre is fingerstyle guitar (or finger picking) accented by soaring overlays. It's all rock and roll, but one can hear anything from Ella Fitzgerald to Chet Atkins, ragtime to psychedelia, or blues to ballads at one of their performances. The skill and passion these gentlemen have for music is evident by the energy level at the venue as their show unfolds. Listeners frequently comment about the high energy level and the good feeling vibe everyone has at a FRANK ͚n͛ BOB event.You can expect a wide variety of music including Little Feat, Bob Dylan, J.J. Cale, Eric Clapton, Rev. Gary Davis, Warren Zevon, Tom Waits, Jimi Hendrix, Santana, Neil Young, Stephen Stills, Hot Tuna, Grateful Dead, The Allman Brothers….and that͛s just the first set.
Inclement Weather Policy
The Arts Alliance of Greater Waynesboro (AAGW) recognizes the fact that inclement weather can affect the organizations's ability to be open for business, hold events, and the employees' and volunteers' abilities to get to and attend events. The safety of the AAGW's employees and volunteers is paramount to the organization. If any of the following events occur, Gallery 50, Music Makers, and all events associated with the AAGW are considered cancelled for that day:
(1) The governor declares a weather emergency and asks people to stay off the roads
(2) Waynesboro Area School District cancels school or after-school activities due to inclement weather
(3) Penn State Mont Alto cancels evening classes.
The AAGW will make every attempt to update social media to reflect the cancellation by 3pm for any evening events and by 8:30am for any morning events, but any notification stating one of the (3) events listed above has occurred should be considered notification of the cancellation.