Live Music FRIDAYS! with Nick Andrew Staver
December 14, 2018 @ 5:30 pm

-

8:00 pm

Free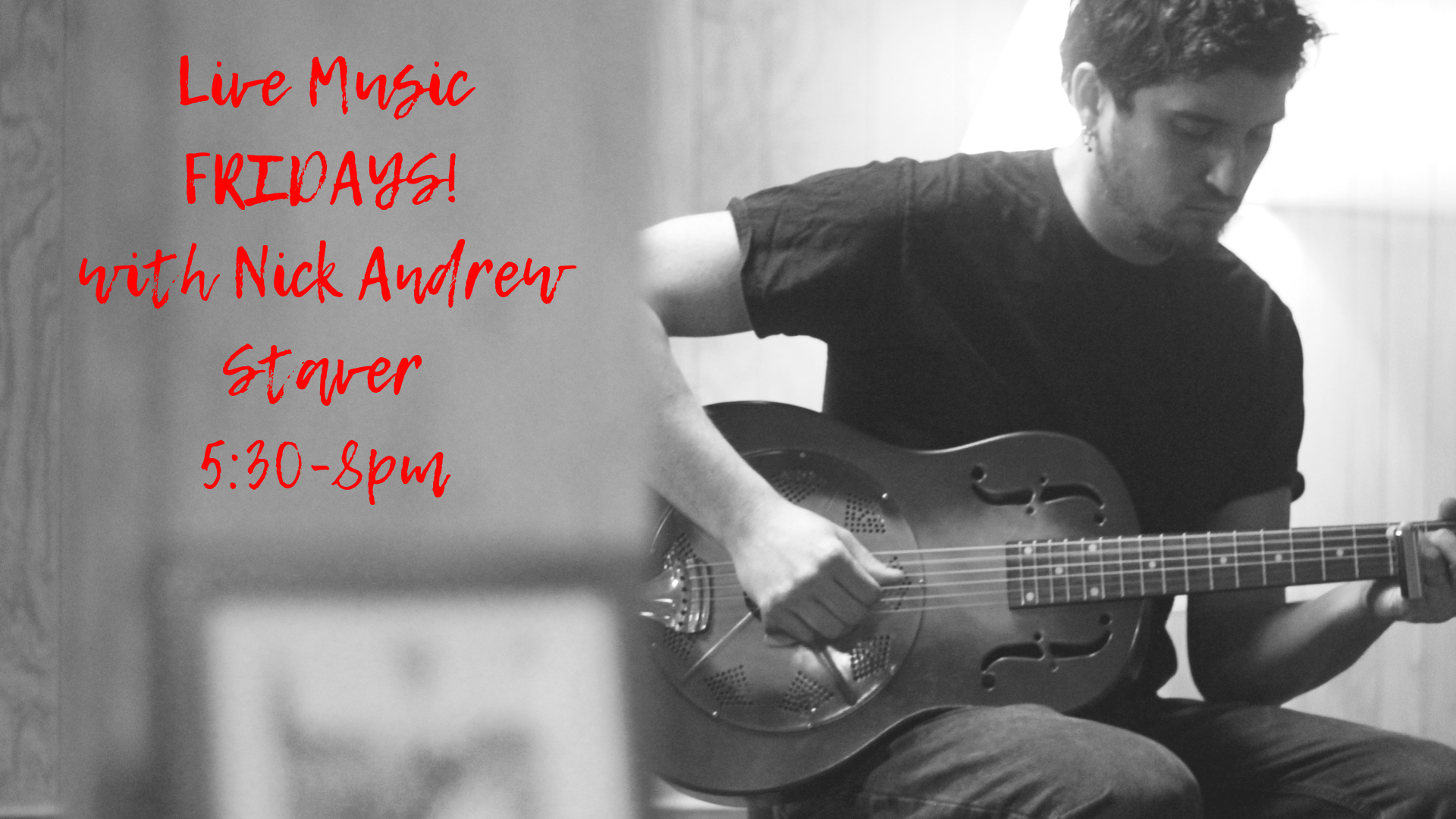 Nick Andrew Staver is an award-winning singer-songwriter who brings a new voice to the blues. Each song defines its own character inside the autobiographical music, and each performance is an intimate opportunity to capture a desired dose of rhythm and blues mixed into modern songwriting storylines. Learn from those who inspire you Nick Andrew Staver is bringing a new voice to the blues. With the grit of a blue collar worker and a persuasive baritone of a lovers quarrel and reconciliation, each song pulls back the curtain to a behind the scenes look at his personal story. Combined with sharp improv skills and award winning songwriting his music lays the blues on the line and never hesitates to step over the line, melding tradition and taking the blues in his own hands. Based in south central Pennsylvania, the surrounding hills and the roads that lead out of town have become a second home. Comfortably found in the local venues or hundreds of miles away, Nick uses each experience to add to his budding musical knowledge, experience and maturity. Gathering a respect to the music that has come before him, Nick has spent most of his musical career performing and learning on the fly. From small corner bars to large auditoriums, he has gained the experience and knowledge of a professional musician while maintaining the mindset to never get ahead of himself."The musical journey is important to me and making sure I pour myself truthfully and humbly into my music is as well, but it's also important not to forget to enjoy the moment and have fun with all that I do. I get to play music everyday for all sorts of listeners… that's the best part of this gig." – NAS Nick Andrew Staver invites you listen to his perception of the blues and how deep the connection between life and music can go. Always reflecting off his past and paying respects to his idols, both past and present, his music moves within him and resonates with his audiences. Each performance is an intimate opportunity to capture a desired dose of Rhythm & Blues mixed into modern songwriting story lines.
Inclement Weather Policy
The Arts Alliance of Greater Waynesboro (AAGW) recognizes the fact that inclement weather can affect the organizations's ability to be open for business, hold events, and the employees' and volunteers' abilities to get to and attend events. The safety of the AAGW's employees and volunteers is paramount to the organization. If any of the following events occur, Gallery 50, Music Makers, and all events associated with the AAGW are considered cancelled for that day:
(1) The governor declares a weather emergency and asks people to stay off the roads
(2) Waynesboro Area School District cancels school or after-school activities due to inclement weather
(3) Penn State Mont Alto cancels evening classes.
The AAGW will make every attempt to update social media to reflect the cancellation by 3pm for any evening events and by 8:30am for any morning events, but any notification stating one of the (3) events listed above has occurred should be considered notification of the cancellation.