Live Music FRIDAYS! with Prophets of the Abstract Truth
May 17, 2019 @ 5:30 pm

-

8:00 pm

Free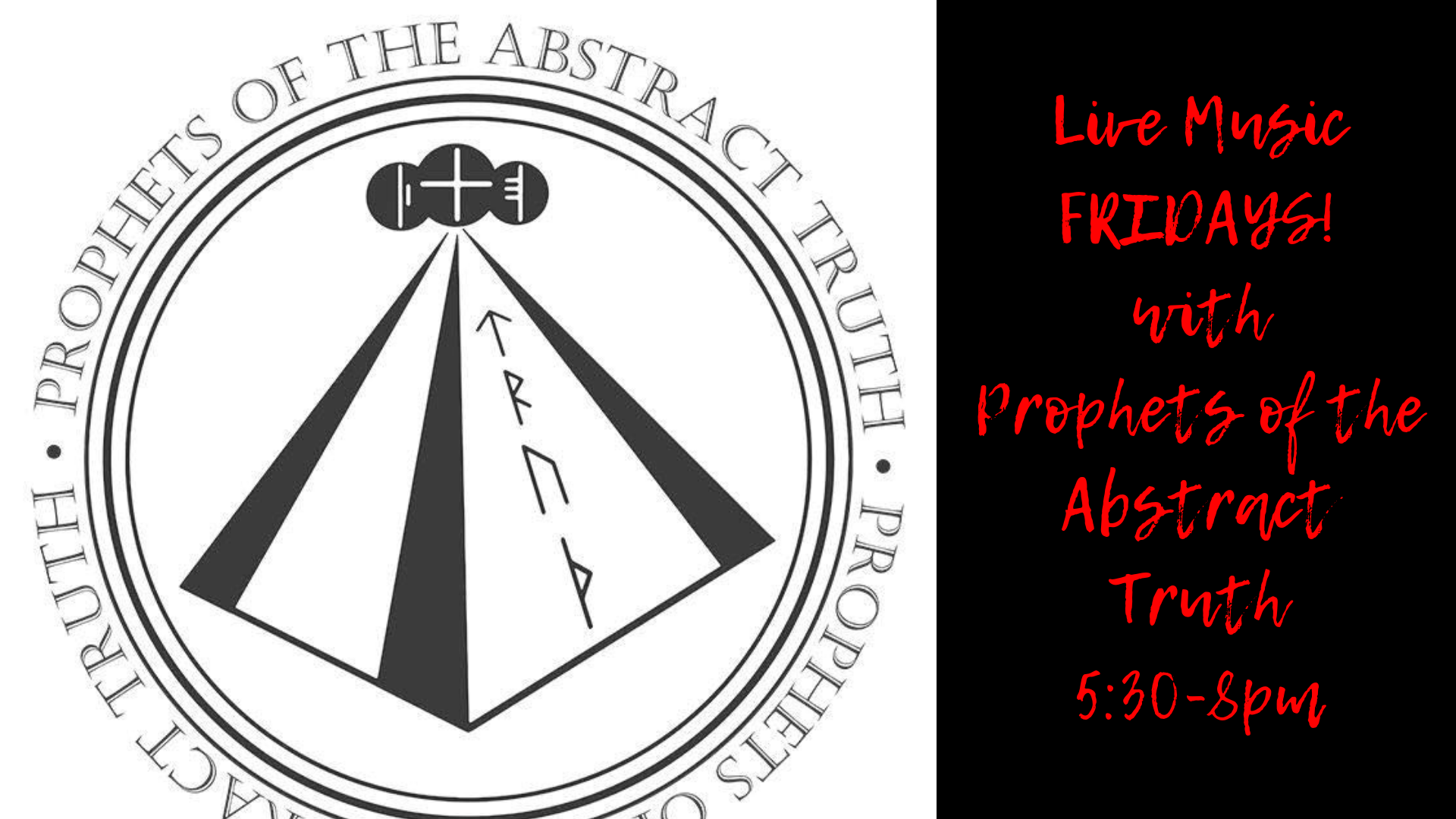 In music, players find a kind of truth that spoken language cannot articulate. Prophets of the Abstract Truth find that truth by conjuring a mystical blend of blues, bossa nova and Latin-tinged modern jazz standards, as well as jazzy covers of Grateful Dead, Allman Brothers and even Beatles. Join Carl Disque, Arnie Helmick and Bob Courter as they transport across musical genres in a single bound and provide unique interpretations and spirited arrangements from a broad cross-section of the musical spectrum. Whenever assembled, Prophets of the Abstract Truth combine sax, guitar, vocals, hand percussion and a variety of basses — especially Arnie's unusual Electric Upright Bass – in a way you've never before experienced. Tasteful uses of delays and electronic effects, especially on sax and bass, enrich each song's texture and acoustic footprint to sometimes achieve a dreamlike dimensionality. Groovy groovin'. If you enjoy hearing our music performances on Friday nights, please consider making a $5 donation to help us continue to offer the program. Music Makers is owned and operated by The Arts Alliance of Greater Waynesboro, a 501(c)3 nonprofit that relies on donations to help us keep art in the heart of our communities!
Inclement Weather Policy
The Arts Alliance of Greater Waynesboro (AAGW) recognizes the fact that inclement weather can affect the organizations's ability to be open for business, hold events, and the employees' and volunteers' abilities to get to and attend events. The safety of the AAGW's employees and volunteers is paramount to the organization. If any of the following events occur, Gallery 50, Music Makers, and all events associated with the AAGW are considered cancelled for that day:
(1) The governor declares a weather emergency and asks people to stay off the roads
(2) Waynesboro Area School District cancels school or after-school activities due to inclement weather
(3) Penn State Mont Alto cancels evening classes.
The AAGW will make every attempt to update social media to reflect the cancellation by 3pm for any evening events and by 8:30am for any morning events, but any notification stating one of the (3) events listed above has occurred should be considered notification of the cancellation.