The Second Shepherds' Play
December 22, 2018 @ 7:00 pm

-

8:00 pm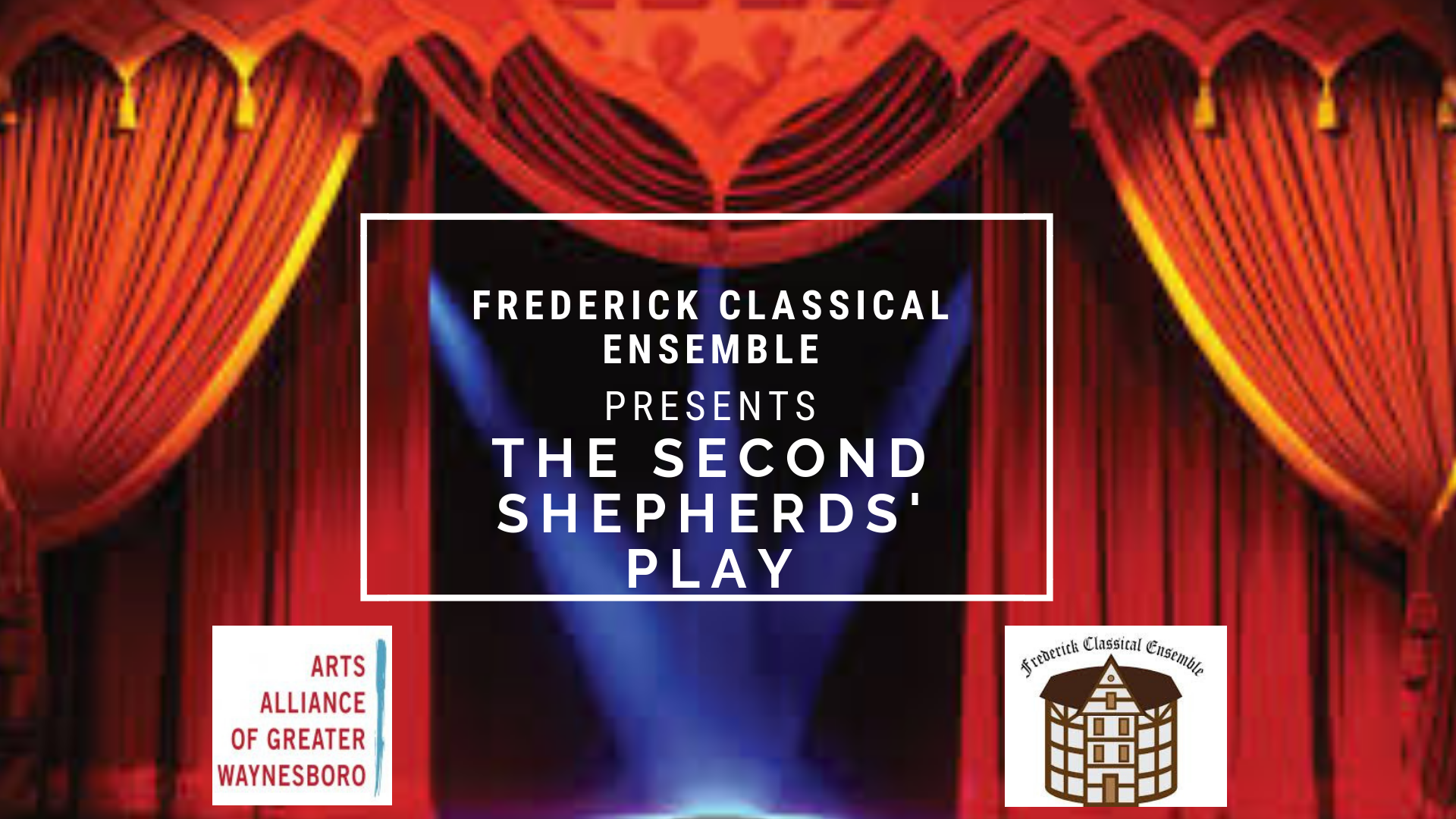 FREDERICK CLASSICAL ENSEMBLE (FCE) is proud to announce the holiday production of its 2018/19 season, The Second Shepherds' Play, adapted for modern audiences by Reiner Prochaska. The 2017 original production was directed by Jesse Marciniak.
This comedy with a Christmas message is sure to delight audiences of all ages with the hilarious antics of its quirky characters, as well as its Christmas songs. Be prepared to join a sing-along at the end of the play.
On Christmas Eve, three shepherds—Coll, Gyb, and Daw—are herding their flock on their organic sheep farm commune when Mak, who has a reputation for stealing sheep, visits them.
Mak succeeds in filching a ram, which he swiftly delivers to his wife, Gill, who is furious with Mak for exposing both of them to the risk of legal consequences. To protect their secret—and their Christmas dinner—Gill and Mak wrap the sheep in swaddling clothes and hide it in their cradle.
As the three shepherds solve the crime and retrieve their material possession, they learn an important spiritual lesson—right before they witness the miracle of Christmas first-hand.
The ensemble cast (in alphabetical order) includes:
Tatiana Bradshaw—Gill
Gloria Damaska—Mary/Angel
David Johnson—Daw (Third Shepherd)
Maverick McKee—Mak/Angel
Reiner Prochaska—Gyb (Second Shepherd)
Matt Provance—Coll (First Shepherd)
Join Us at:
Faith United Methodist Church
104 N. Potomac Street, Waynesboro, PA 17268
Saturday, December 22, 2018 at 7pm
Sunday, December 23, 2018 at 7pm
$10 Tickets (Adults)/$5 Tickets (Children aged 12, and younger) available at the door ($5 of which will benefit the Arts Alliance of Greater Waynesboro)
Inclement Weather Policy
The Arts Alliance of Greater Waynesboro (AAGW) recognizes the fact that inclement weather can affect the organizations's ability to be open for business, hold events, and the employees' and volunteers' abilities to get to and attend events. The safety of the AAGW's employees and volunteers is paramount to the organization. If any of the following events occur, Gallery 50, Music Makers, and all events associated with the AAGW are considered cancelled for that day:
(1) The governor declares a weather emergency and asks people to stay off the roads
(2) Waynesboro Area School District cancels school or after-school activities due to inclement weather
(3) Penn State Mont Alto cancels evening classes.
The AAGW will make every attempt to update social media to reflect the cancellation by 3pm for any evening events and by 8:30am for any morning events, but any notification stating one of the (3) events listed above has occurred should be considered notification of the cancellation.