Ginny Gill sees music "as a way to express and share feelings and moods." She took some time to give us insight into her songwriting process, music influences, and more!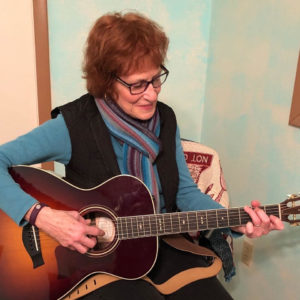 Instrument: Guitar
How would you describe your music?
Folk, Americana, Country, and Celtic/Irish
Please walk us through your songwriting process.
I hear tunes and lyrics in my head, or, at least, lyrics/poems with a particular beat. I record what I am hearing and go from there. I often wrote poetry as a kid, and though I taught math for 30+ years, that part has never left me. Seems a natural progression to link words with music.
Who are your biggest music influences?
John Denver, James Taylor, Bob Dylan, Bonnie Raitt, and Peter, Paul & Mary
What is your favorite song to perform? Why?
My "Beer" song. It's an original about traveling around Ireland, with a catchy tune. Listeners usually sing along with the chorus. I enjoy audience participation. Just plain fun!
As a musician, what challenges have you faced during the COVID-19 shutdown?
I am retired from teaching so this has not been as hard on me as my musician friends for whom performing is their main source of income. I find I am writing more songs, but I am performing them for just my husband and cats.
Anything else you would like to add?
Performing at Music Makers is a dream because it has such an engaged listening audience.
Contact Ginny Gill at ggill.4kit@comcast.net