"Destination ARTS!" activities continue in Waynesboro with special events and live music scheduled at Gallery 50 and 42 West ARTS Co-Op. The Ceramic Arts Center of Waynesboro and The Contemporary School of the Arts & Gallery will also have art and pottery for sale and art classes available. Gallery 20 East re-opens with a new exhibit featuring art work from students at Waynesboro Senior High School.
Marjorie Tressler, a graduate of Baltimore's Schuler School of Fine Arts, continues to discuss how techniques used by the "Old Masters" such as Rembrandt can be applied to modern-day creations in her weekly demonstration beginning at 1:00 p.m. on Thursday inside of Gallery 50.
On Thursday afternoon, Donna Bingaman, a graduate the Washington School of Art will be demonstrating painting oil portraits.  Donna's demonstration begins at 1:00 on Thursday in 42 West ARTS.
"Wine Down Friday" receptions, featuring live music, wine and light refreshments, are scheduled from 5:00 to 8:00 p.m. at Gallery 50, 42 West ARTS Co-Op and The Ceramic Arts Center of Waynesboro. All musical performances are set for inside of the galleries beginning at 5:30.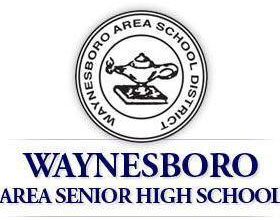 As an added treat on Friday, April 10 there will be a special reception at Gallery 20 East to celebrate the opening of the Waynesboro Senior High School student art exhibit from 5:00 to 8:00 p.m.  Light refreshments will be served and music will be provided by members of the Waynesboro Area School District Music Faculty and friends, including Chris Ritter, Linda Kriner, Kelly Leitzel, Patrick McNamee, Colleen Glenn, and others to be announced.

Steve Warner and the Rolling Coyotes will provide the music for "Wine Down Friday" at Gallery 50 this week.  Hailing from West Virginia, the Rolling Coyotes' music is of the classic Acoustic Folk & Americana genre.

Music at the 42 West ARTS Co-Op, will be Patric Schlee's flute and drums on Friday evening as guests view a large variety of paintings, photographs, jewelry, furniture and other items created by talented local artists.

Denny Bingaman will be at 42 West ARTS from 1:00 to 3:00 on Saturday afternoon to demonstrate Clay-Bas Relief working on a clay African landscape.  Denny is also known for his photography and has been photographing wildlife for 30 years.
Continuing this weekend, the work of acrylic animal painter, Darla Sirk, will be on display at The Contemporary School of the Arts& Gallery. High school students are invited to participate in acrylic animal painting classes at the gallery between the hours of 11:00 a.m. and 1:00 p.m. on Saturdays throughout the month.  The work of David Gibney remains on display depicting 3-D art works through the end of May.

The Ceramic Arts Center of Waynesboro brings together area potters of all skill levels and ages with classes, pottery sales, and 24/7 member access.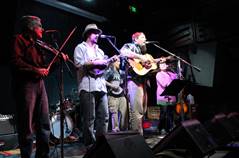 Sunday in Gallery 20 East will feature the opening of a new exhibit featuring the art of Waynesboro Area Senior High School students.  Music will feature the Waynesboro debut of "Mountain Ride", a Pennsylvania bluegrass band featuring both progressive and traditional facets.  The band is composed of Eric Avey (guitar and vocals), Drew Jones (mandolin and vocals), Scott Matlock (fiddle and vocals), Corey Woodcock (banjo), and Kate Avey (bass and vocals), and they will hold forth from 2:00 – 4:00 pm.
Musical performances at the galleries are supported in part by the Pennsylvania Council on the Arts, a state agency funded by the Commonwealth of Pennsylvania and the National Endowment for the Arts, a federal agency.
"Destination ARTS!" currently features five galleries –
Gallery 50 (50 West Main Street)
Gallery 20 East (20 East Main Street)
42 West ARTS (42 West Main Street)
The Ceramic Arts Center of Waynesboro (13 South Church Street)
The Contemporary School of the Arts & Gallery (10 East Main Street)
Together, the galleries feature oil paintings, watercolors, pottery, fiber arts, sculpture, photographs, furniture, prints and much more. They are open each week as follows:
Thursdays from 1:00 to 4:00 ( Gallery 50 and 42 West ARTS Co-Op only)
Fridays from 5:00 to 8:00 p.m.
Saturdays from 12:00 to 6:00 p.m.
Sundays from 1:00 to 4:00 p.m.

For more information, visit artsalliancegw.org.