"Destination ARTS!" activities continue in Waynesboro with special events and live music scheduled at Gallery 50 and 42 West ARTS Co-Op. The Ceramic Arts Center of Waynesboro and The Contemporary School of the Arts & Gallery will also have art and pottery for sale and art classes available. Gallery 20 East will continue with an exhibit of art work from students at Waynesboro Senior High School as well as a display spotlighting local photographers.
On Thursday afternoon, Donna Bingaman will conduct a demonstration of oil portrait painting in the 42 West ARTS Co-Op.  Ms. Bingaman's demonstration begins at 1:00 on Thursday, April 17. Donna is a graduate of the Washington School of Art.

Also on Thursday afternoon, Marjorie Tressler, continues to discuss techniques used by the "Old Masters." Her demonstration begin at 1:00 p.m. at Gallery 50.  Marjorie is a graduate of Baltimore's Schuler School of Fine Arts.
"Wine Down Friday" receptions, featuring live music, wine, and light refreshments, are scheduled from 5:00 to 8:00 p.m. at Gallery 50, 42 West ARTS Co-Op and The Ceramic Arts Center of Waynesboro. Continuing with the celebration of the WASHS Art Exhibit, several students will be providing musical entertainment at Gallery 20 East.  All musical performances set for inside of the galleries will begin at 5:30 pm.
An additional event is being held in Gallery 50 this week as a special reception is being held in honor of local Chambersburg artist Brad Clever.  Destination ARTS! submitted several pieces of art to be judged for acceptance in a special art show at the State Museum in Harrisburg for the inauguration of Governor Tom Wolfe.  Mr. Clever's painting "The Dressing Gown" was one of only 55 included in this show, which included work of iconic Pennsylvania artists such as Andy Warhol and Andrew Wyeth.  Gallery 50 is pleased to have "The Dressing Gown" and several other pieces of Brad's work on display.  Mr. Clever will be in the Gallery from 5:00 until 8:00 p.m. to discuss his experience and paintings.

Local musician Brad Munn will provide the music for "Wine Down Friday" and the Brad Clever reception at Gallery 50.  Brad's musical style blue grass and classic country.
With the WAHS Art Exhibition in Gallery 20, it is very fitting to have students present the musical entertainment as well. Two Juniors, Jarrett Rolls and Logan Spears, have been enjoying music together for six years. Both participate in the high school choir and jazz band. Both sing and play guitar, drums, piano, and bass. Their style is jazz, blues, folk and soft rock, both covers and original pieces. They will perform Friday evening from 5:30 p.m. to 8:00 p.m

Music at the 42 West ARTS Co-Op, will be Patric Schlee's flute and drums on Friday evening as guests view a large variety of paintings, photographs, jewelry, furniture and other items created by talented local artists.

Barb Peshkin will be demonstrating making leather bound journals and painting frakturs on Saturday April 18  from 1:00 to 3:00 p.m. at the 42 West Arts Co-op.
Special demonstrations will be conducted on Saturday, April 18 in conjunction with the Waynesboro Area High School Student Art Show.  From 1:00 to 2:30 p.m. a graphic art /photography demonstration will take place at Gallery 20 East.  Chris Lowery, graphic artist, and Gary Johnson, photographer, will demonstrate a variety of techniques using cameras, computers and software.  Other area photographers may also be available to discuss their methods of creating art work from photography.  These workshops are free and open to the public.
New this weekend, Destination ARTS! will present the trio Mountain Air at Schier's Furniture Lifestyles, 37 West Main St. from 3:00 to 5:00 on Saturday, April 18.  Featuring Bobbi Smith (guitar and vocals), Bob Murphy (upright bass), and Lisa Donohoe (mandolin and vocals), their musical style is acoustic Contemporary Folk and Pop Country.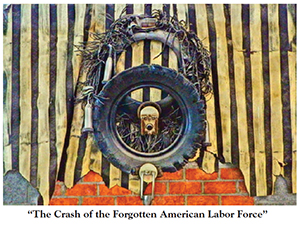 At the Contemporary School of the Arts and Gallery David Gibney's 3 dimensional art remains on display through the end of May.  Darla Sirk's work with acrylics is on display at The Contemporary School as well.  Darla specializes in acrylic painting of animals.  High school students are encouraged to participate in acrylic animal painting classes at the gallery between the hours of 11:00 a.m. and 1:00 p.m. on Saturdays throughout the month of April. CSAGI web site->
The Ceramic Arts Center of Waynesboro will be conducting a pottery demonstration beginning at 3:00 on Saturday.  This demonstration is also in conjunction with the High School show and will be open to the public as well.  The Ceramic Arts Center of Waynesboro brings together area potters of all skill levels and ages with classes, pottery sales, and 24/7 member access.
Musical performances at the galleries are supported in part by the Pennsylvania Council on the Arts, a state agency funded by the Commonwealth of Pennsylvania and the National Endowment for the Arts, a federal agency.
"Destination ARTS!" currently features five galleries –
Gallery 50 (50 West Main Street)
Gallery 20 East (20 East Main Street)
42 West ARTS (42 West Main Street)
The Ceramic Arts Center of Waynesboro (13 South Church Street)
The Contemporary School of the Arts & Gallery (10 East Main Street)
Together, the galleries feature oil paintings, watercolors, pottery, fiber arts, sculpture, photographs, furniture, prints and much more. They are open each week as follows:
Thursdays from 1:00 to 4:00 ( Gallery 50 and 42 West ARTS Co-Op only)
Fridays from 5:00 to 8:00 p.m.
Saturdays from 12:00 to 6:00 p.m.
Sundays from 1:00 to 4:00 p.m.

For more information, visit artsalliancegw.org.