"Destination ARTS!" activities continue in Waynesboro with special events and live music scheduled at Gallery 50, Gallery 20 East, and 42 West ARTS Co-Op. The Ceramic Arts Center of Waynesboro and The Contemporary School of the Arts & Gallery will also have art and pottery for sale and art classes available.
Marjorie Tressler Gallery 50's curator and gallery director will continue her portrait demonstrations on Thursday, from 2:00 to 4:00 p.m.  Marjorie is a portrait artist and teacher, having taught at the Washington County Museum of Fine Arts and currently at the Mansion House Arts Center.  Over the last 30 years she has had several solo shows including the Washington County Museum and the Washington County Arts Council and the Schuler School of Fine Arts where she studied art for 8 years.  Gallery 50 is located at 50 West Main Street.
Gallery 50 is featuring two very talented women Artists, Katrina Hoopes and Donna Mitchell with a combined show called "2 Women, 2 Points of View".  A special reception is scheduled for Friday, July 10.  The artists have very different styles and applications for their work for a very interesting contrast for this show.  Katrina Hoopes, an impressionist oil painter, uses bold strokes in both large and small formats.  Donna Mitchell, a traditional realist, works in pastel using brilliant colors and interesting subjects in her compositions.  Both women are accomplished in their own mediums.
Katrina is a self-taught artist who works in oils, pencil and colored pencil.  Her work has been chosen "Best in Show" in many local shows including the Washington County Arts Council, and 4 times in the local Waynesboro Studio Arts Club.  She has also participated several times in the prestigious Cumberland Valley Salon at the Washington County Museum of Fine Arts.
Donna Mitchell comes from a more traditional classic art educational background having studied extensively with renowned portrait artist Karl Foster.  Donna is a member / instructor at The Art Center School and Galleries in Mechanicsburg, PA.  Donna is also a member of the Portrait Society of America and several other art institutions.  She has exhibited both solo and juried shows at the Washington County Museum of Fine Arts as well as in Alabama, Maryland, Pennsylvania, Virginia, West Virginia, and Wisconsin.
"Wine Down Friday" receptions, featuring live music, wine and light refreshments, are scheduled on Friday from 5:00 to 8:00 p.m. at four of the galleries.

– Friday, June 26, 5:30 – 8 p.m. at Gallery 50 the duo of Nicola Sussman (vocals and ukulele) and Gloria Showalter (vocals) will present an eclectic program of contemporary folk songs and standards.  The gallery is located at 50 West Main Street.

The artists at 42 West Arts Co-Op currently has an all members show titled "Cats" continuing through August. The show has "Cats" in various art forms including Donna Bingaman paintings, Denny Bingaman photography and cold cast bronzes, Jenifer Codwell jewelry, Laura Shindle paintings, Ed Beard wood burnings, Andy Smetzer photography, Pat Beard fiber art and other artists work from the Co-Op.

Gallery 20 East at 20 East Main Street continues to celebrate "Vivid Abstractions" – Paintings and Mixed Media.  The show features the works of Linda Slattery Sherman and Marion Griffin.  The show will run through July 28 and has a number of vibrant paintings in a variety of sizes.
Friday, June 26, in Gallery 20 East, from 5:30 – 8:00 p.m., Gerald Kowallis (vocals) accompanied by pianist Brenda Slick will be performing.  Jerry will be singing a group of original songs he has written set to the poetry of Robert North, local poet and master tinsmith, called "Songs of a Tinsmith".  He will also be singing three songs for which he wrote both music and lyrics.  "Just a Little Laughter", a song about the need for joy and laughter in our lives: "Mary Ponders", in which the mother of Jesus sings a lullaby and wonders what lies ahead for the child she bore: and "Longing", a love song about a hoped for mutual love yet to be.  Kowallis' extensive performance experience includes roles at Pittsburgh Civic Light Opera, Allenberry Playhouse, Trinity Players, and Mercersburg Area Community Chorus.  He is the former longtime choral director at the Waynesboro Area Senior High School.

A show of photography work by Ryan Haylett continues through June 30 at The Contemporary School of the Arts and Gallery.  The school is located at 10 East Main Street.

The Ceramic Arts Center of Waynesboro at 13 South Church Street is a guild of artists working in clay.  The Center hosts pottery classes and workshops including an introduction to Pottery Class, a Teen Wheel Throwing Class, a monthly Children's Class, and 2 hour Corks and Clay Workshops specializing in creating hand built projects.  The Ceramic Arts Center brings together area potters of all skill levels and ages with classes, pottery sales, and 24/7 member access.
Ed Beard will be demonstrating wood burning feathers and eagles on Saturday, June 27 from 1:00 – 3:00 p.m. at the 42 West Arts Co-Op.  Ed is an educator/artist and has been a woodworker for 50 years.  He is a member of the Pennsylvania Guild of Craftsman – Cumberland Valley Chapter, the Lincoln Highway Heritage group and a member of Woodsmith's advisory board.  "I enjoy working with wood species native to Pennsylvania to create functional art showing the natural grain and finish of the wood." Ed enjoys teaching kids and resides near Greencastle, PA with wife Pat, a handweaver.
Denny Bingaman will be demonstrating sculpting in clay "The African Elephant" on Saturday June 27 from 1:00 – 3:00 p.m. at the 42 West Arts Co-Op.  Denny is a native of Waynesboro, PA, who photographs birds and wildlife in the local area as well as other parts of the country.  He also works with clay, making sculptures of wildlife using his photographs as reference.  The clay works are used to render rubber molds for casting cold cast bronze, copper, etc. After casting a patina is applied, finished off with steel wool and waxed.
Patric Schlee Demonstrates How to Play the Didgeridoo
42 West Arts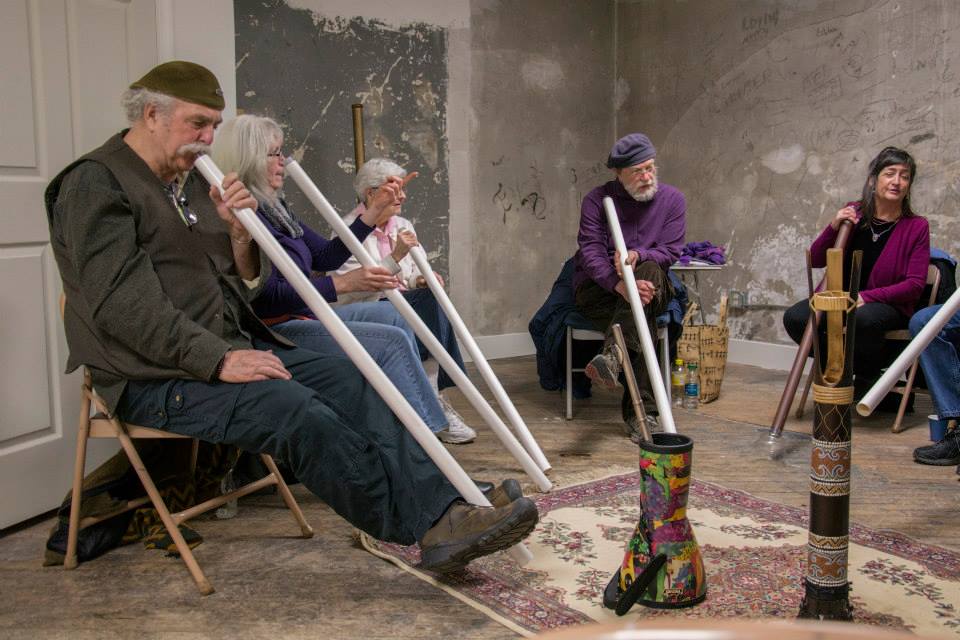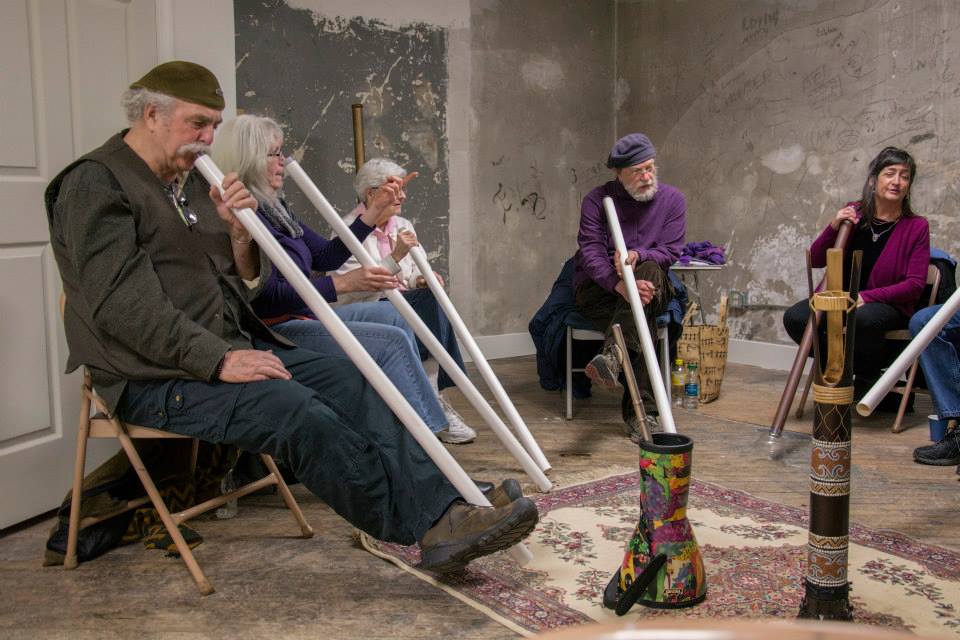 Patric will demonstrate how to play the didgeridoo using circular breathing on Saturday, July 25th.    The Didgeridoo is a wind instrument developed by Indigenous Australians of northern Australia around 1500 years ago and is still in widespread use today both in Australia and around the world.  It is sometimes described as a natural wooden trumpet or "done pipe"
A native of Baltimore, Schlee lived on remote West Virginia mountain land until he moved to South Mountain 25 years ago.   He has spent many years fine-tuning his wind chime, flute, and chime harp designs.
He appeared at many fine art and craft shows selling and displaying his unique crafts.

Waynesboro Children's Theatre Troupe will present "Show Tunes" with music from popular stage shows on Saturday, June 27, from 2:00 – 4:00 p.m., Center Square (rain site, Gallery 20 East).  Since 1995, WCTT has provided opportunities for children's drama experiences through the production of classics like The Wizard of OZ, Cinderella, Oliver, and South Pacific.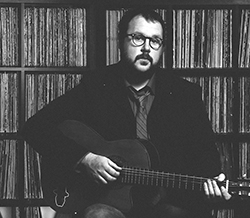 Waylon K. Smith of the Positronic Cats will make a solo appearance at Schier's Furniture Lifestyles, 37 West Main St. on Saturday, June 27, from 2:30 to 5:00 p.m.  Waylon will be performing original songs as well as covers of several rock and folk songs.  Champagne and Zoe's Chocolates will be served.  Sponsored by Schier's Furniture.

On Sunday, June 28, from 2:00 to 4:00 p. m. Gallery 20 East (Weather permitting the performance may be moved to Center Square). "Island Fusion" featuring Jody and Nancy Messich will present their exciting combination of musical styles which includes Jimmy Buffet hits, rock standards, and traditional island tunes performed on a real steel drum.  Bring your dancing shoes!
Musical performances are supported in part by the Pennsylvania Council on the Arts, a state agency funded by the Commonwealth of Pennsylvania and the National Endowment for the Arts, a federal agency.
"Destination ARTS!" currently features five galleries –
Gallery 50 (50 West Main Street)
Gallery 20 East (20 East Main Street)
42 West ARTS (42 West Main Street)
The Ceramic Arts Center of Waynesboro (13 South Church Street)
The Contemporary School of the Arts & Gallery (10 East Main Street)
Together, the galleries feature oil paintings, watercolors, pottery, fiber arts, sculpture, photographs, furniture, prints and much more. They are open each week as follows:
Thursdays from 1:00 to 4:00 ( Gallery 50 and 42 West ARTS Co-Op only)
Fridays from 5:00 to 8:00 p.m.
Saturdays from 12:00 to 6:00 p.m.
Sundays from 1:00 to 4:00 p.m.

For more information, visit artsalliancegw.org.