Destination ARTS! activities continue in Waynesboro, PA with art exhibits, special events, and live music scheduled at Gallery 50, Gallery 20 East, 42 West ARTS Co-Op, the Ceramic Arts Center of Waynesboro, the Contemporary School of the Arts & Gallery , and outside in Waynesboro's Center Square.  All performances and events are free unless otherwise indicated.
Thursday, August 6

Marjorie Tressler, Gallery 50 curator/director, is starting a new demo series this Thursday from 1:00 to 4:00 pm, painting a landscape in oil.  Marjorie studied eight years with master landscape artist David Buckley Good at the Schuler School of Fine Arts, as well as with Ron Riddick of Tucson AZ, Denise Burns of Catalina Island, CA, and Lester Jay Stone locally.
Donna Bingaman will be demonstrating  portraits and floral oil painting from 1:00 pm to 3:00 pm, Thursday at 42 West Arts Co-Op.  Donna is a native of Waynesboro, PA.  She specializes in painting oil portraits, still life, genre and sculptures.  A graduate of the Washington School of Art, she has studied with several regionally and nationally known portrait and oil painting artists.

Ed Beard will be demonstrating Wood Burning Techniques at 42 West Arts Co-Op from 1:00 pm to 3:00 pm Thursday.  Beard has been an educator/artist and woodworker for 50 years. A graduate of St Johns College and University of Florida, he is a member of the Pennsylvania Guild of Craftsmen – Cumberland Valley Chapter, the Lincoln Highway Heritage group and the Woodsmith's advisory board.
Friday, August 7

Wine Down Friday activities and receptions are also planned at Gallery 50 (50 W. Main St.), 42 West ARTS Co-Op (42 W. Main St.), and the Ceramic Arts Center of Waynesboro (13 S. Church St.) between 5:00 and 8:00 pm..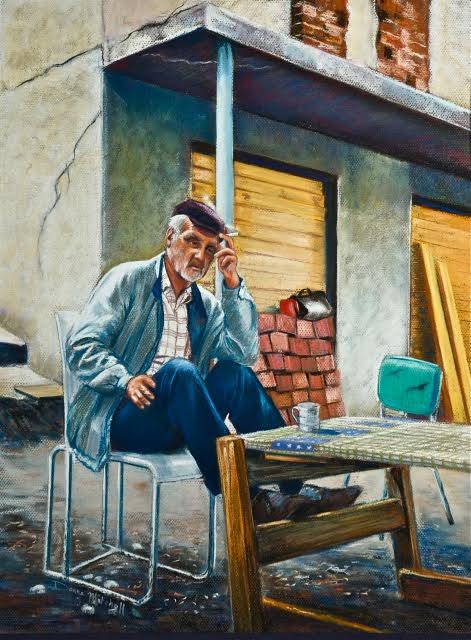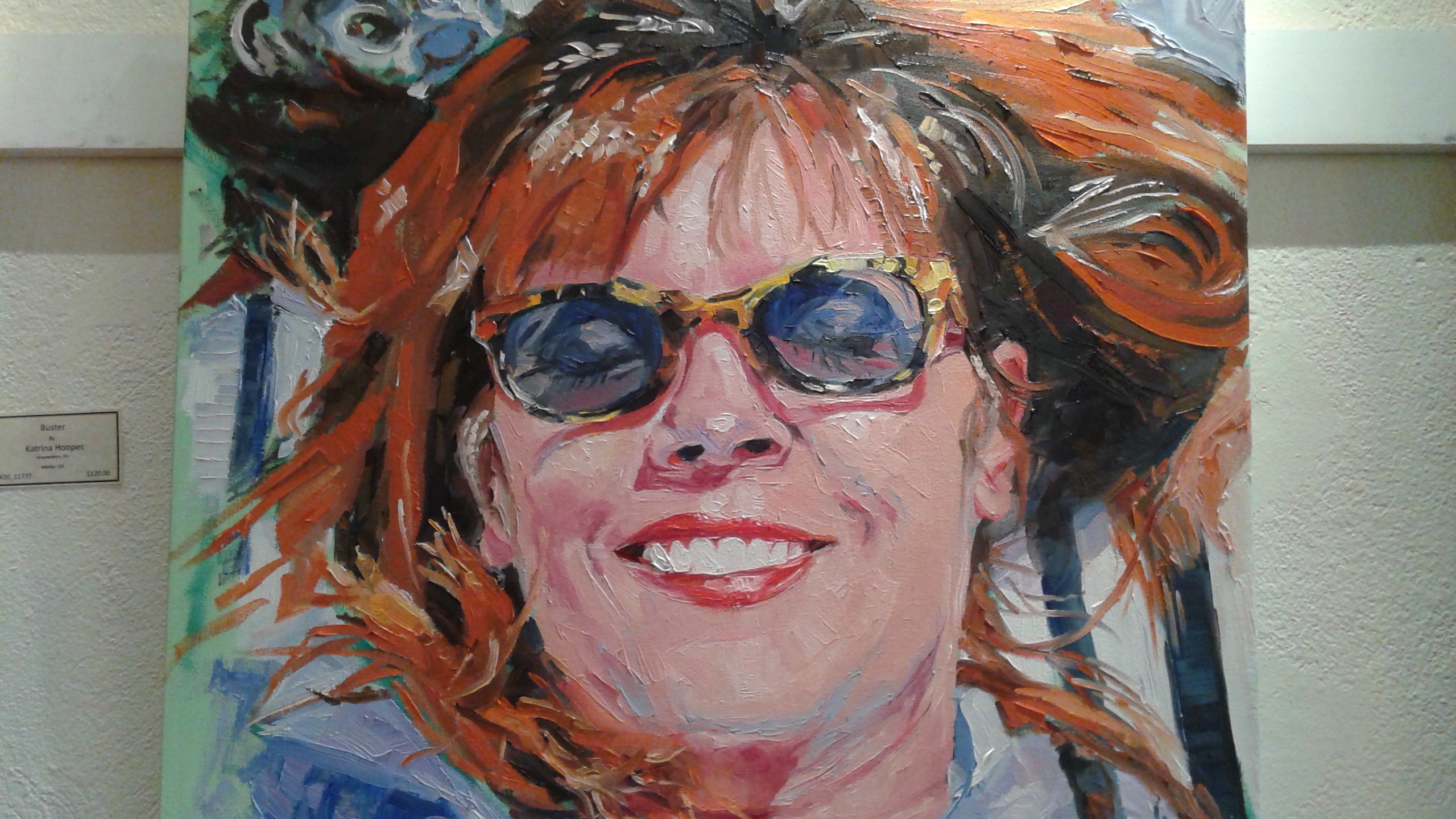 In addition to more than 800 pieces of art from some of the finest artists in the Mid-Atlantic states, Gallery 50 is currently featuring artists Katrina Hoopes and Donna Mitchell in a show called "2 Women, 2 Points of View". Katrina Hoopes, an impressionist oil painter, uses bold strokes in both large and small formats.  Donna Mitchell, a traditional realist, works in pastel using brilliant colors and interesting subjects in her compositions.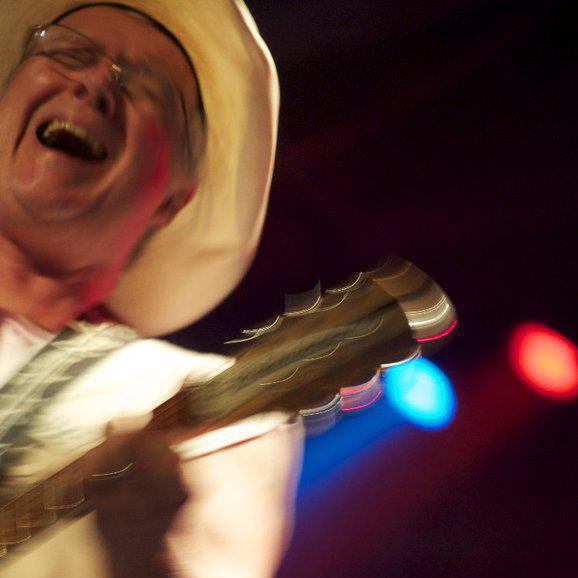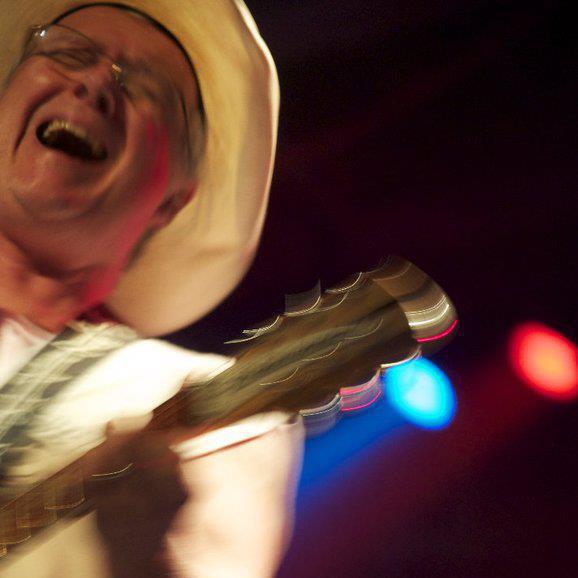 Cameron Malloy and Dale Sharrah will make their debut performance in Center Square, 5:30 – 8:00 pm (This is a last minute change from previous posts.) Cameron Malloy's latest CD, "The Drivin' Wheel", features Americana with a mix of country, blues and folk. The single "Just One Tender Kiss" is into its 19th week of world wide release on Indie radio stations, where it is estimated it has received almost 100,000 plays worldwide. On NumberOneMusic charts, 3 songs from the CD are charting on country rock charts, #1 in PA "Talkin Louisianne", Blues Charts for PA #1 "Big Muddy River", folk charts , #43 "Bird With a Broken Wing".

Patric Schlee will be creating original improvisational music on guitar, didgeridoo, flute and drums at 42 West ARTS Co-Op.  The public is invited to join in.

Also in 42 West Arts Co-Op Friday from 5:00 pm to 8:00 pm, Ed Beard will continue his demonstration of Wood Burning Techiniques.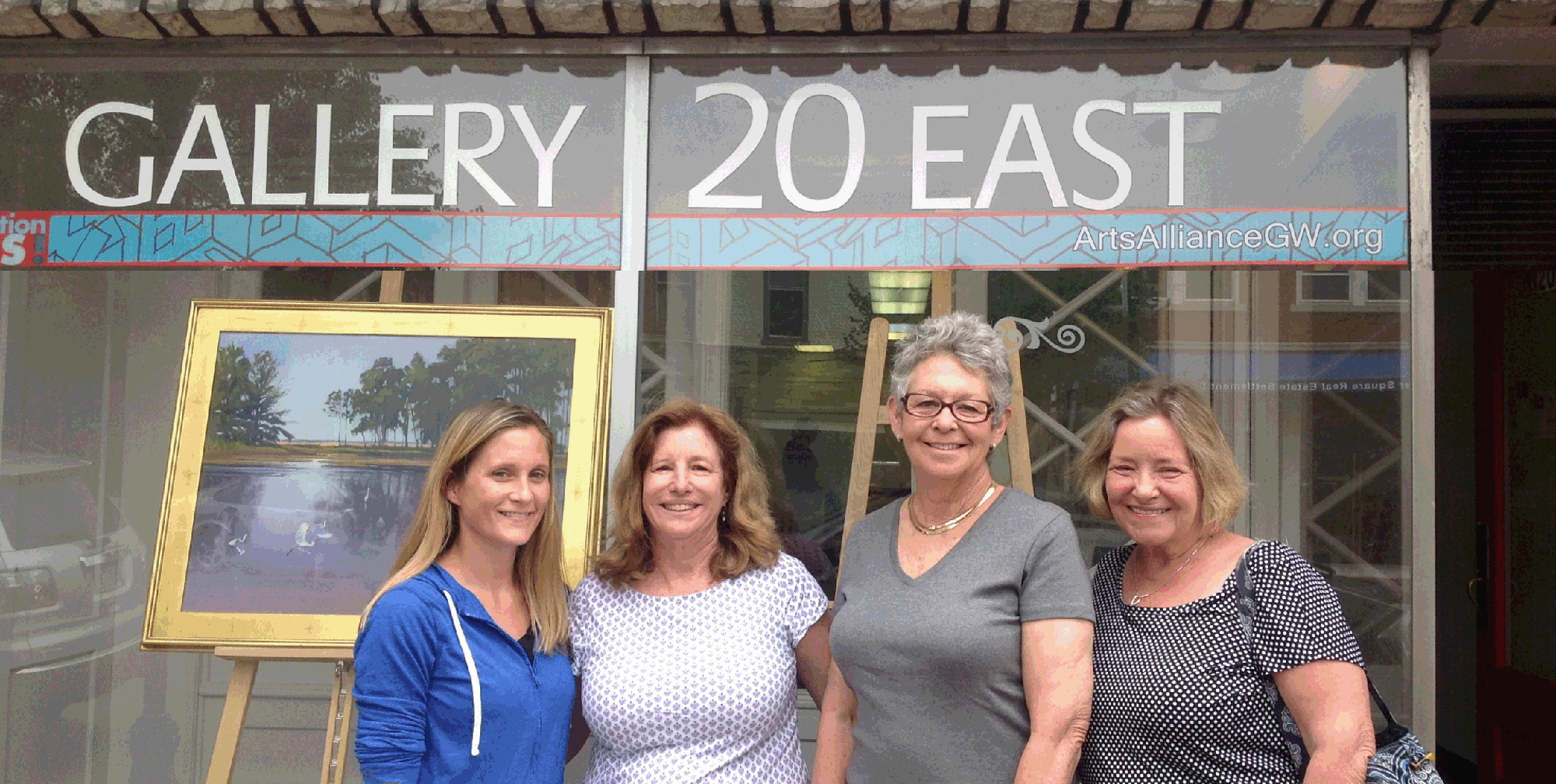 VIEWS: Expressive Landscapes, featuring paintings by Jackie Jouvenal, Jan Kauffman, Ann Shaefer and Linda Kirvan, will continue at Gallery 20 East.  The four artists, who are from the Frederick, MD and Washington, DC area, share their contemporary and intimate interpretation of the classic landscape painting. Deftly using color, light and movement their paintings draw us in capturing the atmosphere of an evanescent moment in time.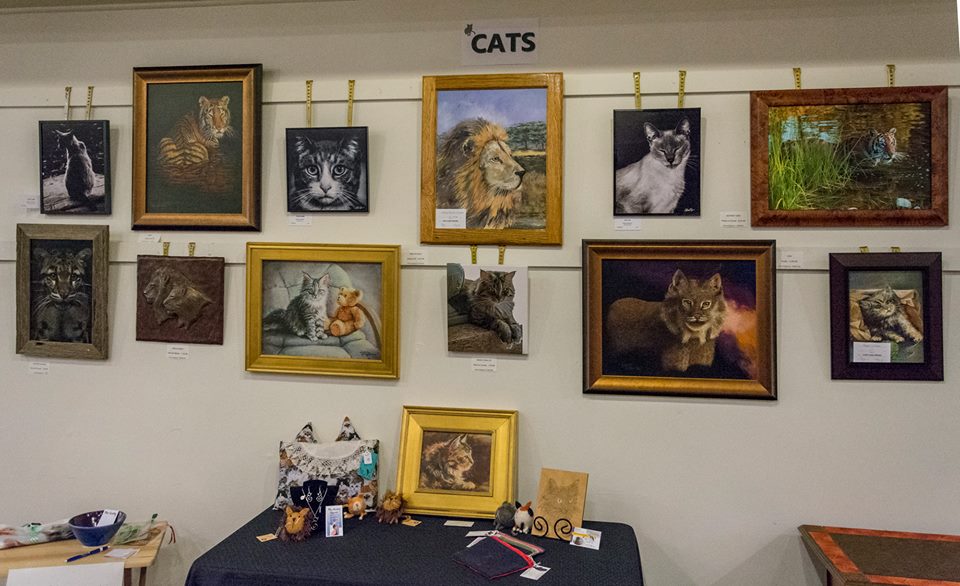 42 West Arts Co-Op currently is highlighting a show titled "Cats" which will continue through August. Various art forms including work by Donna Bingaman (paintings), Denny Bingaman (photography and cold cast bronzes), Jenifer Codwell (jewelry), Laura Shindle (paintings), Ed Beard (wood burnings), Andy Smetzer (photography), Pat Beard (fiber art),  and other artists work from the Co-Op is well represented.

The Ceramic Arts Center of Waynesboro  hosts pottery classes and workshops including an introduction to Pottery Class, a Teen Wheel Throwing Class, a monthly Children's Class, and two hour Corks and Clay Workshops specializing in creating hand built projects.  The Ceramic Arts Center brings together area potters of all skill levels and ages with classes, pottery sales, and members have 24/7 access to the wheels and kiln.
Saturday, August 8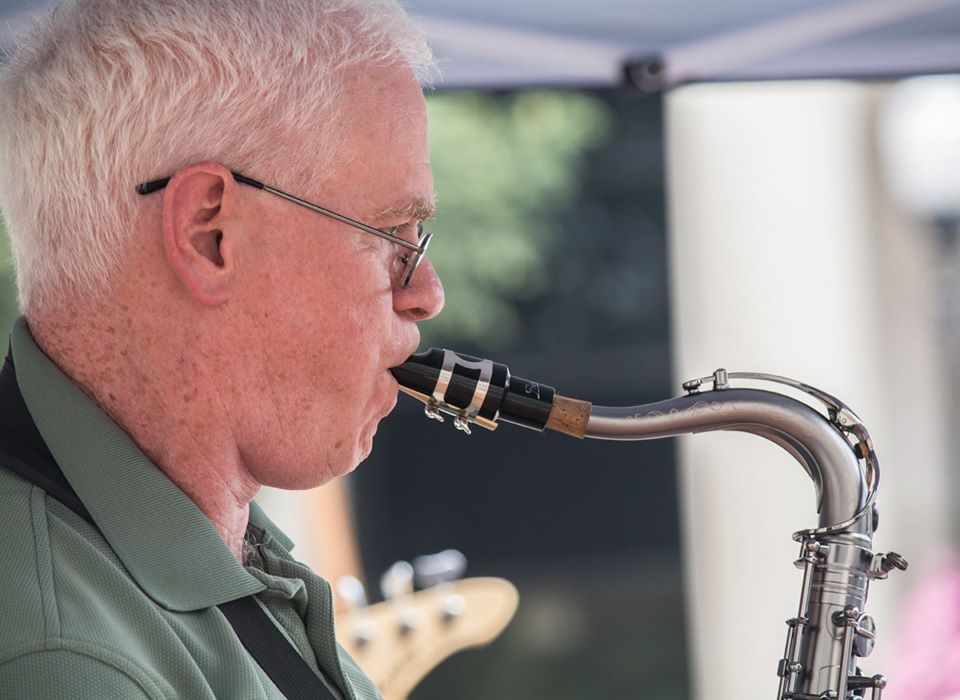 A group of musical alumni and faculty from Waynesboro Area Schoold District will provide a special performance from 2:00 pm to 4:00 pm in Center Square.  Featuring Ben Dennis (vocals), Leann Helfrick (clarinet), Lexie Shank (saxophone), Natalie Smith (flute), Brenda Slick (piano), and Pat McNamee (saxophone and clarinet).

Pat Beard will demonstrate Spinning Alpaca Yarn Saturday from 1:00 to 3:00 pm at 42 West Arts Co-Op.  She began knitting at age 10 and has loved working with yarn and fabrics ever since. She has a Bachelor of Fine Arts from the Univ. of Florida and is a juried member of the Pennsylvania Guild of Craftsmen and the Cumberland Valley Craft Guild.  By combining interesting colors with textures and a touch of shiny yarn, Pat weaves fabric on old-fashioned looms. Although a number of pieces are woven from the same warp threads, each piece is different. After the weaving, each panel is washed before sewing on old industrial machines. Traditional scarves and shawls are carefully hand finished. Pat does all her own weaving and sewing.
The Contemporary School of the Arts and Gallery will host a reception at 1:00 pm on Saturday for photographer Amanda F. Wells, whose work will be on display.  The school also offers after-school art classes for school age students.

Saturday from 5:00 – 6:00 pm, entertainment will be provided by the Tri-State Jitterbugs. The group of retro swing-dancers will show off their fancy footwork on Center Square.
Sunday, August 9

The popular Irish music of Across the Pond will be featured in Center Square from 2:00 to 4:00 pm.  "The most booked Celtic band in Central PA" features Michael Morrison (guitar, mandolin, flute, and vocals), Chuck Krepley (fiddle, guitar, and vocals), and Dan Diviney (whistles, bodhran, and vocals).  All members of the trio are passionate about their traditional roots but say their music is also delivered with a modern edge, with a repertoire ranging from hauntingly slow aires to high energy jigs and reels, love ballads and contemporary songs.
Musical performances are supported in part by the Pennsylvania Council on the Arts, a state agency funded by the Commonwealth of Pennsylvania and the National Endowment for the Arts, a federal agency.
"Destination ARTS!" currently features five galleries –
Gallery 50 (50 West Main Street)
Gallery 20 East (20 East Main Street)
42 West ARTS (42 West Main Street)
The Ceramic Arts Center of Waynesboro (13 South Church Street)
The Contemporary School of the Arts & Gallery (10 East Main Street)
Together, the galleries display oil paintings, watercolors, pottery, fiber arts, sculpture, photographs, furniture, prints and much more. They are open each week as follows:
Thursdays from 1:00 to 4:00
Fridays from 5:00 to 8:00 p.m.
Saturdays from 12:00 to 6:00 p.m.
Sundays from 1:00 to 4:00 p.m.

For more information, visit artsalliancegw.org.