Destination ARTS! activities continue in Waynesboro, PA with art exhibits, special events, and live music scheduled at Gallery 50,  42 West ARTS Co-Op, Through the Lens & Beyond, the Ceramic Arts Center of Waynesboro, Gallery 20 East and the Contemporary School of the Arts & Gallery.  All performances and events are free unless otherwise indicated.
Thursday, December 17
Gallery 50 and 42 West ARTS Co-Op are open from 1:00 pm to 4:00 pm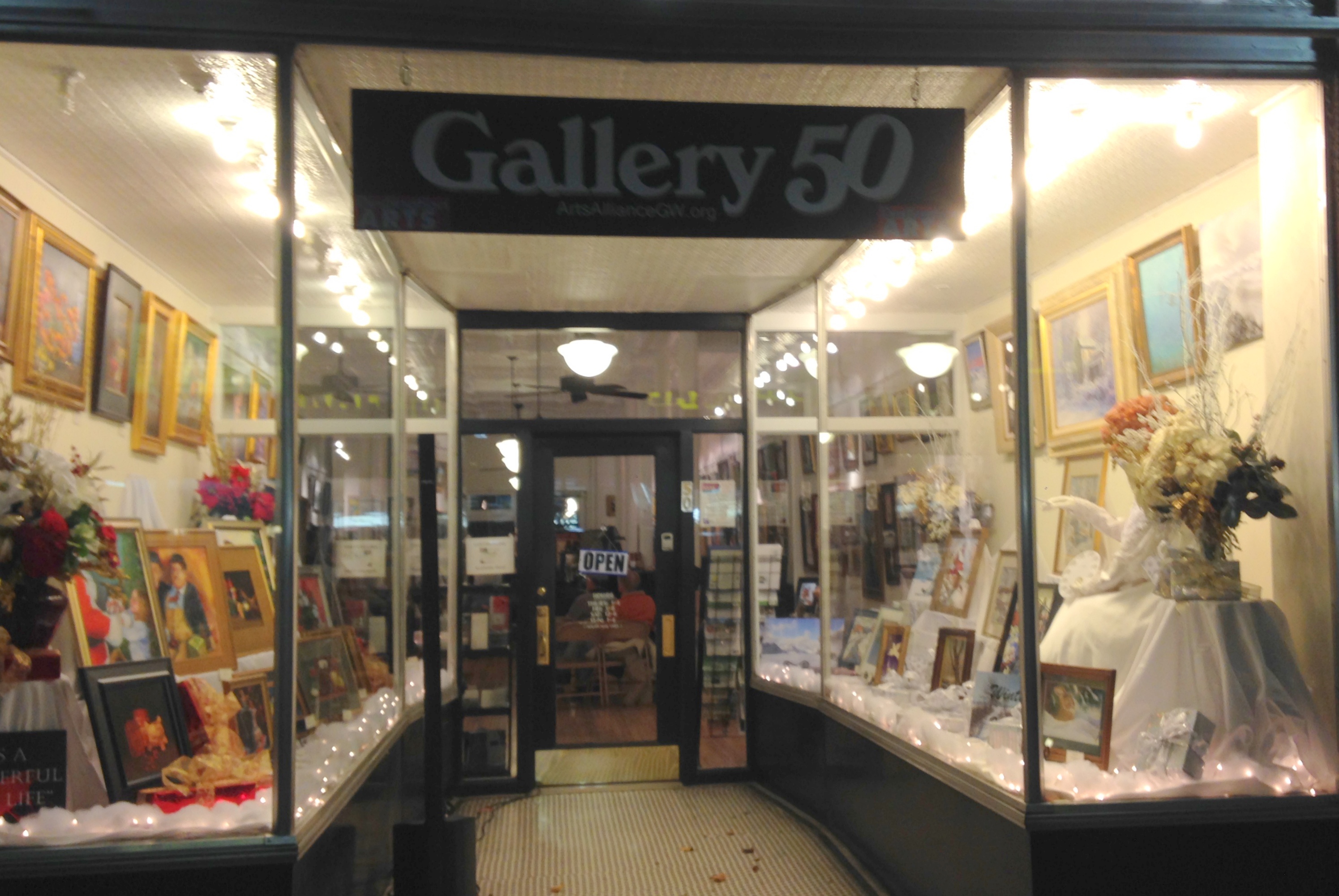 Friday, December 18
Wine Down Friday activities and receptions are planned at Gallery 50 (50 W. Main St.), 42 West ARTS Co-Op (42 W. Main St.), Through the Lens & Beyond (38 W. Main St.) and the Ceramic Arts Center of Waynesboro (13 S. Church St.) between 5:00 and 8:00 pm.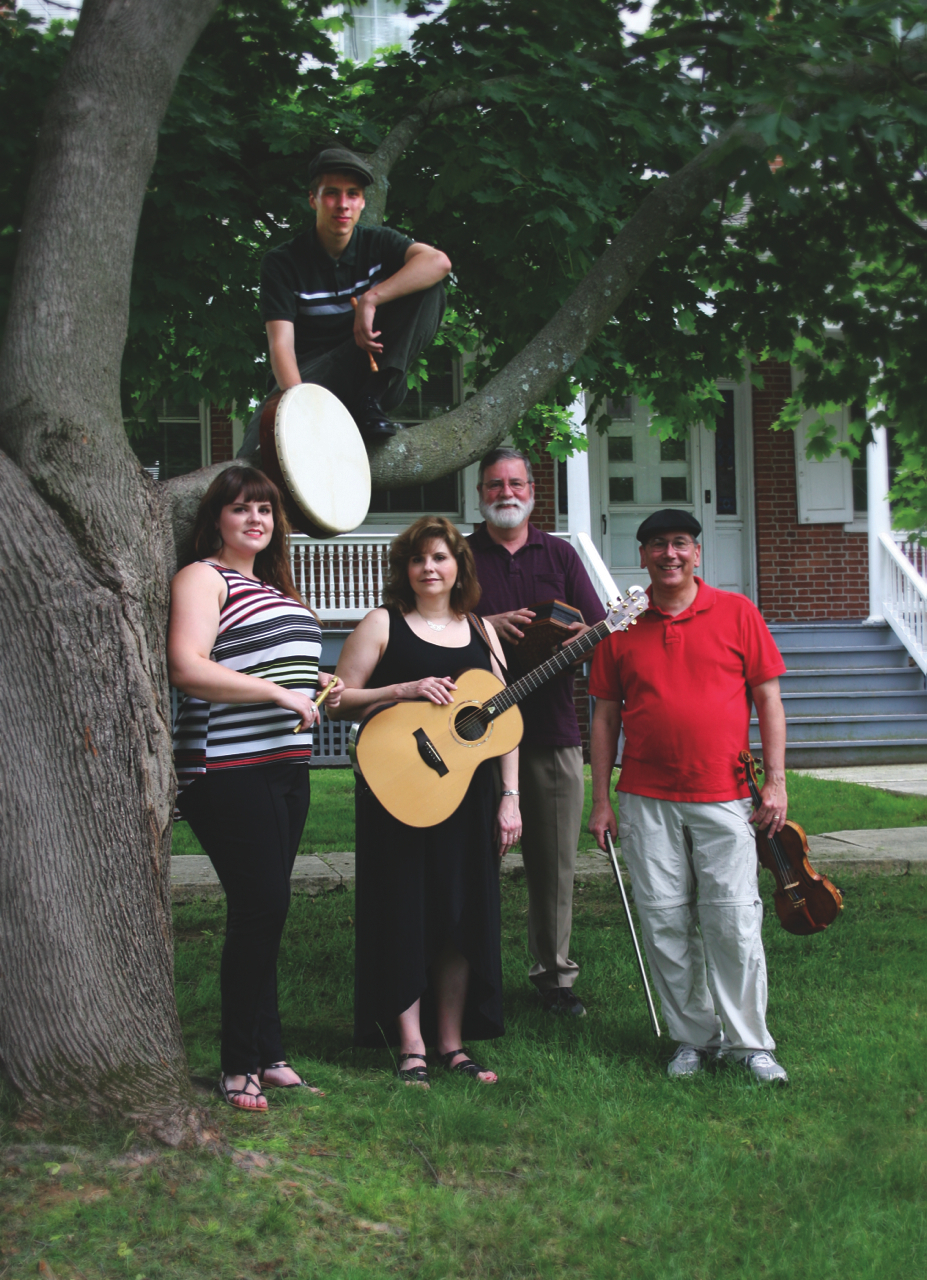 From 5:30 pm to 8:00 pm, Gallery 50 will present a special Celtic Christmas program, featuring the music of Cormorant's Fancy.  Since their 2003 beginning, Cormorant's Fancy has played for concert series, festivals, historical events, libraries, park events, coffee houses, weddings, banquets, private parties, and worship services. They are favorites of the Music, Gettysburg! concert series, and have been featured at  the Heart of the Arts Festival, Northern Appalachian Folk Festival, Adams County Irish Festival, among others.  Members of the band recently played at festivals in Scotland and England, they are the house band at the Historic Fairfield Inn and frequent performers at Fitzgerald's Shamrock Restaurant.  Cormorants Fancy is: Margaret Folkemer: lead and backing vocals, pennywhistle; Ricky Czar: percussion, backing vocals; Beth Folkemer: lead and backing vocals, guitar, dulcimer; Stephen Folkemer: lead and backing vocals, concertina, keyboards; Chuck Krepley: lead and backing vocals.
Saturday, December 19
Art Demonstration Saturday!
Nature and Wildlife Slide Show With Music – From 1:00 pm to 3:00 pm in 42 West ARTS Co-Op, Denny Bingaman will present a slide show of many of his nature and wildlife photographs taken over the past 25 years. The slide show will have music in the background with smooth transitions between each slide.  Denny is a native of Waynesboro, Pennsylvania, who photographs birds and wildlife in the local area as well as other parts of the country. He started into photographing wildlife about 30 years ago, and has filed some 65,000 images of birds and other wildlife.  He also works with clay, making sculptures of wildlife using his photographs as reference.  The clay works are used to render rubber molds for casting cold cast bronze, copper, etc. After casting a patina is applied, and finished off with steel wool and waxed.
Sunday, December 20
Two very special Christmas Events!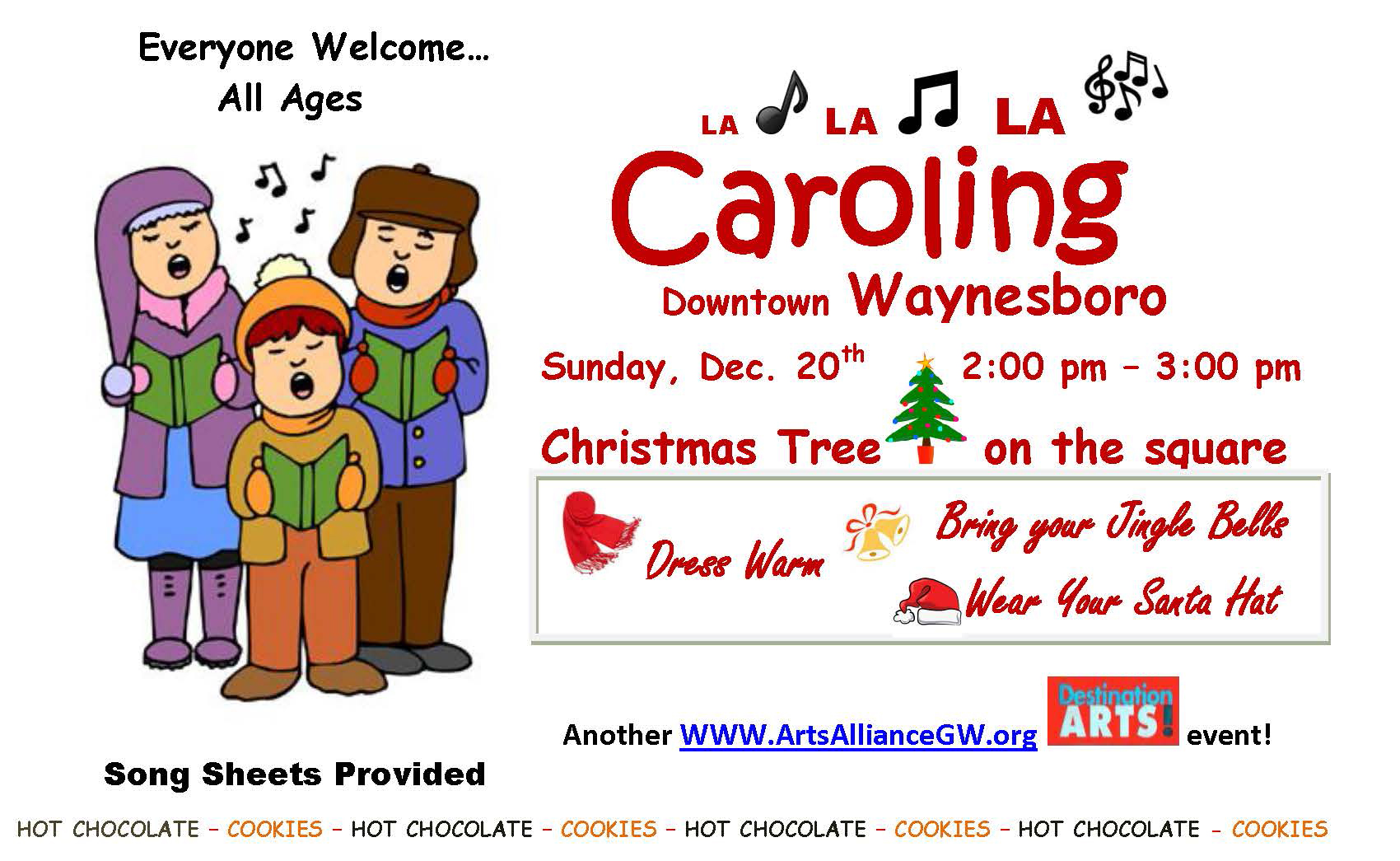 2:00 pm – 3:00 pm – Caroling on Main Street!  Meet at the Christmas Tree on the square in Waynesboro at 2:00 pm.  Sharon Rost will then lead the carolers to several gallery locations on Main Street, singing songs of the season.  Forget the words?  Song sheets will be provided.  Hot chocolate and cookies will be provided at Gallery 50. Sharon Rost is a musician, former music teacher in the Shippensburg School District, and Board Member of the Arts Alliance of Greater Waynesboro.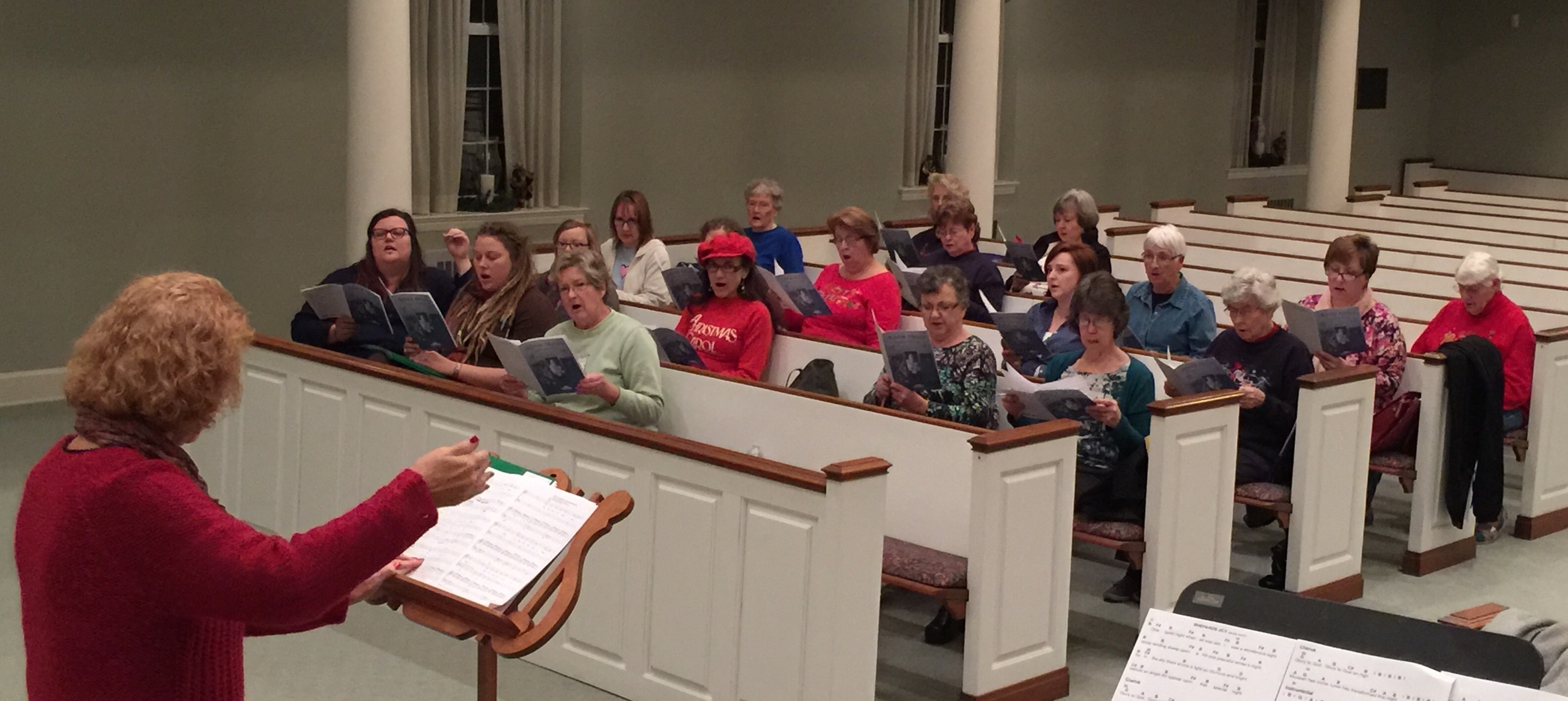 4:00 pm –Community Christmas Concert featuring a Combined Church Choir  – Trinity United Church of Christ, in the Sanctuary, 30 West North St.  This collaboration between AAGW/Destination ARTS! and the Waynesboro Fellowship of Churches will feature 70 singers and musicians from eight different churches in Waynesboro.  Led by Deb Hollen, they will perform joyous Christmas sounds as well as lead the audience in singing a few carols.  There will be a social gathering following the concert in Harbaugh Hall.  Deb Hollen is the choir director at Trinity, a former WASHS teacher, and has been actively involved in Destination ARTS! since its inception.
Ongoing Shows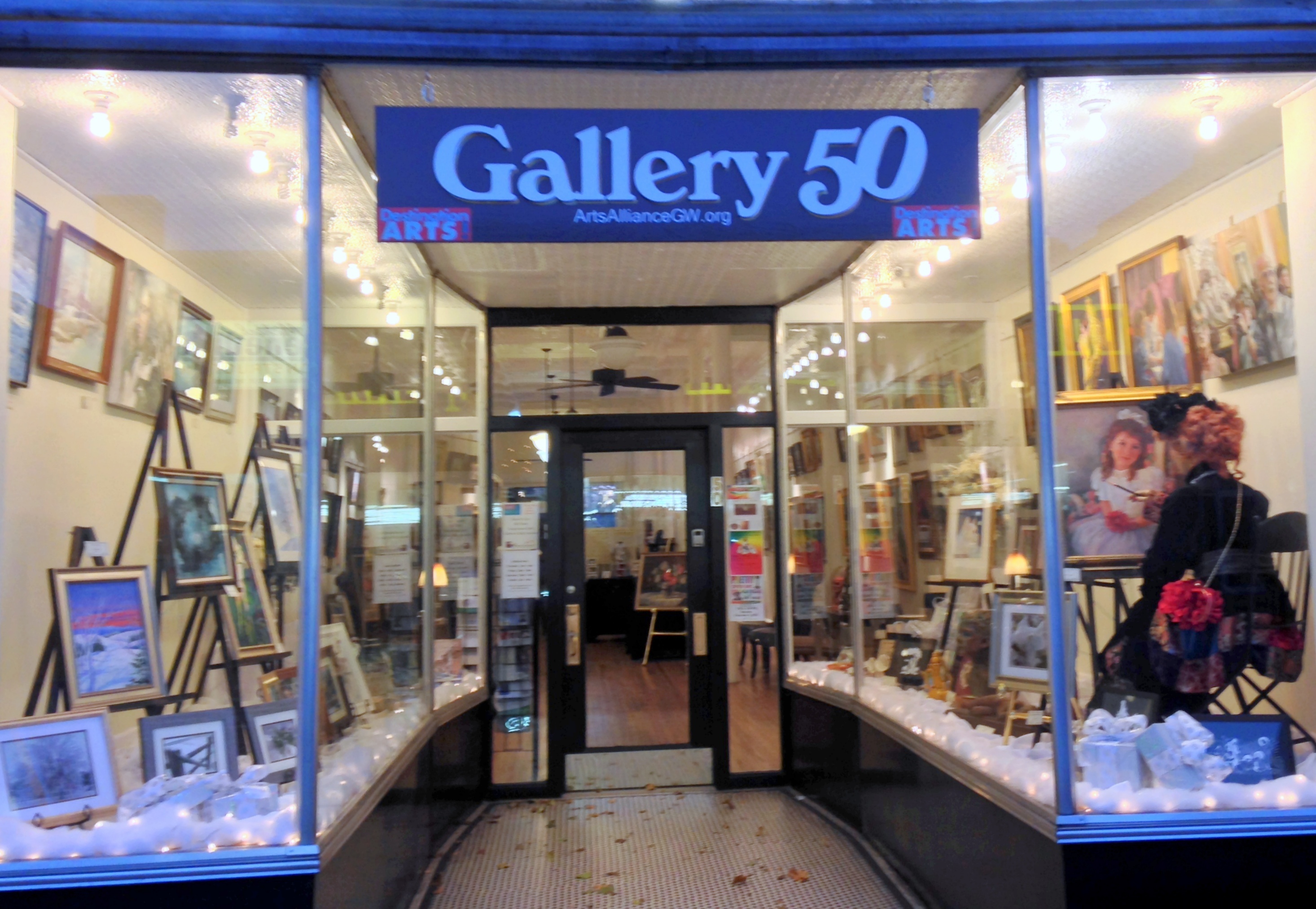 Gallery 50 is presenting three new shows celebrating the Holiday/Winter season. Over 80 new pieces of art are being featured.  The west window gallery theme is "Winter White", and the east window gallery presents "It's a Wonderful Still Life".  The main gallery showcases "Fins, Feathers and Fur," featuring artist, Carol Wilks and her animal paintings rendered in pastel. Several artists will be in the gallery and available to discuss their work.
The members of the 42 West Arts Co-Op is continuing to spotlight a new show called "Forever Flowers" from 12:00 to 6:00. This show includes Donna Bingaman oil painting,  Lori Linthicum creative pottery, Tom McFarland painting, Denny Bingaman photography, Rod & Karri Benedict pottery, Ed Beard wood burning, Hollis Mentzer nature printing, Andy Smetzer photographer, and Jennifer Caldwell silver jewelry.  Details at http://42westarts.com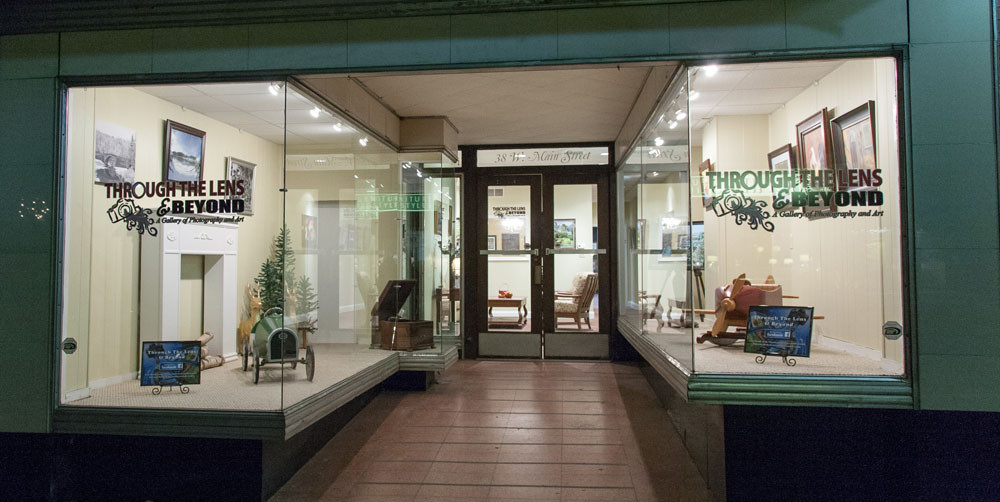 Through the Lens & Beyond features fine art photography, illustrations, oil and watercolor paintings, and 2-dimensional art.  Custom framing, classes, and seminars plus a "Day Rental" photography studio will also be offered. Special offer — Through the Lens will be giving our Active Duty and Military Veterans as well as First Responders a 10% discount on any art or photography they purchase.
The Ceramic Arts Center of Waynesboro  hosts pottery classes and workshops including an introduction to Pottery Class, a Teen Wheel Throwing Class, a monthly Children's Class, and two hour Corks and Clay Workshops specializing in creating hand built projects.  The Ceramic Arts Center brings together area potters of all skill levels and ages with classes, pottery sales, and members have 24/7 access to the wheels and kiln.   Details about upcoming classes and special events at http://www.ceramics-nccs.org
Gallery 20 East will feature the Waynesboro High School Winter Art Show through December 20.  This show features artwork created by students in grades 9-12 during the fall semester art courses. These courses include Art Fundamentals and Art Appreciation which are introductory art courses, as well as upper level fine arts courses including Drawing & Painting, Sculpture, and Fine American Crafts. Over 100 student artists will be represented in the show with their credible drawing, painting, printmaking and sculptural talents on display!
Musical performances at Destination ARTS! are supported in part by the Pennsylvania Council on the Arts, a state agency funded by the Commonwealth of Pennsylvania and the National Endowment for the Arts, a federal agency.
Destination ARTS! currently includes:
Gallery 50 (50 West Main Street)
42 West ARTS (42 West Main Street)
The Ceramic Arts Center of Waynesboro (13 South Church Street).
Through the Lens & Beyond (38 West Main Street)
Gallery 20 East (20 East Main Street) open selected weekends.
The galleries feature oil paintings, watercolors, pottery, sculptures, jewelry, photographs, furniture, and more. Most art is available for sale and  there is no charge for admission to the galleries.  This weekend, they will be open on:
Thursday – 1:00 to 4:00 p.m. (Gallery 50 and 42 West ARTS Co-Op only)
Friday from 5:00 to 8:00 p.m.
Saturday from 12:00 to 6:00 p.m. (42 West ARTS open 10 am to 6 pm)
Sunday from 1:00 to 4:00 p.m.
42 West Co-Op is open extended hours for the holidays
For more information visit www.artsalliancegw.org or call 717-655-2915.