Destination ARTS! activities continue in Waynesboro, PA with art exhibits, special events, and live music scheduled at Gallery 50,  42 West ARTS Co-Op, Through the Lens & Beyond, the Ceramic Arts Center of Waynesboro, Gallery 20 East and the Contemporary School of the Arts & Gallery.  All performances and events are free unless otherwise indicated.
Wednesday, January 6
WRITER'S FORUM
The Writers Forum, sponsored by the Arts Alliance of Greater Waynesboro/Destination ARTS!, will hold its monthly meeting at Gallery 20, 20 E Main Street, Waynesboro, from 5:00 pm to 7:00 pm.  The theme for the January meeting will be "Most Memorable Teachers — either favorable or negative"  After the initial 'round and round' as members read their contributions, they will then read any subject they're currently working on – be it prose, poetry, memoirs or story-telling.  Interested writers are invited to join the group. Inquiries may be addressed to Jerry Kowallis at 717-352-8059 or email: gk6684@netscape.net.
Thursday, January 7

Marjorie Tressler, Gallery 50 curator/director, will be back again doing her weekly oil painting demonstration from 2:00 to 4:00 pm, featuring a portrait of Carol.  Marjorie studied at the Schuler School of Fine Arts, as well as with several prominent local artists.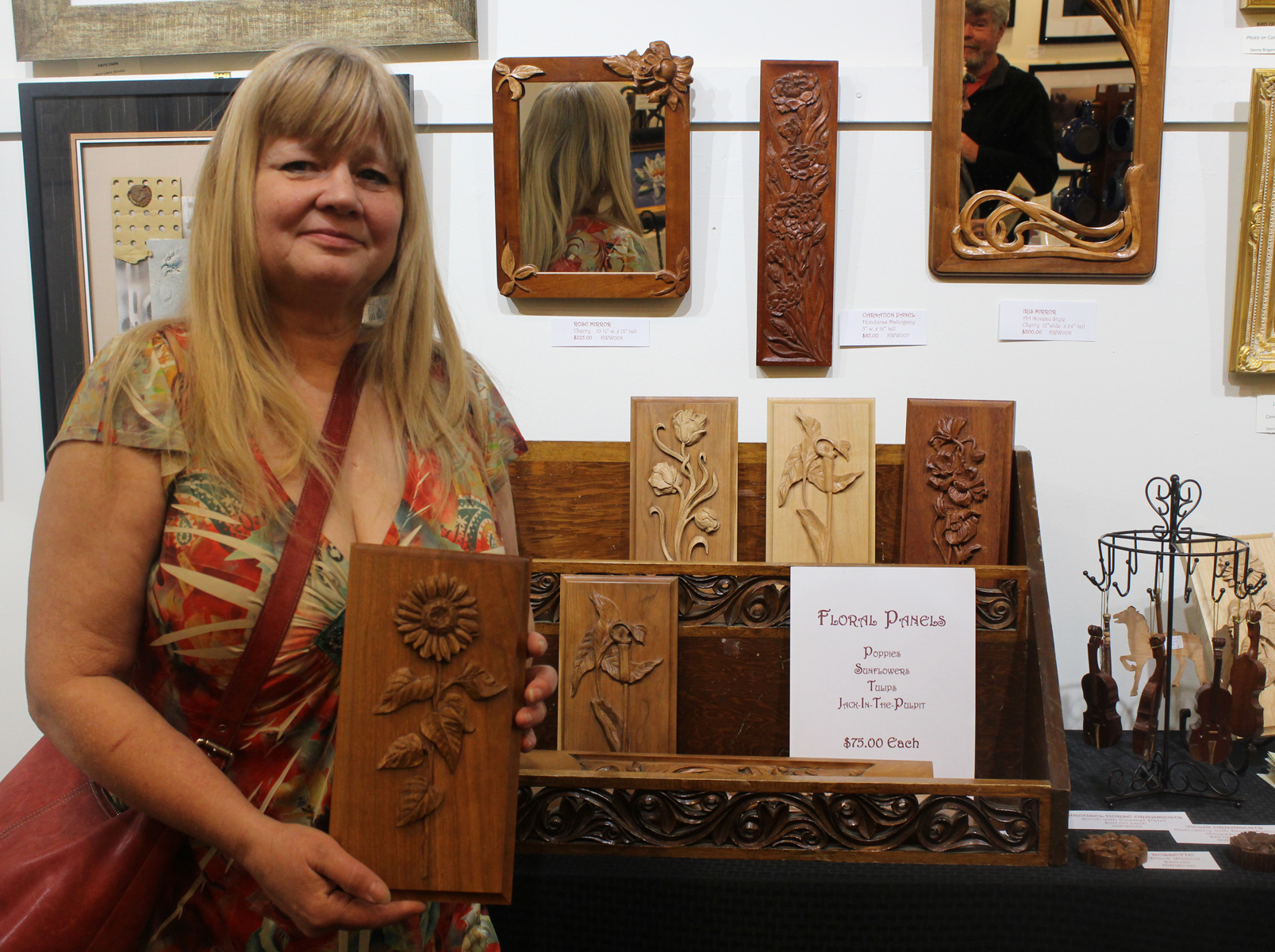 42 West ARTS Co-op will introduce a new artist!  Kathleen Hansen-Wiebel has been designing and making custom, one of kind ornamental carvings for over 35 years.  After completing a five year apprenticeship study with renowned master carver Konstantinos Papadakis in Minneapolis, Minnesota, she moved to Hagerstown, Maryland in 1980 and set up a small studio in her home.  From there she has been creating furniture, architectural elements, frames, mirrors, decorative panels, restorative carvings for furniture companies, cabinetmakers, and private individuals.  Utilizing the one hundred plus hand chisels and gouges she has at her disposal, her carvings represent a broad range of styles – from Victorian, Chippendale, Rococo, Louis XIV, and other archaic styles, to the more modern Art Nouveau and Arts and Crafts genres.  Her carvings on a multi-million dollar home in Tempe, Arizona have been featured on HGTV's  "America's 10 Most Amazing Kitchens".
Friday, January 8
Wine Down Friday activities and receptions are planned at Gallery 50 (50 W. Main St.), 42 West ARTS Co-Op (42 W. Main St.), Through the Lens & Beyond (38 W. Main St.) and the Ceramic Arts Center of Waynesboro (13 S. Church St.) between 5:00 and 8:00 pm.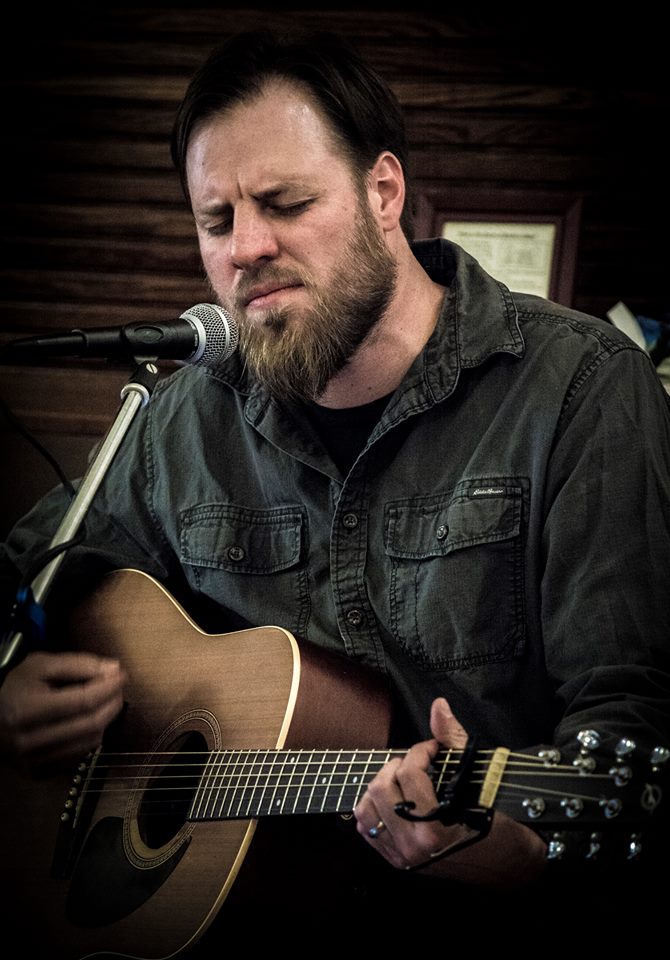 From 5:30-8:00 pm, Jon Ingels will be performing at Gallery 50. Jon plays bluegrass, country, and rock (vocals and guitar). He is a singer-songwriter for three different groups: Big Whiskey, Blackwater 4, and the Lowdown Grasskickers, as well as being a solo performer.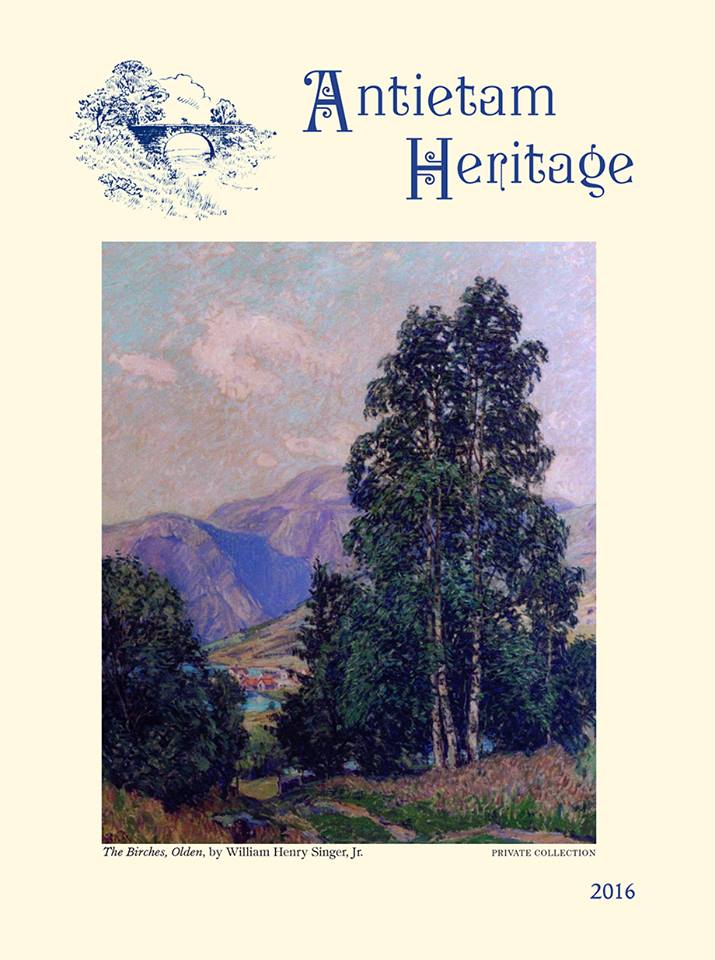 Gallery 50 will also be presenting the first volume of the annual hard bound magazine "Antietam Heritage" by the Antietam Historical Association. Book singing and reception will be held from 5:00 to 8:00 pm.  Stories being published in this first volume include, William Henry Singer Jr the founder of the Washington Co. Museum of Fine Arts. by Jean Woods, The Adventure of Margie Ripple Part 1: A Dubious Distinction by Todd Dorsett, Sharpsburg and the Battle Field Farms by Ted Alexander are but a few of the very impressive material covered by these distinctive authors. Please come and join us in congratulating these fine authors and have a personally autographed copy signed by them.
Saturday, January 9
Art Demonstration Saturday!
Galleries open 12:00 pm to 6:00 pm.
Ed Beard will be Demonstrating
Wood Burning Techniques
42 West Arts
From 12:00 pm to 3:00 pm, Ed Beard will be demonstrating wood burning techniques for creating feathers and animals in 42 West ARTS Co-Op.  Ed Beard is an Educator/Artist and woodworker for 50 years. A graduate of St Johns College and University of Florida, he has exhibited in art shows and galleries since 1966. He is a member of the Pennsylvania Guild of Craftsmen – Cumberland Valley Chapter, the Lincoln Highway Heritage group and a member of Woodsmith's advisory board.   He notes:  "I enjoy working with wood species native to Pennsylvania to create functional art showing the natural grain and finish of the wood."
Sunday, January 10
Jason Kabler will be featured in Gallery 50 from 2:00 to 4:00 pm.  Jason  is a singer, songwriter, and Nashville recording artist originally from Greencastle PA.  In 1999, Jason signed a record deal with an independent record label, and released his debut album, "Follow Your Heart."  Still living in Nashville, Jason has produced six more CD's and is now the head of the Hendersonville, Tennessee chapter of Global Songwriters Connection. GSC is an organization that helps songwriters become more successful through education, support and networking. Jason is currently writing songs for his ninth album which he hopes to have recorded for release in 2016. He also continues to tour.
Ongoing Shows
Gallery 50 is presenting three new shows celebrating the Holiday/Winter season. Over 80 new pieces of art are being featured.  The west window gallery theme is "Winter White", and the east window gallery presents "It's a Wonderful Still Life".  The main gallery showcases "Fins, Feathers and Fur," featuring artist, Carol Wilks and her animal paintings rendered in pastel.
The members of the 42 West Arts Co-Op is continuing to spotlight a new show called "Forever Flowers" from 12:00 to 6:00. This show includes Donna Bingaman oil painting,  Lori Linthicum creative pottery, Tom McFarland painting, Denny Bingaman photography, Rod & Karri Benedict pottery, Ed Beard wood burning, Hollis Mentzer nature printing, Andy Smetzer photographer, and Jennifer Caldwell silver jewelry.  Details at http://42westarts.com

Through the Lens & Beyond features fine art photography, illustrations, oil and watercolor paintings, and 2-dimensional art.  Custom framing, classes, and seminars plus a "Day Rental" photography studio will also be offered.
The Ceramic Arts Center of Waynesboro  hosts pottery classes and workshops including an introduction to Pottery Class, a Teen Wheel Throwing Class, a monthly Children's Class, and two hour Corks and Clay Workshops specializing in creating hand built projects.  The Ceramic Arts Center brings together area potters of all skill levels and ages with classes, pottery sales, and members have 24/7 access to the wheels and kiln.   Details about upcoming classes and special events at http://www.ceramics-nccs.org
Musical performances at Destination ARTS! are supported in part by the Pennsylvania Council on the Arts, a state agency funded by the Commonwealth of Pennsylvania and the National Endowment for the Arts, a federal agency.
Destination ARTS! currently includes:
Gallery 50 (50 West Main Street)
42 West ARTS (42 West Main Street)
The Ceramic Arts Center of Waynesboro (13 South Church Street).
Through the Lens & Beyond (38 West Main Street)
Gallery 20 East (20 East Main Street) open selected weekends.
The galleries feature oil paintings, watercolors, pottery, sculptures, jewelry, photographs, furniture, and more. Most art is available for sale and  there is no charge for admission to the galleries.  This weekend, they will be open on:
Thursday – 1:00 to 4:00 p.m. (Gallery 50 and 42 West ARTS Co-Op only)
Friday from 5:00 to 8:00 p.m.
Saturday from 12:00 to 6:00 p.m.
Sunday from 1:00 to 4:00 p.m.
For more information visit www.artsalliancegw.org or call 717-655-2915.