"Destination ARTS!" activities continue in Waynesboro with special events and live music scheduled at Gallery 50, Gallery 20 East, and 42 West ARTS Co-Op. The Ceramic Arts Center of Waynesboro and The Contemporary School of the Arts & Gallery will also have art and pottery for sale and art classes available.
Please Note:  In observance of the Fourth of July Holiday on Saturday, there are no scheduled Destination ARTS! activities and the galleries will be closed

A Writers Forum is held the first Wednesday of every month at Gallery 20 East from 5:00 to 7:00 p.m.  Writers, poets and story tellers of memoirs, fiction and non-fiction, as well as tall tales, are welcome. Persons interested may contact Gerry Kowallis at gk6684@netscape.net.  Wednesday, July 1 is the next meeting date for the Writers Forum.
This Wednesday's meeting will focus on poetry and will feature a presentation on poetry writing, poetry styles, classifications, and such. led by Joe Weagley. If you come, bring along something you would like to share with the group, though that is not necessary. We all are invited to share what we have written, but sometimes  we just like to learn and participate in the conversation. We look forward to meeting you
Marjorie Tressler Gallery 50's curator and gallery director will continue her portrait demonstrations on Thursday, from 2:00 to 4:00 p.m.  Marjorie is a portrait artist and teacher, having taught at the Washington County Museum of Fine Arts and currently at the Mansion House Arts Center.  Over the last 30 years she has had several solo shows including the Washington County Museum and the Washington County Arts Council and the Schuler School of Fine Arts where she studied art for 8 years.  Gallery 50 is located at 50 West Main Street.
Gallery 50 is featuring two very talented women Artists, Katrina Hoopes and Donna Mitchell with a combined show called "2 Women, 2 Points of View".  A special reception is scheduled for Friday, July 10.  The artists have very different styles and applications for their work for a very interesting contrast for this show.  Katrina Hoopes, an impressionist oil painter, uses bold strokes in both large and small formats.  Donna Mitchell, a traditional realist, works in pastel using brilliant colors and interesting subjects in her compositions.  Both women are accomplished in their own mediums.
Katrina is a self-taught artist who works in oils, pencil and colored pencil.  Her work has been chosen "Best in Show" in many local shows including the Washington County Arts Council, and 4 times in the local Waynesboro Studio Arts Club.  She has also participated several times in the prestigious Cumberland Valley Salon at the Washington County Museum of Fine Arts.
Donna Mitchell comes from a more traditional classic art educational background having studied extensively with renowned portrait artist Karl Foster.  Donna is a member / instructor at The Art Center School and Galleries in Mechanicsburg, PA.  Donna is also a member of the Portrait Society of America and several other art institutions.  She has exhibited both solo and juried shows at the Washington County Museum of Fine Arts as well as in Alabama, Maryland, Pennsylvania, Virginia, West Virginia, and Wisconsin.
"Wine Down Friday" receptions, featuring live music, wine and light refreshments, are scheduled on Friday from 5:00 to 8:00 p.m. at four of the galleries.

– Friday, July 3, 5:30 – 8 p.m. at Gallery 50, Nick Andrew Staver (vocals & guitar) is bringing a new voice to the blues. Assigned with the gritty personalities of a blue collar worker to the seducing baritone of a lovers quarrel and reconciliation, each song defines its own character inside the autobiographical music. Add in sharp improv skills and award winning songwriting and his music lays the blues on the line and never hesitates to go beyond its borders.  The gallery is located at 50 West Main Street.

The artists at 42 West Arts Co-Op currently has an all members show titled "Cats" continuing through August. The show has "Cats" in various art forms including Donna Bingaman paintings, Denny Bingaman photography and cold cast bronzes, Jenifer Codwell jewelry, Laura Shindle paintings, Ed Beard wood burnings, Andy Smetzer photography, Pat Beard fiber art and other artists work from the Co-Op.
Patric Schlee will play flute, drums and guitar at the 42 West Artists Co-Op on Friday from 5:30 to 8:00 p.m. A native of Baltimore, Schlee lived on remote West Virginia mountain land until he moved to South Mountain 25 years ago.  He has spent many years fine-tuning his wind chime, flute and chime harp designs. To quote Patric, "Do you play the hand drum or would you like to try? Come join us.  Do you like flute music along with your art appreciation?  I will play for you as you wander through our gallery.  Would you like to hear the haunting drone of the didjerido?  I will demonstrate this ancient instrument. Come join us!"

Gallery 20 East at 20 East Main Street continues to celebrate "Vivid Abstractions" – Paintings and Mixed Media.  The show features the works of Linda Slattery Sherman and Marion Griffin.  The show will run through July 12 and has a number of vibrant paintings in a variety of sizes.
In addition to "Vivid Abstractions" Gallery 20 East is featuring the work of several local photographers.

The Ceramic Arts Center of Waynesboro at 13 South Church Street is a guild of artists working in clay.  The Center hosts pottery classes and workshops including an introduction to Pottery Class, a Teen Wheel Throwing Class, a monthly Children's Class, and 2 hour Corks and Clay Workshops specializing in creating hand built projects.  The Ceramic Arts Center brings together area potters of all skill levels and ages with classes, pottery sales, and 24/7 member access.
The Contemporary School of the Arts and Gallery is located at 10 East Main Street.  The school offers programing for youth in the community.  Stop and visit the gallery to see current class schedules.
Visit the web site for all details. http://www.csagi.org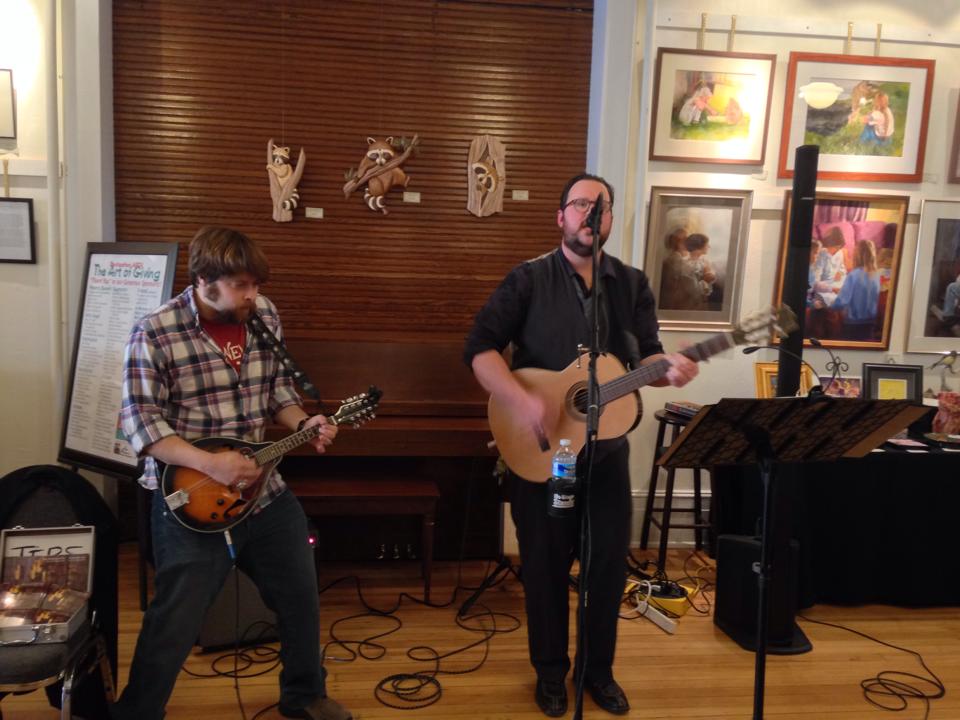 On Sunday, July 5, from 2:00 to 4:00 p.m. at Gallery 20, The Positronic Cats will be providing the music. The Greencastle-based acoustic folk duo use simple chord progressions, powerful vocals and intricate mandolin phrasings as a foundation for their songs about love, revenge and the future. The group is made up of Waylon K. Smith, vocals and classical guitar, and Jim Taylor, mandolin.
Musical performances are supported in part by the Pennsylvania Council on the Arts, a state agency funded by the Commonwealth of Pennsylvania and the National Endowment for the Arts, a federal agency.
"Destination ARTS!" currently features five galleries –
Gallery 50 (50 West Main Street)
Gallery 20 East (20 East Main Street)
42 West ARTS (42 West Main Street)
The Ceramic Arts Center of Waynesboro (13 South Church Street)
The Contemporary School of the Arts & Gallery (10 East Main Street)
Together, the galleries feature oil paintings, watercolors, pottery, fiber arts, sculpture, photographs, furniture, prints and much more. They are open each week as follows:
Thursdays from 1:00 to 4:00 ( Gallery 50 and 42 West ARTS Co-Op only)
Fridays from 5:00 to 8:00 p.m.
Saturdays from 12:00 to 6:00 p.m. – Usually Open But NOT This Week
Sundays from 1:00 to 4:00 p.m.

For more information, visit artsalliancegw.org.