This weekend, Destination ARTS! will celebrate the start of its third year in Waynesboro.  Since its inception in July 2013, Destination ARTS! has been lauded throughout the Mid-Atlantic region, and earlier this month, the PA Downtown Center presented Destination ARTS! with a coveted "Townie Award" as one of the most noteworthy revitalization projects in the state of Pennsylvania.
High quality, curated art remains the standard at Destination ARTS! five venues, along with live music, art demonstrations, and special events – all offered free to the public.  Where other communities offer a "First Friday" once a month, Waynesboro presents free live music every single weekend, all year long.  During this summer expansion, which will run through October 4, Destination ARTS! will again offer live music every Friday, Saturday, and Sunday, as well as children's activities such as our Art Scavenger Hunt, free workshops, and magic shows.  Local authors are spotlighted with book signings and publication parties, and there are ongoing writers and songwriters forums and community-building collaborations with schools, colleges, senior centers, and churches.  Special events being scheduled for this summer include the Second Annual Gallery Wine Walk, set for September 12, and a new Destination INNOVATION project to be unveiled soon.
Thursday, July 9

Marjorie Tressler will continue her portrait demonstrations from 2:00 to 4:00 pm in Gallery 50.  Marjorie is curator of Gallery 50, and a highly respected portrait artist and teacher.  She has had several solo shows at the Washington County Museum of Fine Arts, the Schuler School of Fine Arts, and other locations.
Friday, July 10
The 2015 edition of the Destination ARTS! will officially start on Friday, July 10, at 5:00 pm with the 3rd  Annual Grand Opening Reception, featuring  wine and light refreshments in Gallery 50, 50 West Main St., Waynesboro, PA.  Gallery 50 was the first gallery to open in 2013, and it continues to be curated by Destination ARTS! lead curator, Marjorie Tressler and operated by the Arts Alliance of Greater Waynesboro.  It features exceptional paintings, photography, etchings, jewelry, and more, from some of the most highly respected artists from around the country.  Artists Katrina Hoopes and Donna Mitchell have a special show at the moment called "2 Women, 2 Points of View".  The artists have very different styles and applications for their work for a very interesting contrast for this show.  Katrina Hoopes, an impressionist oil painter, uses bold strokes in both large and small formats.  Donna Mitchell, a traditional realist, works in pastel using brilliant colors and interesting subjects in her compositions.  Both women are accomplished in their own mediums, and they will be present to meet the public on July 10.  Music for the reception will be provided by pianist Sharon Rost.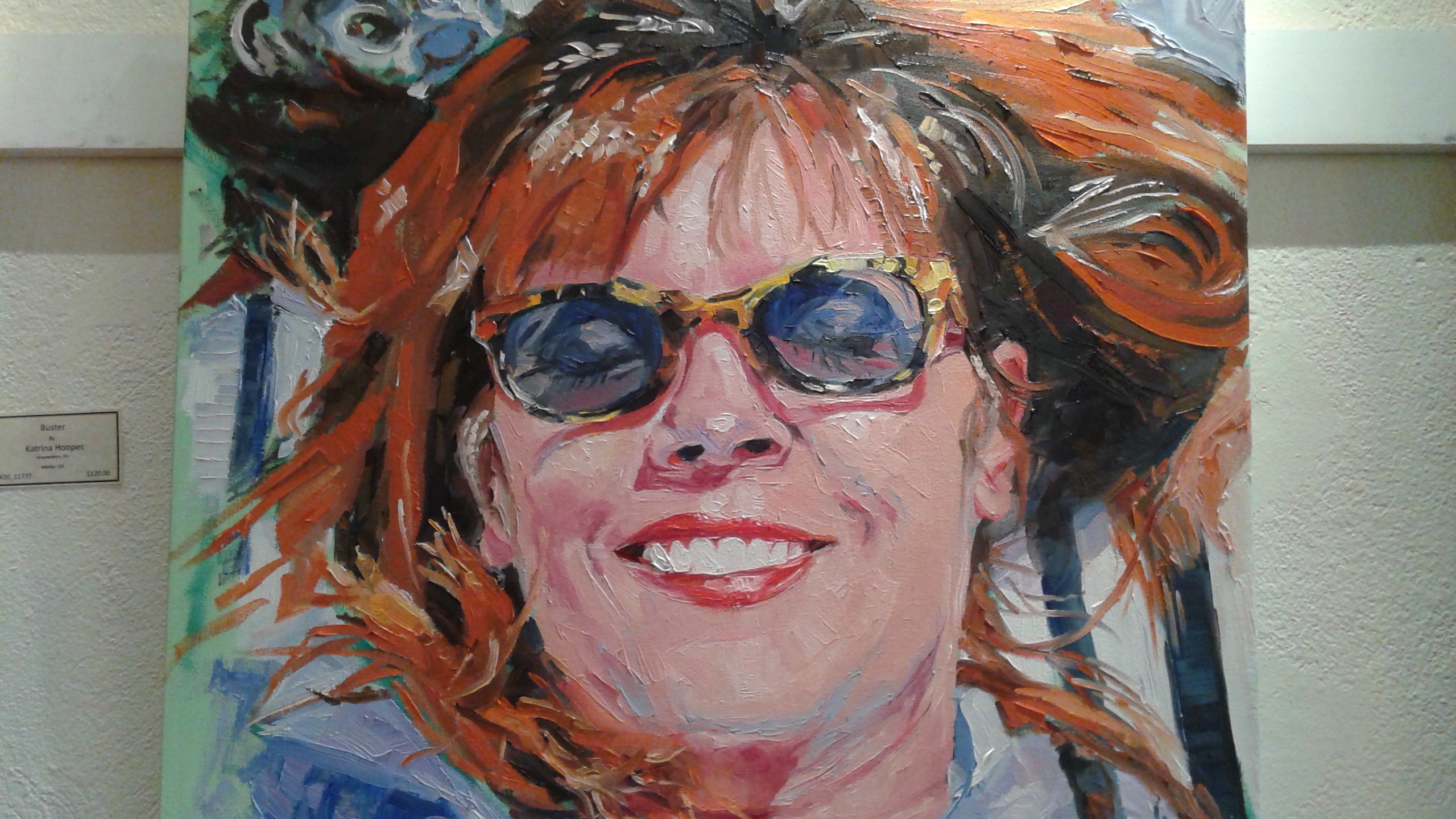 Katrina is a self-taught artist who works in oils, pencil and colored pencil.  Her work has been chosen "Best in Show" in many local shows including the Washington County Arts Council, and 4 times in the local Waynesboro Studio Arts Club.  She has also participated several times in the prestigious Cumberland Valley Salon at the Washington County Museum of Fine Arts.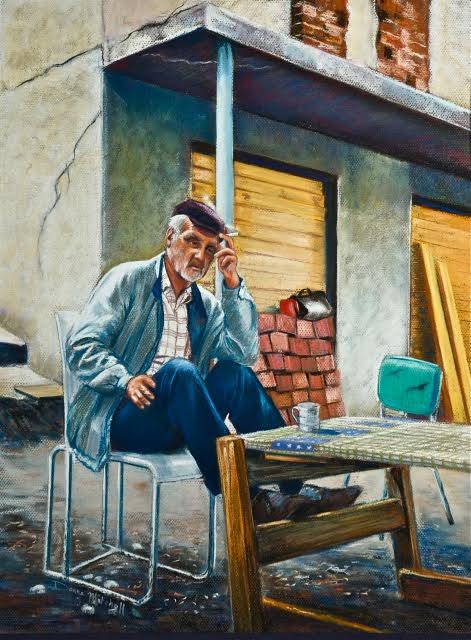 Donna Mitchell comes from a more traditional classic art educational background having studied extensively with renowned portrait artist Karl Foster.  Donna is a member / instructor at The Art Center School and Galleries in Mechanicsburg, PA.  Donna is also a member of the Portrait Society of America and several other art institutions.  She has exhibited both solo and juried shows at the Washington County Museum of Fine Arts as well as in Alabama, Maryland, Pennsylvania, Virginia, West Virginia, and Wisconsin.
"Wine Down Friday" receptions, featuring live music, wine and light refreshments, are scheduled on Friday from 5:00 to 8:00 p.m. at four of the galleries.
– Friday, July 10, 5:00 – 8 p.m. at Gallery 50, Sharon Rost will be featured on piano during the season opening gala reception.   The gallery is located at 50 West Main Street.
Activities and receptions are also planned at 42 West ARTS Co-Op (42 W. Main St.), Gallery 20 East (20 E. Main St.), The Contemporary School of the Arts & Gallery (10 E. Main St.) and the Ceramic Arts Center of Waynesboro (13 S. Church St.) between 5 and 8 p.m.

The Negley Brothers will be the featured musicians in Center Square from 5:30 – 8:00 pm.  This popular duo who perform classic rock and new music, focused on vocal harmony, which will get the audience up and dancing.  (Rain site will be Gallery 20 East.)
At 42 West Arts Co-Op , 5:00 – 8:00 pm, a special live performance and recording will be taking place featuring Susan Dale on keyboard, Patric Schlee on drums and flute, and Tom McFarland on guitar.
The artists at 42 West Arts Co-Op currently has an all members show titled "Cats" continuing through August. The show has "Cats" in various art forms including Donna Bingaman paintings, Denny Bingaman photography and cold cast bronzes, Jenifer Codwell jewelry, Laura Shindle paintings, Ed Beard wood burnings, Andy Smetzer photography, Pat Beard fiber art and other artists work from the Co-Op.

This is the final weekend to view "Vivid Abstractions" – Paintings and Mixed Media featuring the work of Linda Slattery Sherman and Marion Griffin.  The show, which is in Gallery 20 East and has a number of vibrant painting and a variety of sizes, will end on July 12.
In addition to "Vivid Abstractions" Gallery 20 East is featuring the work of several local photographers.
John O. Williams will present a special art exhibit called "Out of the Basement" from 8:00 – 10:00 pm at The Contemporary School of the Arts & Gallery. This should be an exciting show as the art is animated and emanates sound and light.
The Contemporary School of the Arts and Gallery is located at 10 East Main Street.  The school offers programing for youth in the community.  Stop and visit the gallery to see current class schedules.
Visit the web site for all details. http://www.csagi.org
Saturday, July 11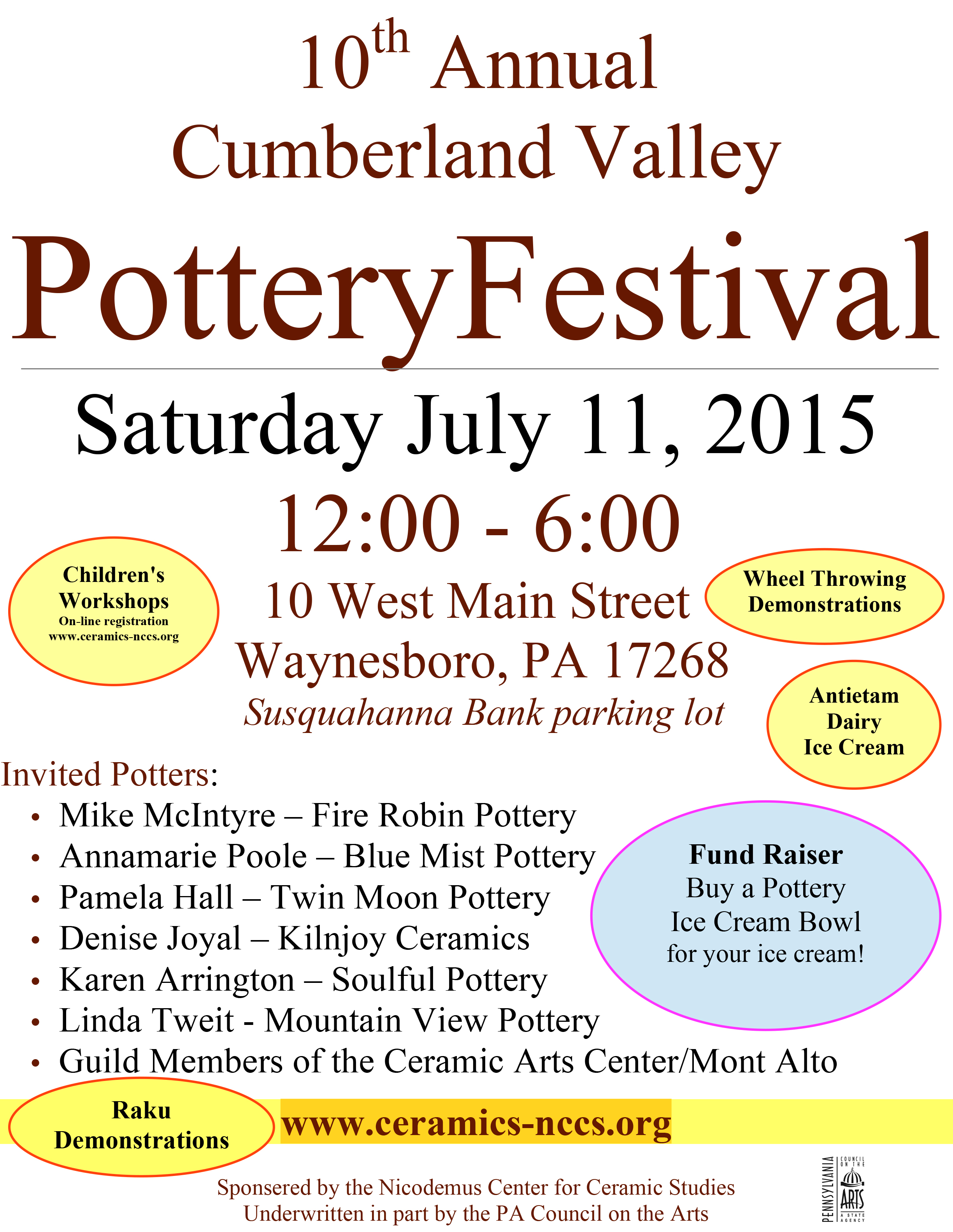 The 10th Annual Cumberland Valley Pottery Festival will be held on Saturday, July 11th from 12:00-6:00 pm in the Susquehanna Bank parking lot and at the Ceramic Arts Center.  During the festival, several regional ceramic artists, including Mike McIntyre of Fire Robin Pottery, Pam Hall of Twin Moons Pottery,  Annamarie Poole of Blue Mist Pottery,  Denise Joyal of Kilnjoy Ceramics, Karen Arrington of Soulful Pottery, Linda Tweit of Mountain View Pottery and several members of the NCCS  pottery guild will display and sell their works. Visitors will have an opportunity to interact with the artisans and explore the wide range of clay working techniques they use. Other activities and classes will also be offered.

Singer-songwriter Rich Fehle will perform in Center Square (rain site Gallery 20 East), 3:00 – 6:00 pm.  Through songwriting Rich has performed at country music festivals in Portugal, in venues throughout Northern England. His songs have been used in projects in the UK, and recently a production company creating shows for CMT.

Denny Bingaman will be demonstrating the technique of carving and dyeing a dragonfly on a gourd bowl from 12:00 to 2:00 pm at 42 West Arts Co-Op.  Denny is a native of Waynesboro who is well know for his photographs of birds and wildlife.  He also works with clay, making sculptures of wildlife using his photographs as a reference.
Also at 42 West Arts Co-Op, Donna Bingaman will be demonstrating oil painting portraits of people and pets from 12:00 to 2:00 pm.  Donna specializes in oil and pastel portraits.  She is an impressionist, realist, and a blender of originality and tradition, and her work has won numerous awards.
"Rhythm and Art with Nicola Sussman" will be offered free of charge from 2:00 to 3:00 pm in Gallery 20 East.  Children entering grades K – 3 are invited to come and create an oatmeal box drum and then learn rhythm techniques as they sing to a variety of age appropriate songs. A teacher in Gathersburg, MD,  Nicola Sussman holds a BS in Elementary/Special Education from Hood College and also teaches for Cumberland Valley School of Music and is a licensed "Zumba for Kids" instructor.

Singer-songwriter Brad Munn will perform bluegrass, country, classic rock, and original songs at Schier's Furniture Lifestyles, 37 West Main St, from 2:30 to 5:00 pm.  Champagne and Zoe's chocolate will be served.  Sponsored by Schier's.

Linda D. Brooks will be at The Contemporary School of the Arts & Gallery from 2:00 – 5:00 pm to sign copies of her book, "Your Body, Your Brain, Your Blessings – Getting Healthy & Fit for God's Kingdom." Linda Brooks is the founder of the Activities for Life, Health and Fitness Center. She is a certified fitness instructor and a health and fitness ministry leader.
Sunday, July 12
Jason Kabler will be featured in Center Square (rain site Gallery 20 East) from 2:00 to 4:00 pm.  Jason  is a singer, songwriter, and Nashville recording artist originally from Greencastle PA.  In 1999, Jason signed a record deal with an independent record label, and released his debut album, "Follow Your Heart."  Still living in Nashville, Jason has produced six more CD's and is now the head of the Hendersonville, Tennessee chapter of Global Songwriters Connection. GSC is an organization that helps songwriters become more successful through education, support and networking. Jason is currently writing songs for his ninth album which he hopes to have recorded for release in 2016. He also continues to tour.
Musical performances are supported in part by the Pennsylvania Council on the Arts, a state agency funded by the Commonwealth of Pennsylvania and the National Endowment for the Arts, a federal agency.
"Destination ARTS!" currently features five galleries –
Gallery 50 (50 West Main Street)
Gallery 20 East (20 East Main Street)
42 West ARTS (42 West Main Street)
The Ceramic Arts Center of Waynesboro (13 South Church Street)
The Contemporary School of the Arts & Gallery (10 East Main Street)
Together, the galleries feature oil paintings, watercolors, pottery, fiber arts, sculpture, photographs, furniture, prints and much more. They are open each week as follows:
Thursdays from 1:00 to 4:00 ( Gallery 50 and 42 West ARTS Co-Op only)
Fridays from 5:00 to 8:00 p.m.
Saturdays from 12:00 to 6:00 p.m.
Sundays from 1:00 to 4:00 p.m.

For more information, visit artsalliancegw.org.