Destination ARTS! activities continue in Waynesboro, PA with art exhibits, special events, and live music scheduled at Gallery 50, Gallery 20 East, 42 West ARTS Co-Op, the Ceramic Arts Center of Waynesboro, the Contemporary School of the Arts & Gallery , and outside in Waynesboro's Center Square.  All performances and events are free unless otherwise indicated.
Children are invited to participate in a Destination ARTS! Scavenger Hunt!  As "Destination ARTS! Detectives," they will solve clues relating to the works of art on display. Prizes will be awarded upon completion of the scavenger hunt, which will take them to five galleries clustered within two blocks.  Successful detectives will also be eligible to win one of several grand prizes to be drawn on October 4.
Thursday, August 20

Marjorie Tressler, Gallery 50 curator/director, is starting a new demo series this Thursday from 1:00 to 4:00 pm, painting a landscape in oil.  Marjorie studied eight years with master landscape artist David Buckley Good at the Schuler School of Fine Arts, as well as with Ron Riddick of Tucson AZ, Denise Burns of Catalina Island, CA, and Lester Jay Stone locally.
Donna Bingaman will be demonstrating  portraits and floral oil painting Thursday from 1:00 to 3:00 pm.  A native of Waynesboro, PA.  Donna  specializes in painting oil portraits, still life, genre and sculptures.  She  is a graduate of the Washington School of Art and has studied with several regionally and nationally known portrait and oil painting artists.
Friday, August 21


Wine Down Friday activities and receptions are also planned at Gallery 50 (50 W. Main St.), 42 West ARTS Co-Op (42 W. Main St.), and the Ceramic Arts Center of Waynesboro (13 S. Church St.) between 5:00 and 8:00 pm.

"G@g" featuring Gillian Hollen (vocals, keyboard and guitar) and Garrett Smith (vocals and keyboard) will be performing their unique interpretations of contemporary and standards songs in Center Square Friday from 5:30 pm to 8:00 pm.

Patric Schlee will be creating original improvisational music on guitar, didgeridoo, flute and drums at 42 West ARTS Co-Op.  The public is invited to join in.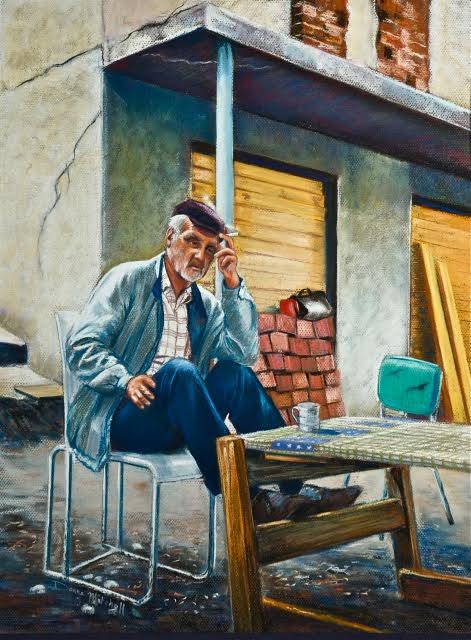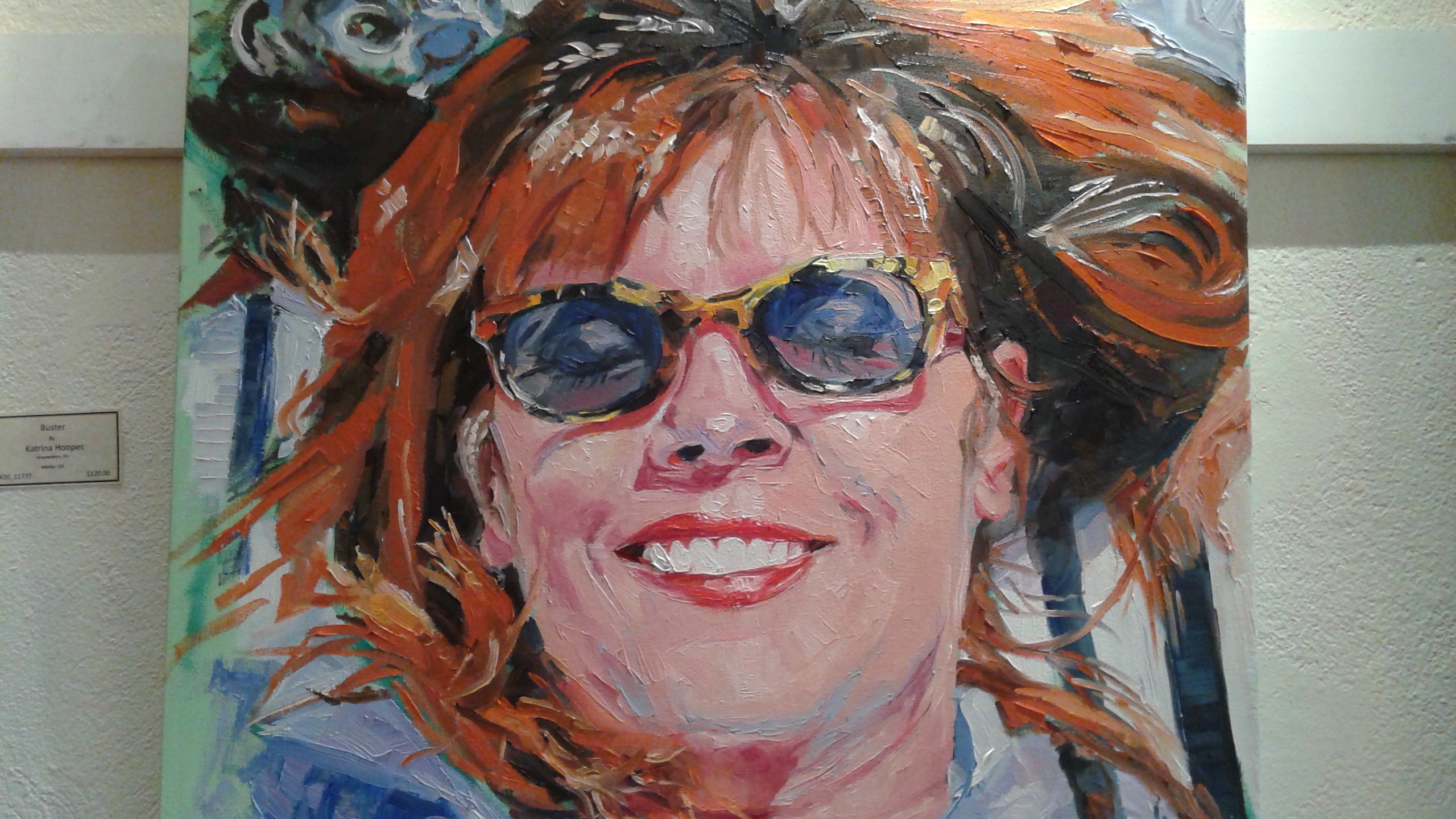 In addition to more than 800 pieces of art from some of the finest artists in the Mid-Atlantic states, Gallery 50 is currently featuring artists Katrina Hoopes and Donna Mitchell in a show called "2 Women, 2 Points of View". Katrina Hoopes, an impressionist oil painter, uses bold strokes in both large and small formats.  Donna Mitchell, a traditional realist, works in pastel using brilliant colors and interesting subjects in her compositions.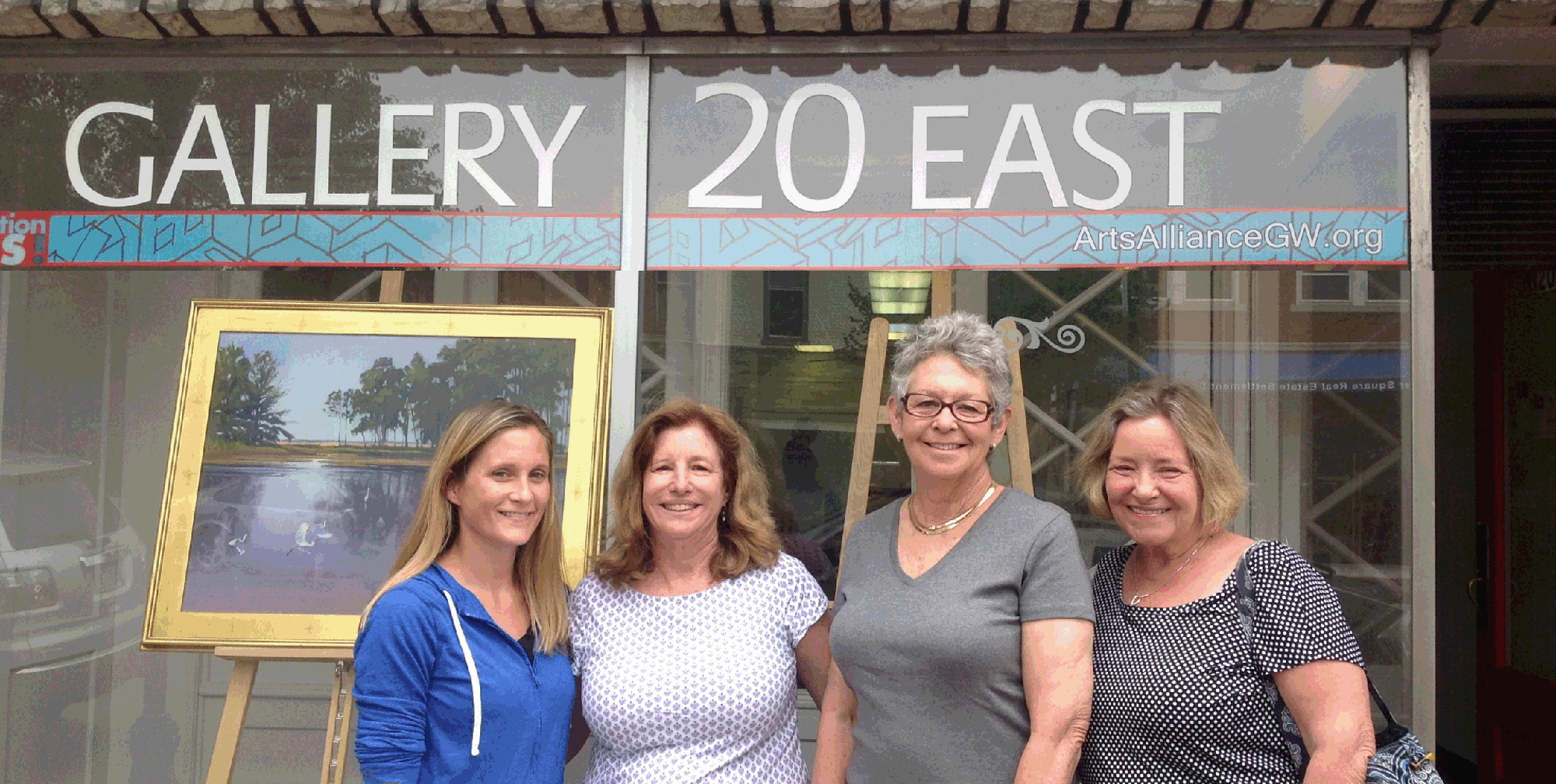 This weekend will be your last chance to see VIEWS: VIEWS: Expressive Landscapes, featuring paintings by Jackie Jouvenal, Jan Kauffman, Ann Shaefer and Linda Kirvan, will continue at Gallery 20 East.  The four artists, who are from the Frederick, MD and Washington, DC area, share their contemporary and intimate interpretation of the classic landscape painting. Deftly using color, light and movement their paintings draw us in capturing the atmosphere of an evanescent moment in time. A new exhibit will be moving to Gallery 20 East on August 27.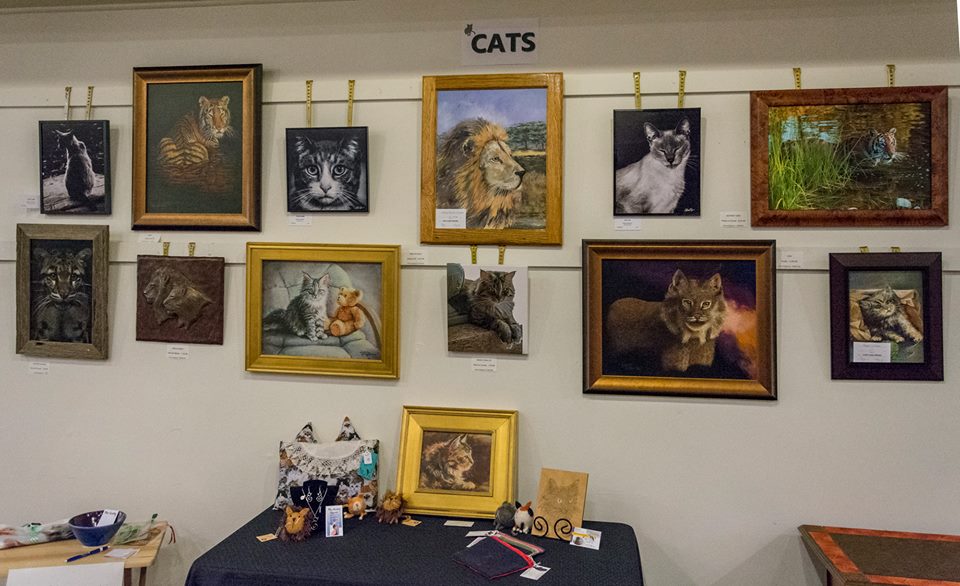 42 West Arts Co-Op currently is highlighting a show titled "Cats" which will continue through August. Various art forms including work by Donna Bingaman (paintings), Denny Bingaman (photography and cold cast bronzes), Jenifer Codwell (jewelry), Laura Shindle (paintings), Ed Beard (wood burnings), Andy Smetzer (photography), Pat Beard (fiber art),  and other artists work from the Co-Op is well represented.

The Ceramic Arts Center of Waynesboro  hosts pottery classes and workshops including an introduction to Pottery Class, a Teen Wheel Throwing Class, a monthly Children's Class, and two hour Corks and Clay Workshops specializing in creating hand built projects.  The Ceramic Arts Center brings together area potters of all skill levels and ages with classes, pottery sales, and members have 24/7 access to the wheels and kiln.
The Contemporary School of the Arts and Gallery is featuring the work of photographer Amanda F. Wells. The school also offers after-school art classes for school age students.
Saturday, August 22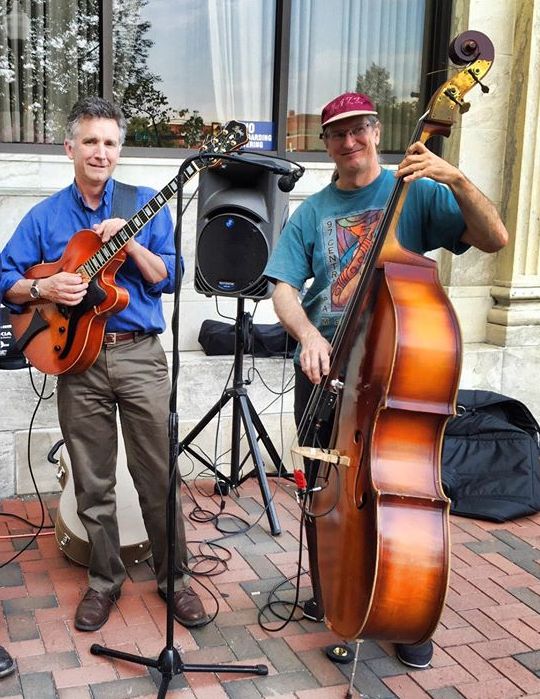 The Ken Jankura Jazz Trio  featuring  Ken Jankura(vocals and upright bass), Joe Dennison (guitar), and Bob Jones (drums) will play jazz standards in Center Square from 2:30 to 5:00 pm.  The group is well known throughout the region and have been playing contemporary jazz, blues, and other genres for more than 20 years.

Hollis Mentzer is going to demonstrate nature printing on absorbant paper using dried plant specimensvfrom 1:00 to 3:00 pm at 42 West Arts Co-Op.  Nature printing is the natural companion to papermaking.  In his art, Hollis attempts to convey the simplicity/complexity of natural forms using dried and compressed plant specimens. Composition and color are the challenges in presentation.
Sunday, August 23


The Positronic Cats will be in Center Square from 2:00 to 4:00 pm.  This acoustic folk duo use simple chord progressions, powerful vocals and intricate mandolin phrasings as a foundation for their songs about love, revenge and the future. The group is made up of Waylon K. Smith, vocals and guitar, and Jim Taylor, mandolin.
Musical performances are supported in part by the Pennsylvania Council on the Arts, a state agency funded by the Commonwealth of Pennsylvania and the National Endowment for the Arts, a federal agency.
"Destination ARTS!" currently features five galleries –
Gallery 50 (50 West Main Street)
Gallery 20 East (20 East Main Street)
42 West ARTS (42 West Main Street)
The Ceramic Arts Center of Waynesboro (13 South Church Street)
The Contemporary School of the Arts & Gallery (10 East Main Street)
Together, the galleries display oil paintings, watercolors, pottery, fiber arts, sculpture, photographs, furniture, prints and much more. They are open each week as follows:
Thursdays from 1:00 to 4:00
Fridays from 5:00 to 8:00 p.m.
Saturdays from 12:00 to 6:00 p.m.
Sundays from 1:00 to 4:00 p.m.

For more information, visit artsalliancegw.org.