Destination ARTS! activities continue in Waynesboro, PA with art exhibits, special events, and live music scheduled at Gallery 50, Gallery 20 East, 42 West ARTS Co-Op, the Ceramic Arts Center of Waynesboro, the Contemporary School of the Arts & Gallery , and outside in Waynesboro's Center Square.  All performances and events are free unless otherwise indicated.
Children are invited to participate in a Destination ARTS! Scavenger Hunt!  As "Destination ARTS! Detectives," they will solve clues relating to the works of art on display. Prizes will be awarded upon completion of the scavenger hunt, which will take them to five galleries clustered within two blocks.  Successful detectives will also be eligible to win one of several grand prizes to be drawn on October 4.
Thursday, September 17

Marjorie Tressler, Gallery 50 volunteer curator/director, will continue her demonstration of painting a landscape in oil Thursday from 1:00 to 3:00 pm.  Marjorie studied eight years with master landscape artist David Buckley Good at the Schuler School of Fine Arts, as well as with Ron Riddick of Tucson AZ, Denise Burns of Catalina Island, CA, and Lester Jay Stone locally.
At 42 West Arts Co-op, Donna Bingaman will be demonstrating oil painting portraits of people and pets from 1:00 to 3:00 pm.  Donna is an impressionist, realist, and a blender of originality and tradition, winning many best of shows, and numerous other awards.  She is a graduate of the Washington School of Art and has studied with several regionally and nationally known portrait and oil painting artists.  Her portraits have been exhibited at the Cumberland Valley and the Valley Art Show held at the Hagerstown Fine Art Museum, as well as at a one-woman show of her portraits at the Washington County Museum of Fine Arts.
Friday, September 18

Wine Down Friday activities and receptions are planned at Gallery 50 (50 W. Main St.), 42 West ARTS Co-Op (42 W. Main St.), Gallery 20 East (20 E. Main St.) and the Ceramic Arts Center of Waynesboro (13 S. Church St.) between 5:00 and 8:00 pm.

Down in Center Square, Ethan Larsh will be performing from 5:30-8:00 pm. Larsh is a singer/songwriter from Waynesboro, Pennsylvania. Being influenced by Harry Nillsson and Paul McCartney, he delivers catchy piano rock that will have you singing along.
From 5:30 to 8:00 pm at Gallery 50, pianist Sharon Rost will play an eclectic set including standards, showtunes, and well known popular music.

Patric Schlee will be creating original improvisational music on guitar, didgeridoo, flute and drums at 42 West ARTS Co-Op.  The public is invited to join in.
Saturday, September 19
A Magical Experience, featuring the magic of David Wayne and balloons by Miss Penelope will perform from 3:00 to 5:00 pm in Center Square. Miss Penelope will create balloon animals at the start of the hour, and the magic show will begin at 3:30 pm. David Wayne Bowers has been performing magic since 1996. He is a member of The Society of American Magicians and was recently installed as the National President at the S.A.M. Annual Convention in Philadelphia. He is also a member of the International Brotherhood of Magicians, and the Magicians Alliance of Eastern States. He has performed in various "King Magic Ring" presentations including "The Festival of Magic" at the Maryland Theater and several West Virginia Wizards shows at the Apollo Theater in Martinsburg, Wv. Mr. Bowers has also appeared at the World Bank in Washington, D.C. for their children's day festival. He has presented shows for the Totem Pole Theater and local clubs and organizations, and enjoys performing for children of all ages. "Miss Penelope" (Judy Bowers) is a retired WASD teacher who has 35 years of experience working with children. In addition to assisting with the magic show, Miss Penelope will be creating balloon animals for the children.
Several events will be taking place in 42 West Arts Co-Op as well. From 1:00 to 3:00 pm, Denny Bingaman will feature a slide show of many of his nature and wildlife photographs taken over the past 25 years. The slide show will have music in the background with smooth transitions between each slide. Denny is a native of Waynesboro, Pennsylvania, who photographs birds and wildlife in the local area as well as other parts of the country. He started into photographing wildlife about 30 years ago, and has filed some 65,000 images of birds and other wildlife. He also works with clay, making sculptures of wildlife using his photographs as reference. The clay works are used to render rubber molds for casting cold cast bronze, copper, etc. After casting a patina is applied, and finished off with steel wool and waxed.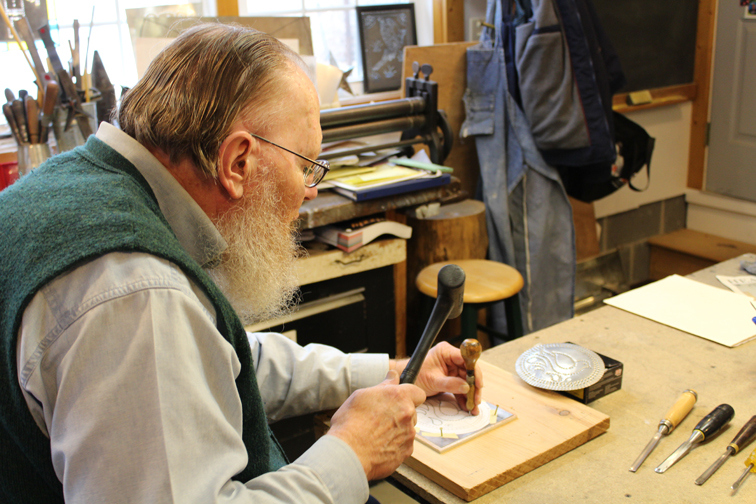 Also at 42 West Arts Co-Op, Bob North will be demonstrating tin piercing of his owns designs and animals from 2:00 to 4:00 pm. J. Robert (Bob) North started tinsmithing as an economical Christmas gift in 1974 – he used salvaged tin from turpentine cans to make his wife an electrified lantern which is still in use. The project was a success and so interesting that he read all the library books he could find and began acquiring the necessary tools. Finally in 1989 he found a class to take in Lancaster, and later studied privately for four years with a master tinsmith in Eden, PA. As his expertise increased Bob taught the class in Lancaster and at several other craft schools, which is a natural progression as he taught elementary school for 32 years! He also holds classes at his shop along Country Club Road in Waynesboro. Not only does he cut and form the tin into modern lighting, but he really enjoys piercing the tin with small holes to allow the light to shine through. He currently has a selection of pierced tin nightlights at 42 West Arts.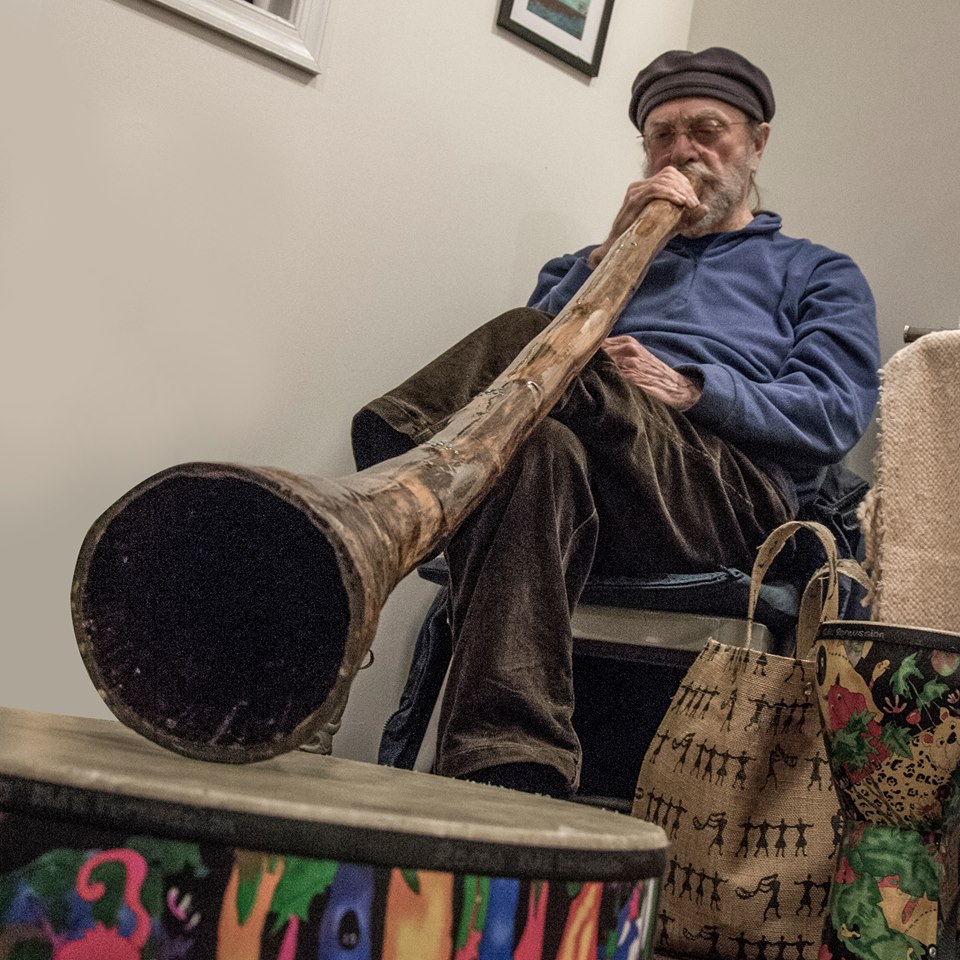 Patric Schlee will be hosting a Didgeridoo Workshop from 1:00 to 4:00 pm at 42 West Arts Co-Op. The didgeridoo is a wind instrument developed by Indigenous Australians of northern Australia around 1,500 years ago and still in widespread use today both in Australia and around the world.  It is sometimes described as a natural wooden trumpet or "drone pipe". Patric is a resident of Waynesboro, Pa. who has spent many years fine-tuning his wind chime and metalophone designs. He has appeared at many fine art and craft shows selling and displaying his unique crafts. This workshop will be limited to 12 participants, and a sign up sheet is available at the Co-Op.
Sunday, September 20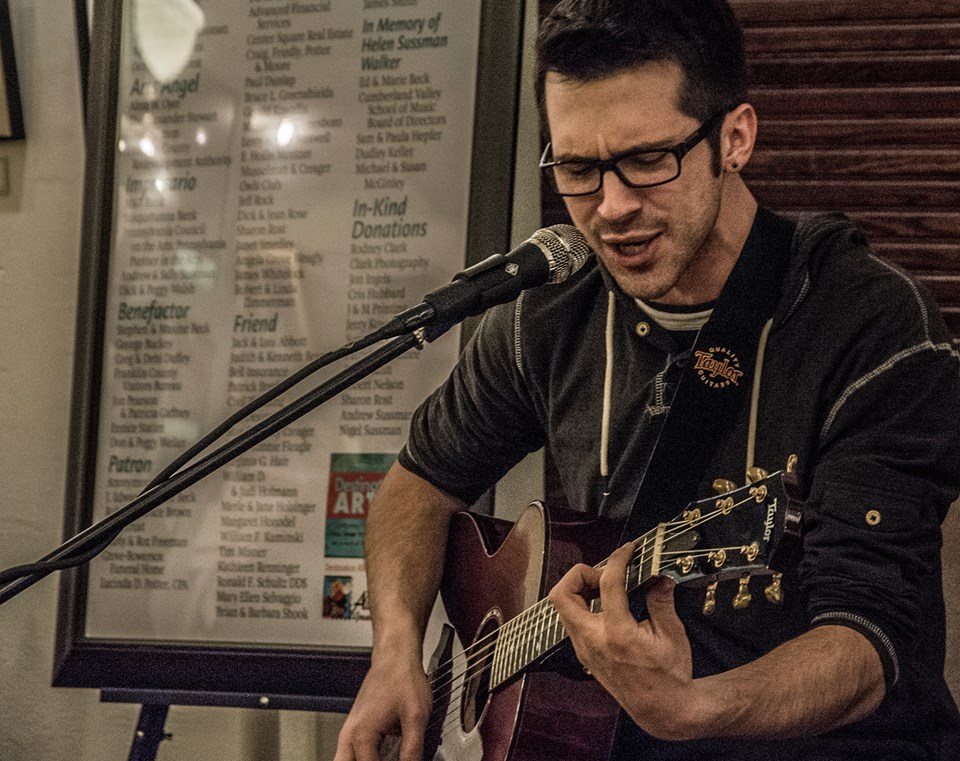 Waynesboro native Christian Harper will be performing in Center Square from 2:00 to 4:00 pm. As a member of the popular band known as Dimestore Profit, Harper had the opportunity to perform with national acts such as Eve 6, Kix and Better than Ezra.
Ongoing Shows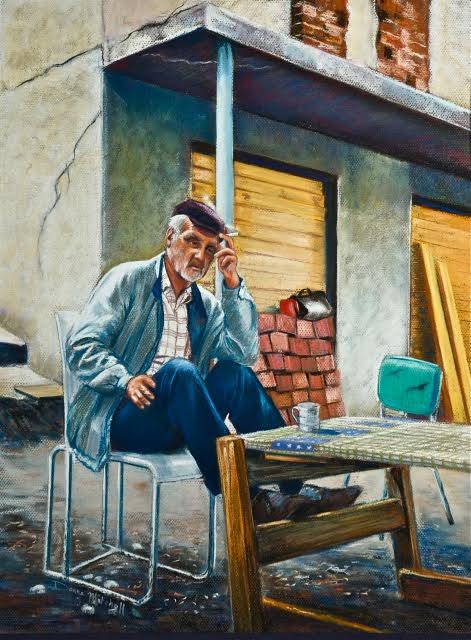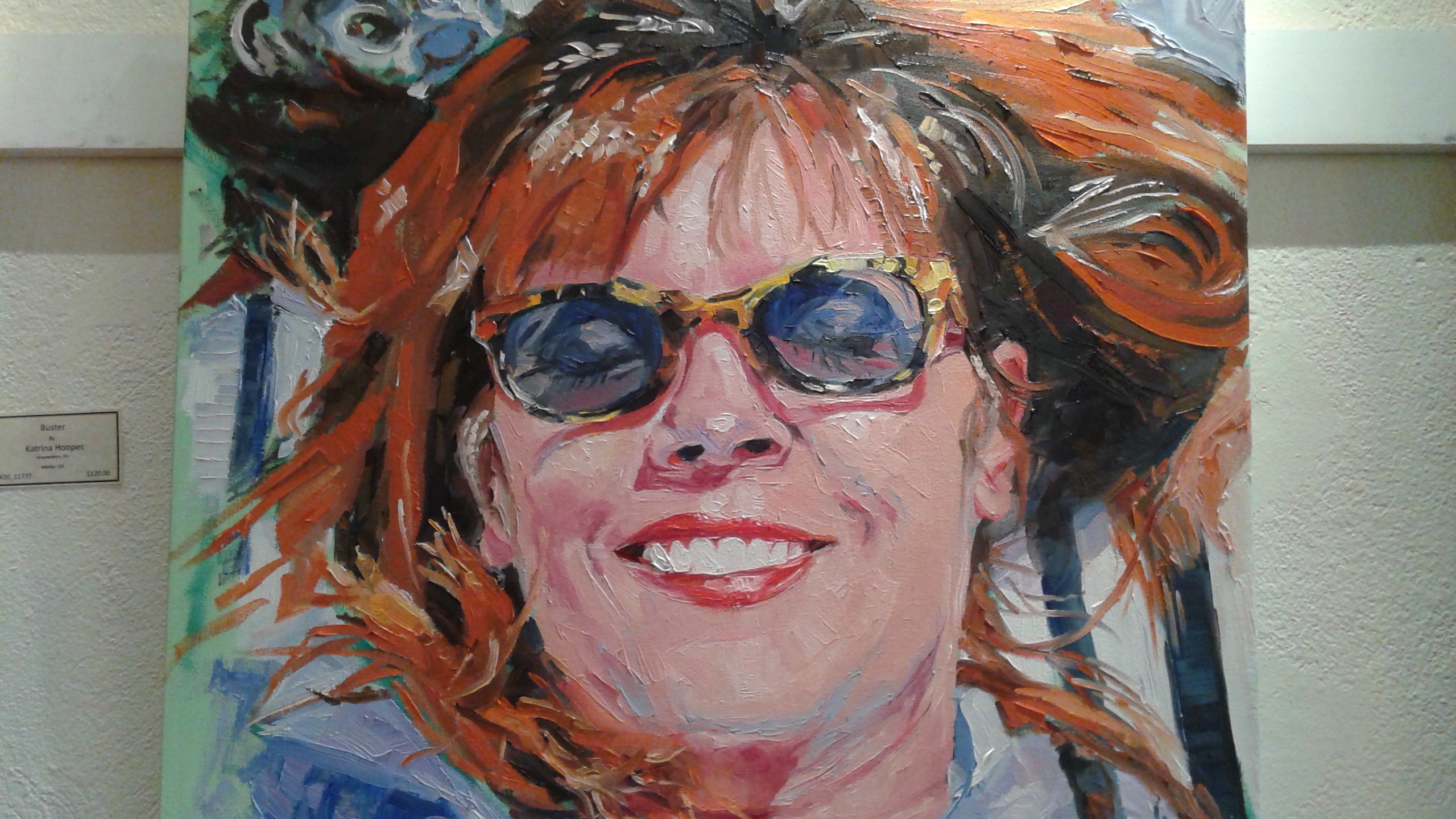 In addition to more than 800 pieces of art from some of the finest artists in the Mid-Atlantic states, Gallery 50 is currently featuring artists Katrina Hoopes and Donna Mitchell in a show called "2 Women, 2 Points of View". Katrina Hoopes, an impressionist oil painter, uses bold strokes in both large and small formats.  Donna Mitchell, a traditional realist, works in pastel using brilliant colors and interesting subjects in her compositions.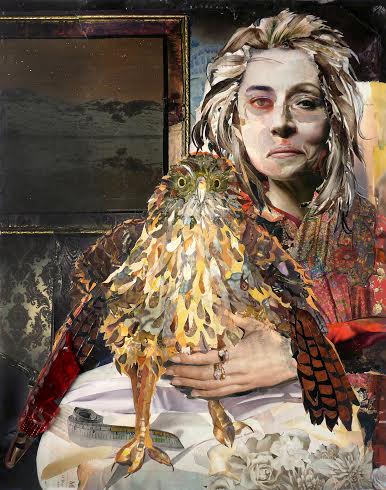 Gallery 20 East presents  "Myths in Nature: Collage and Mixed Media by Julie Maynard", 5:00 to 8:00 pm.   Julie Maynard is a collage artist who began working with bits of magazines and catalogs on wood. Much of her current work is a form of painting with paper on two- or three-dimensional surfaces, often incorporating objects picked up along the Potomac River and city streets. Her work reflects on the impact our culture has on the environment and the impact that nature still has on us. Maynard is the editor and publisher of The Brunswick Citizen and The Middletown Valley Citizen.  She lives near Burkittsville, MD.

The members of the 42 West Arts Co-Op will be hosting an opening reception of their new show "Forever Flowers" from 12:00 to 6:00. This show includes Donna Bingaman oil painting,  Lori Linthicum creative pottery, Tom McFarland painting, Denny Bingaman photography, Rod & Karri Benedict pottery, Ed Beard wood burning, Hollis Mentzer nature printing, Andy Smetzer photographer, and Jennifer Caldwell silver jewelry.

The Ceramic Arts Center of Waynesboro  hosts pottery classes and workshops including an introduction to Pottery Class, a Teen Wheel Throwing Class, a monthly Children's Class, and two hour Corks and Clay Workshops specializing in creating hand built projects.  The Ceramic Arts Center brings together area potters of all skill levels and ages with classes, pottery sales, and members have 24/7 access to the wheels and kiln.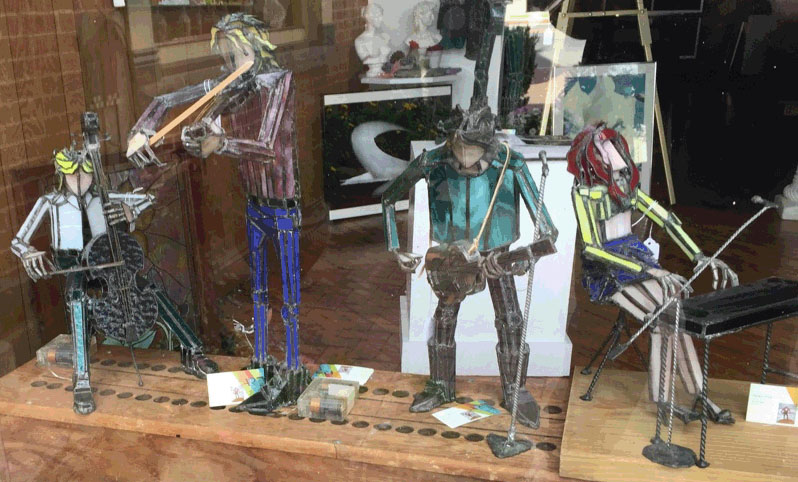 At the  Contemporary School of the Arts and Gallery stained glass artist George V. Grillo, will have his first solo exhibit from September 1 through October 1.  There will be a reception and demonstration on September 12, from 12:00 pm  to 4:00 pm. The Contemporary School of the Arts and Gallery is located at 10 East Main Street.
Musical performances at Destination ARTS! are supported in part by the Pennsylvania Council on the Arts, a state agency funded by the Commonwealth of Pennsylvania and the National Endowment for the Arts, a federal agency.
"Destination ARTS!" currently features five galleries –
Gallery 50 (50 West Main Street)
Gallery 20 East (20 East Main Street)
42 West ARTS (42 West Main Street)
The Ceramic Arts Center of Waynesboro (13 South Church Street)
The Contemporary School of the Arts & Gallery (10 East Main Street)
Together, the galleries display oil paintings, watercolors, pottery, fiber arts, sculpture, photographs, furniture, prints and much more. They are open each week as follows:
Thursdays from 1:00 to 4:00
Fridays from 5:00 to 8:00 p.m.
Saturdays from 12:00 to 6:00 p.m.
Sundays from 1:00 to 4:00 p.m.

For more information, visit artsalliancegw.org.