Destination ARTS! activities continue in Waynesboro, PA with art exhibits, special events, and live music scheduled at Gallery 50,  42 West ARTS Co-Op, the Ceramic Arts Center of Waynesboro, and the Contemporary School of the Arts & Gallery.  All performances and events are free unless otherwise indicated.
Friday, October 30

Wine Down Friday activities and receptions are planned at Gallery 50 (50 W. Main St.), 42 West ARTS Co-Op (42 W. Main St.), and the Ceramic Arts Center of Waynesboro (13 S. Church St.) between 5:00 and 8:00 pm.
Friday, from 5:30 pm to 8:00 pm in Gallery 50, there will be a unique mixed media event combining improvised music with live painting, allowing attendees to join in the spontaneous creation.  Bob Courter (guitar and vocals with "Prophets of the Abstract Truth") and George Rohrer (guitar, bass, and vocals with the "Blue Comets" and "Compass Creek") will each perform solo sets combining originals and eclectic covers.  This will be followed by free form music joined by local artist Harold Shapiro who will encourage attendees to join him as they interpret what they are hearing visually.

Patric Schlee will be creating original improvisational music on guitar, didgeridoo, flute and drums at 42 West ARTS Co-Op.  The public is invited to join in.
Saturday, October 31
Donna Bingaman, Gallery Director and member of 42 West Arts will be demonstrating  portraits and landscape oil painting from 12:00 pm to 2:00 pm.  Donna is a native of Waynesboro, PA.  She specializes in painting oil portraits, still life, genre and sculptures.  Donna is a graduate of the Washington School of Art and has studied with several regionally and nationally known portrait and oil painting artists.  She enjoys painting people from life or photos and strives to capture the unique personality of each.
Hollis Mentzer will be demonstrating Nature Printing on absorbent paper using dried plant specimens on absorbent paper at 42 West Arts Co-Op from 1:00 pm to 3:00 pm.  Hollis began his journey into the arts with a workshop in pottery. He maintained a studio for twenty years, doing craft shows throughout the southeast, having two gallery shows. Due to moving for teaching purposes and a back injury he gave up his pottery career and did a workshop in hand paper making, which he pursued twelve years and developed an interest  in nature printing, the natural companion to papermaking.  In his art, Hollis attempts to convey the simplicity/complexity of natural forms using dried and compressed plant specimens. Composition and color are the challenges in presentation.
After retiring from teaching, Hollis has renewed his interest in pottery through the Ceramic Arts Center and continues working in nature printing and collage. He is a member of the 42 West Arts Co-Op and the Ceramic Arts Center.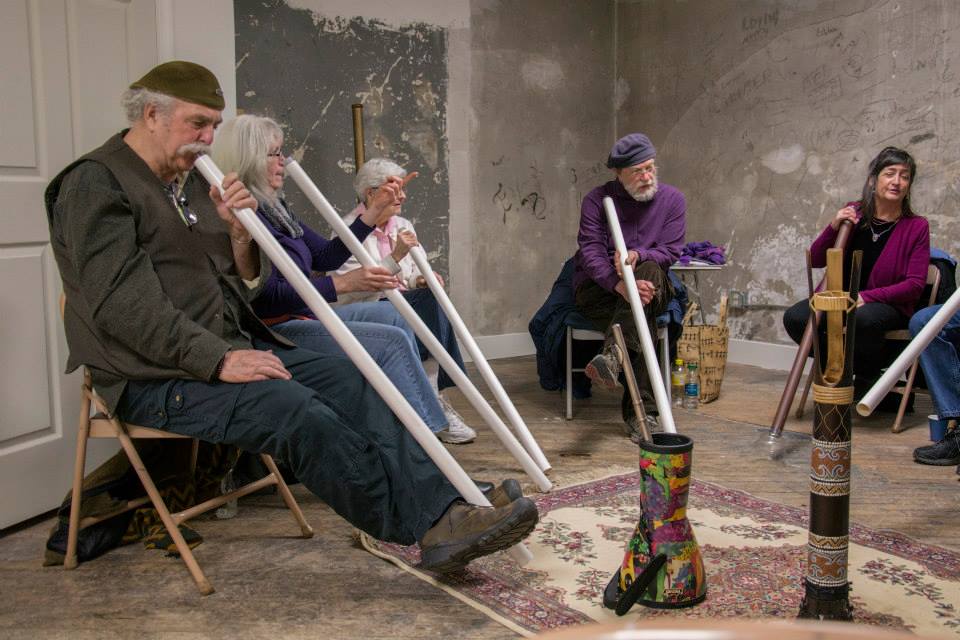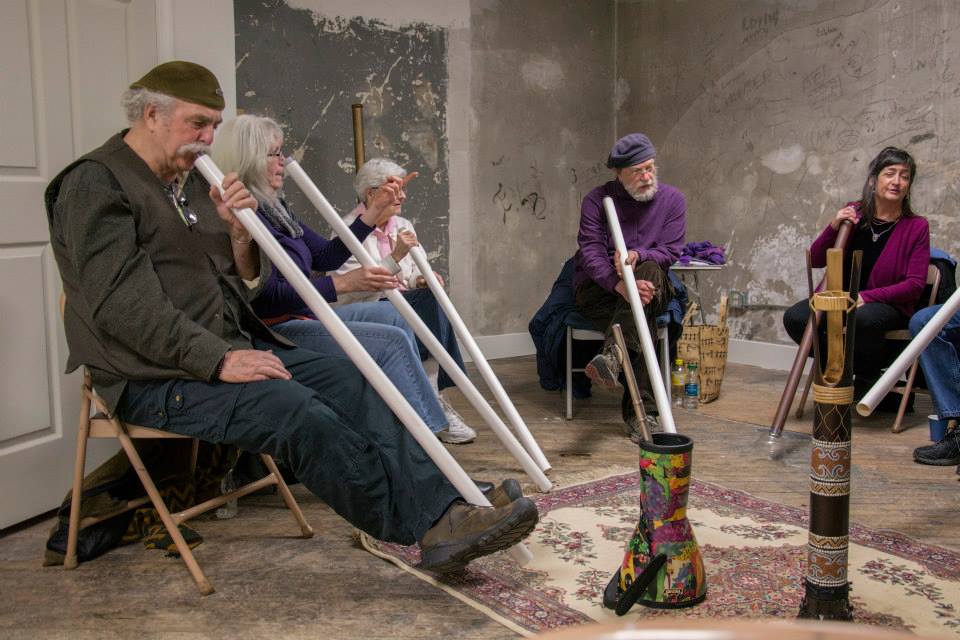 Make and play your own didgeridoo in an upcoming workshop with Patric Schlee from 1:00 pm to 4:00 pm. Limited to 12 participants.  The didgeridoo is a wind instrument developed by Indigenous Australians of northern Australia around 1,500 years ago and still in widespread use today both in Australia and around the world.  It is sometimes described as a natural wooden trumpet or drone pipe". Patric Schlee, a resident of Waynesboro, PA, spent many years fine-tuning his wind chime and metalophone designs. He has appeared at many fine art and craft shows selling and displaying his unique crafts.
Sunday, November 1
Galleries open 1:00 pm to 4:00 pm
Ongoing Shows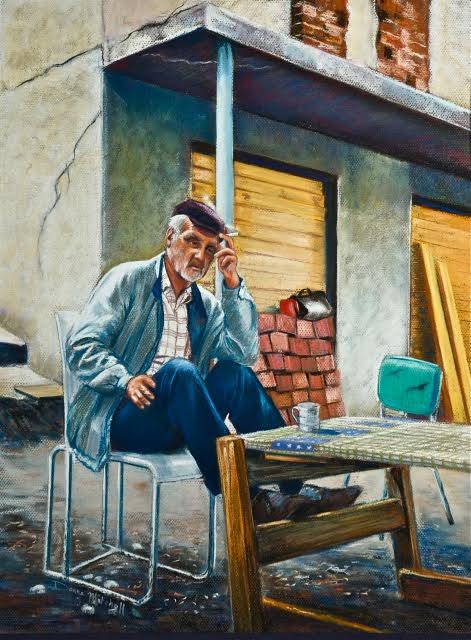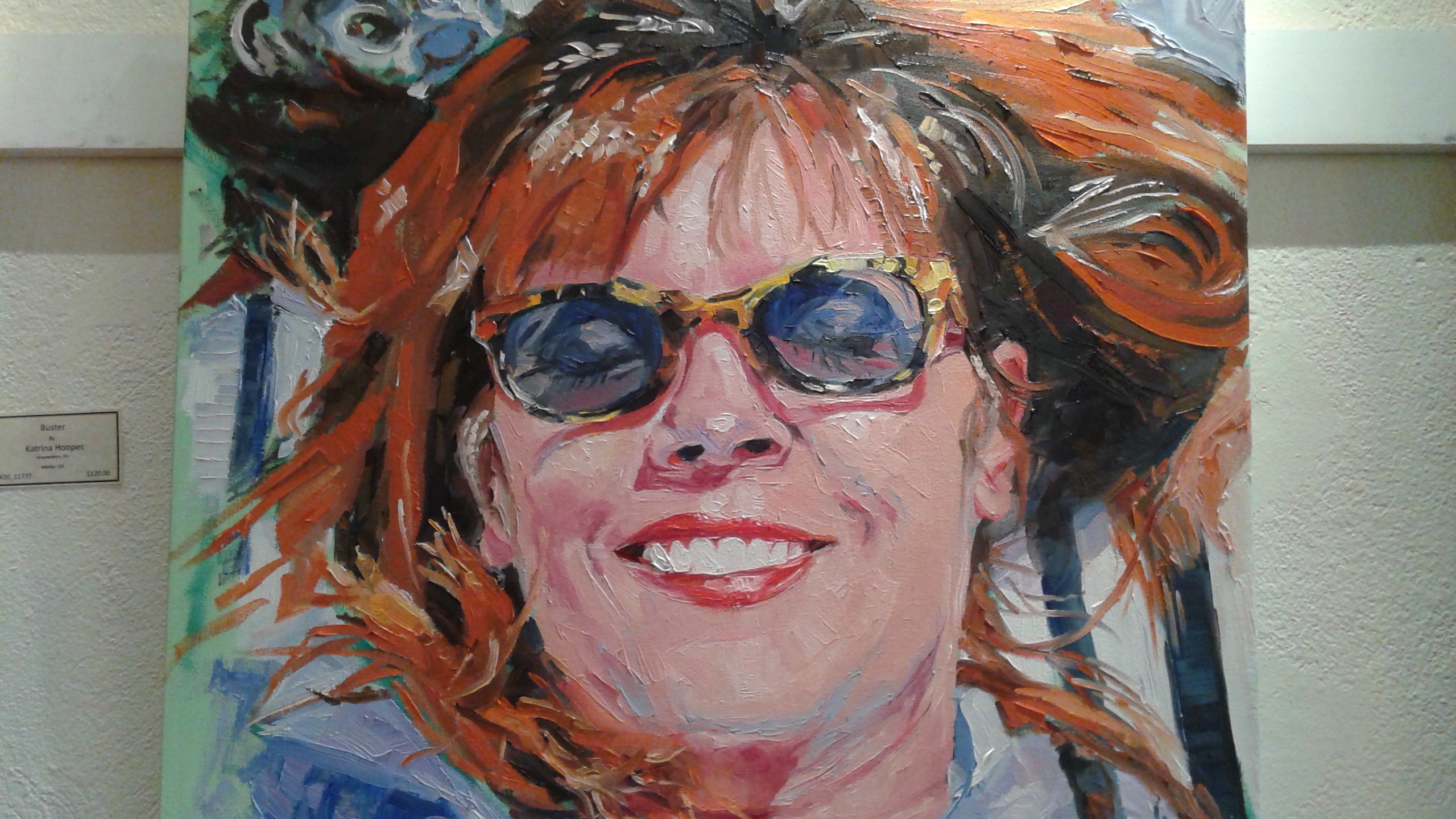 In addition to more than 800 pieces of art from some of the finest artists in the Mid-Atlantic states, Gallery 50 is currently featuring artists Katrina Hoopes and Donna Mitchell in a show called "2 Women, 2 Points of View". Katrina Hoopes, an impressionist oil painter, uses bold strokes in both large and small formats.  Donna Mitchell, a traditional realist, works in pastel using brilliant colors and interesting subjects in her compositions.
The members of the 42 West Arts Co-Op is continuing to spotlight a new show called "Forever Flowers" from 12:00 to 6:00. This show includes Donna Bingaman oil painting,  Lori Linthicum creative pottery, Tom McFarland painting, Denny Bingaman photography, Rod & Karri Benedict pottery, Ed Beard wood burning, Hollis Mentzer nature printing, Andy Smetzer photographer, and Jennifer Caldwell silver jewelry.

The Ceramic Arts Center of Waynesboro  hosts pottery classes and workshops including an introduction to Pottery Class, a Teen Wheel Throwing Class, a monthly Children's Class, and two hour Corks and Clay Workshops specializing in creating hand built projects.  The Ceramic Arts Center brings together area potters of all skill levels and ages with classes, pottery sales, and members have 24/7 access to the wheels and kiln.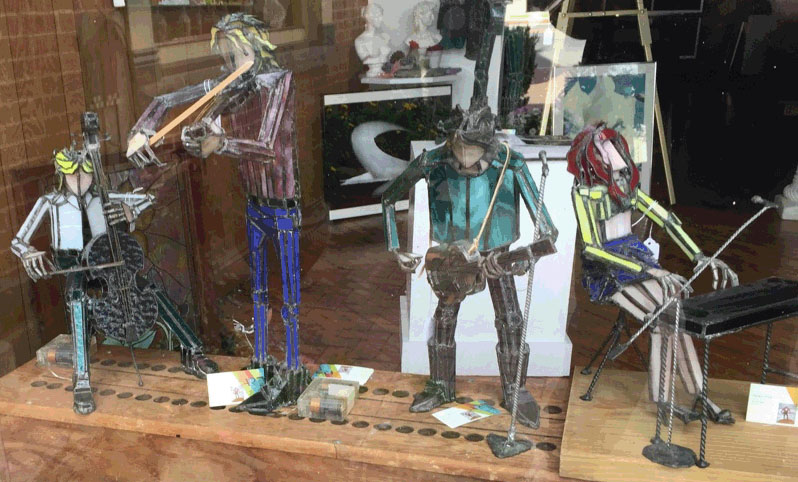 At the  Contemporary School of the Arts and Gallery stained glass artist George V. Grillo is having his first solo exhibit. The Contemporary School of the Arts and Gallery is located at 10 East Main Street.
Musical performances at Destination ARTS! are supported in part by the Pennsylvania Council on the Arts, a state agency funded by the Commonwealth of Pennsylvania and the National Endowment for the Arts, a federal agency.
Destination ARTS! currently includes:
Gallery 50 (50 West Main Street)
42 West ARTS (42 West Main Street)
Gallery 20 East (20 East Main Street)
The Contemporary School of the Arts & Gallery (10 East Main Street)
The Ceramic Arts Center of Waynesboro (13 South Church Street).
The galleries feature oil paintings, watercolors, pottery, sculptures, jewelry, photographs, furniture, and more. Most art is available for sale and  there is no charge for admission to the galleries.  This weekend, they will be open on:
Thursday from 1:00 to 4:00 p.m (select galleries only)
Friday from 5:00 to 8:00 p.m.
Saturday from 12:00 to 6:00 p.m.
Sunday from 1:00 to 4:00 p.m.
For more information visit www.artsalliancegw.org or call 717-655-2915.