Destination ARTS! activities continue in Waynesboro, PA with art exhibits, special events, and live music scheduled at Gallery 50,  42 West ARTS Co-Op, the Ceramic Arts Center of Waynesboro, the Contemporary School of the Arts & Gallery, and outside on Waynesboro's Center Square. (Gallery 20 East will be closed for this one weekend and will reopen October 16 to 18 with a special Science Fair Project exhibit.)  All performances and events are free unless otherwise indicated.
 Wednesday, October 7

For the past year, one special facet of Destination Arts has been the Writers Forum, which meets at Gallery 20 East on Waynesboro's Main Street the first Wednesday of each month from 5:00 to 7:00 P.M. Writers, poets and story-tellers of the region take turns reading something they've written to share with others. The Forum has featured members who speak on the many forms of poetry, how to find a publisher, the importance of having your work edited carefully before submitting it, as well as how to go about self-publishing your works. Anyone interested in writing is welcome to join the group to share memoirs, lyrical poetry, travels, anecdotes, children's stories, fiction or non-fiction as well as "tall tales" and works in progress. Director of the group is Jerry Kowallis, and the public is invited to join the Writers Forum on Wednesday, October 7th at Gallery 20, 20 East Main Street, Waynesboro. For further information email gk6684@netscape.net or call 717-352-8059.
Thursday, October 8
At 42 West Arts Co-op, Donna Bingaman will be demonstrating oil painting portraits of people and pets from 12:00 to 2:00 pm.  Donna is an impressionist, realist, and a blender of originality and tradition, winning many best of shows, and numerous other awards.  She is a graduate of the Washington School of Art and has studied with several regionally and nationally known portrait and oil painting artists.  Her portraits have been exhibited at the Cumberland Valley and the Valley Art Show held at the Hagerstown Fine Art Museum, as well as at a one-woman show of her portraits at the Washington County Museum of Fine Arts.
Friday, October 9
Wine Down Friday activities and receptions are planned at Gallery 50 (50 W. Main St.), 42 West ARTS Co-Op (42 W. Main St.), and the Ceramic Arts Center of Waynesboro (13 S. Church St.) between 5:00 and 8:00 pm.
Scott and Laurie Matlock will be performing at Gallery 50 from 5:30 PM to 8:00 PM.  In addition to their work as a duo, Scott (vocals and fiddle) and Laurie (vocals and guitar) are well known throughout the area for their work with Soleil.  Scott also performs with the popular bluegrass group Mountain Ride

Patric Schlee will be creating original improvisational music on guitar, didgeridoo, flute and drums at 42 West ARTS Co-Op.  The public is invited to join in.
Saturday, October 10
Denny Bingaman will be demonstrating the technique of carving, burning and dyeing on a gourd Saturday Sept. 5 from 12:00 – 2:00 PM at 42 West Arts Co-Op.
Ongoing Shows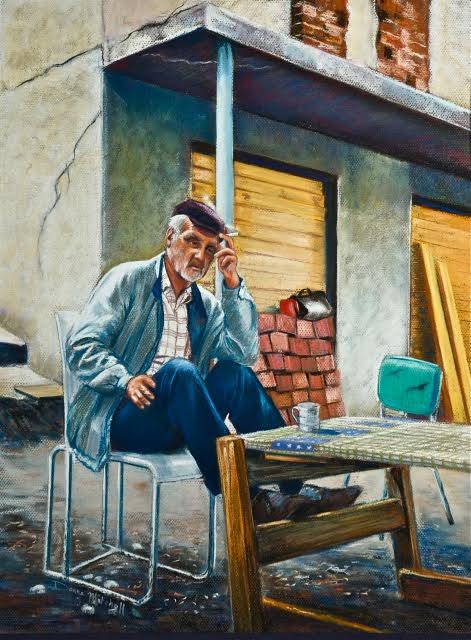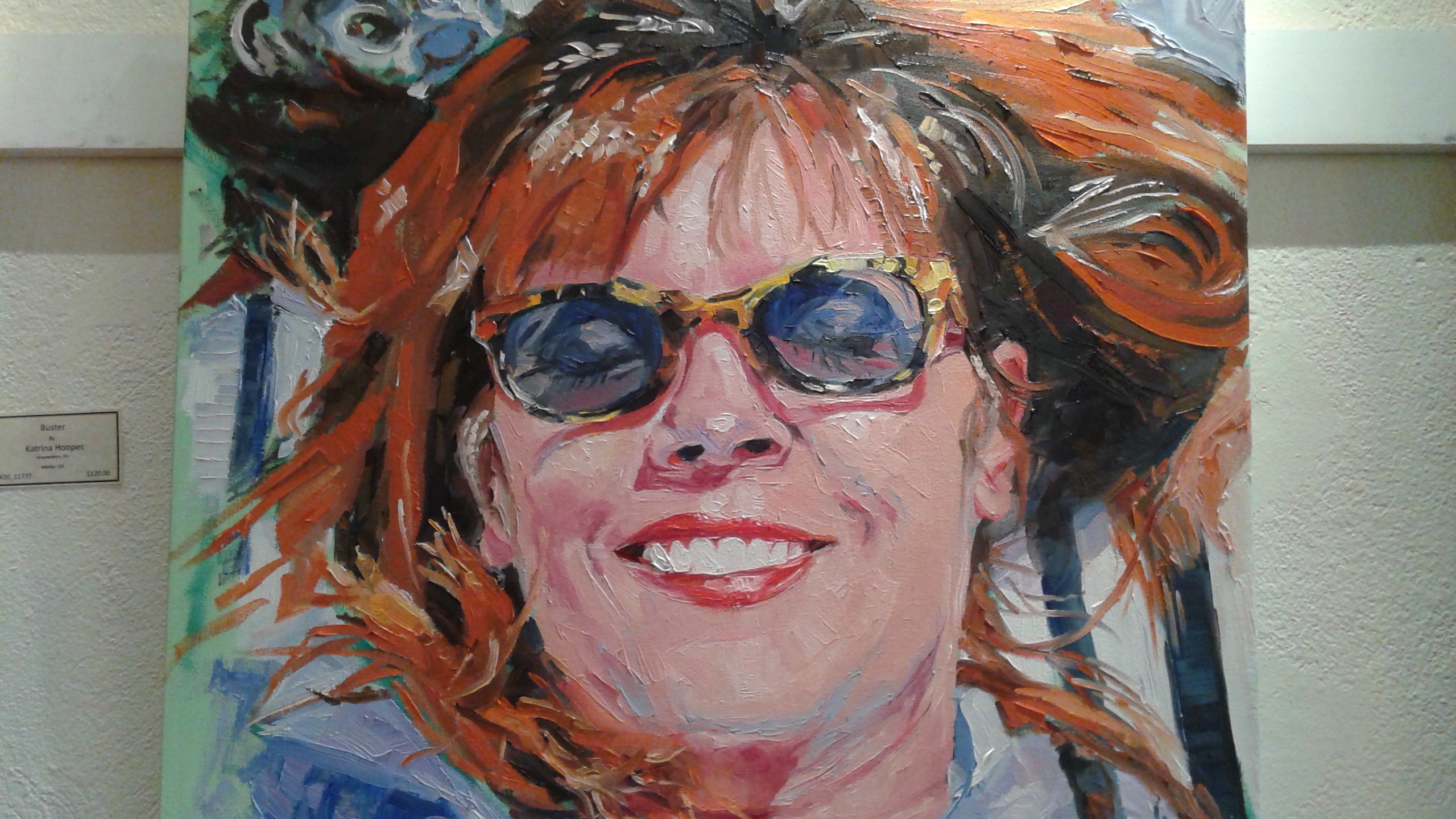 In addition to more than 800 pieces of art from some of the finest artists in the Mid-Atlantic states, Gallery 50 is currently featuring artists Katrina Hoopes and Donna Mitchell in a show called "2 Women, 2 Points of View". Katrina Hoopes, an impressionist oil painter, uses bold strokes in both large and small formats.  Donna Mitchell, a traditional realist, works in pastel using brilliant colors and interesting subjects in her compositions.
The members of the 42 West Arts Co-Op will be hosting an opening reception of their new show "Forever Flowers" from 12:00 to 6:00. This show includes Donna Bingaman oil painting,  Lori Linthicum creative pottery, Tom McFarland painting, Denny Bingaman photography, Rod & Karri Benedict pottery, Ed Beard wood burning, Hollis Mentzer nature printing, Andy Smetzer photographer, and Jennifer Caldwell silver jewelry.

The Ceramic Arts Center of Waynesboro  hosts pottery classes and workshops including an introduction to Pottery Class, a Teen Wheel Throwing Class, a monthly Children's Class, and two hour Corks and Clay Workshops specializing in creating hand built projects.  The Ceramic Arts Center brings together area potters of all skill levels and ages with classes, pottery sales, and members have 24/7 access to the wheels and kiln.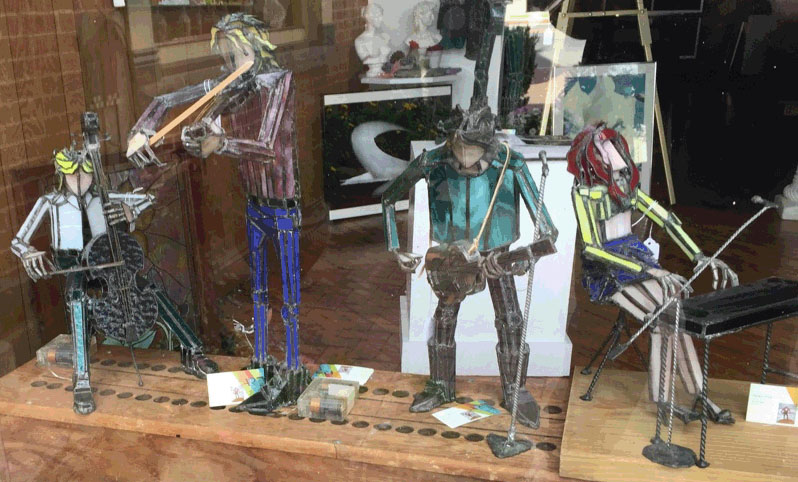 At the  Contemporary School of the Arts and Gallery stained glass artist George V. Grillo, is having his first solo exhibit. The Contemporary School of the Arts and Gallery is located at 10 East Main Street.
Musical performances at Destination ARTS! are supported in part by the Pennsylvania Council on the Arts, a state agency funded by the Commonwealth of Pennsylvania and the National Endowment for the Arts, a federal agency.
"Destination ARTS!" currently features five galleries –
Gallery 50 (50 West Main Street)
Gallery 20 East (20 East Main Street)
42 West ARTS (42 West Main Street)
The Ceramic Arts Center of Waynesboro (13 South Church Street)
The Contemporary School of the Arts & Gallery (10 East Main Street)
Together, the galleries display oil paintings, watercolors, pottery, fiber arts, sculpture, photographs, furniture, prints and much more. They are open each week as follows:
Thursdays from 1:00 to 4:00
Fridays from 5:00 to 8:00 p.m.
Saturdays from 12:00 to 6:00 p.m.
Sundays from 1:00 to 4:00 p.m.

For more information, visit artsalliancegw.org.