Destination ARTS! activities continue in Waynesboro, PA with art exhibits, special events, and live music scheduled at Gallery 50,  42 West ARTS Co-Op, the Ceramic Arts Center of Waynesboro, the Contemporary School of the Arts & Gallery, and outside on Waynesboro's Center Square. (Gallery 20 East will be closed for this one weekend and will reopen October 16 to 18 with a special Science Fair Project exhibit.)  All performances and events are free unless otherwise indicated.
Friday, October 16
Gallery 20 East is planning a very special weekend!  Waynesboro Area School District Science Students will present award winning Science Fair Projects for three days only, Friday, Saturday, and Sunday, open regular gallery hours!  The students presenting their projects were all finalists from the 2015 Franklin Science Fair.  These students won first place in their category at the county level and are eligible to participate in the Capital Area Science Fair.  At the Capital Area Science Fair students are eligible to compete for many more awards.  Also, if they are finalists in the Capital Area Science fair they will be able to go to the INTEL International Science fair in Phoenix, Arizona.  Students participating include: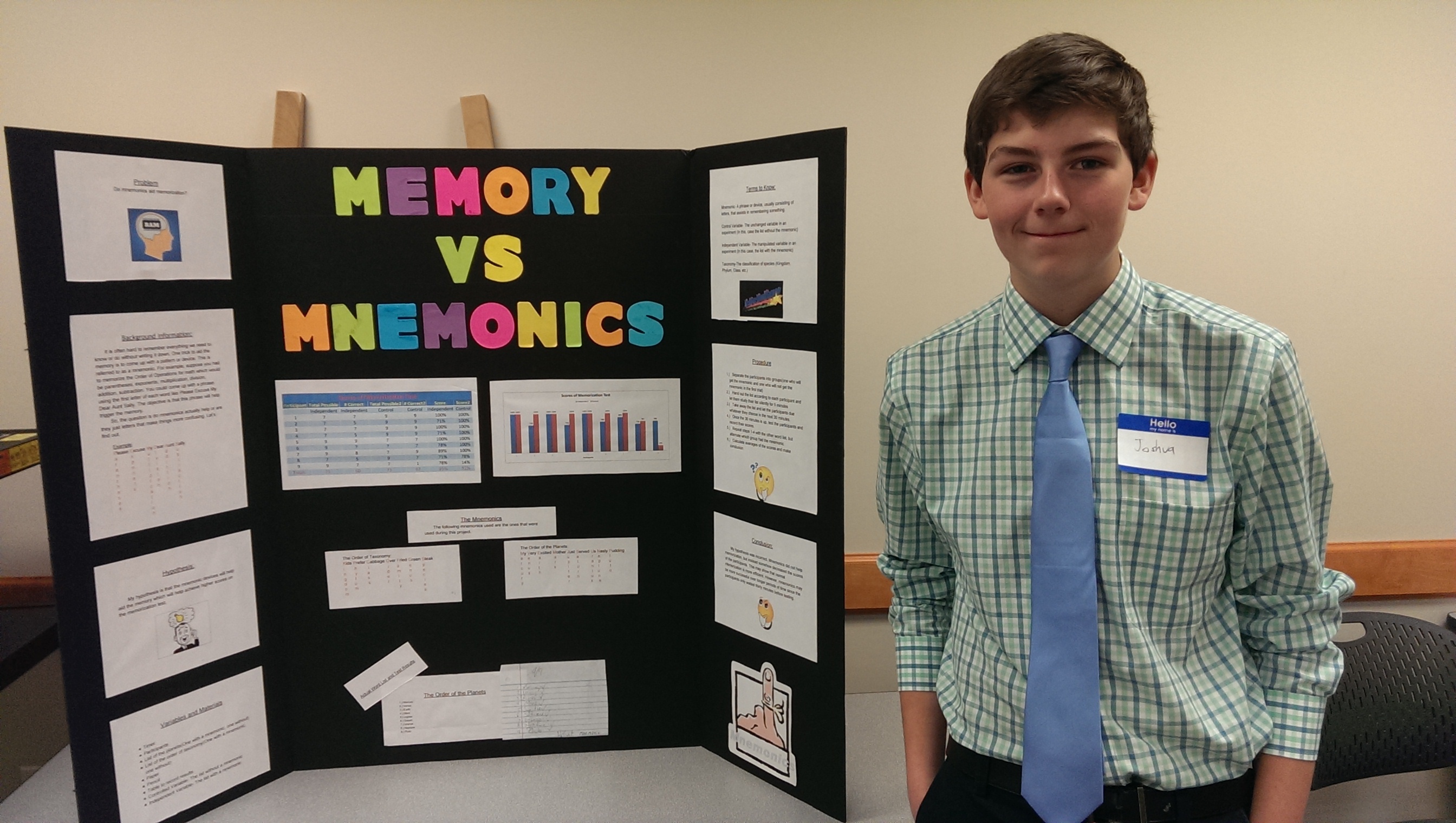 Joshua McCleaf – 8th grade Waynesboro Area Middle School
– project on memory versus mnemonics
Samantha Mills- 10th grade James Buchanan High School
– project on germ invasion

Noah Witney- 10th grade Waynesboro Area Senior High School
– project on effect of temperature on fingerprint quality
Ally Cason- 10th grade – Franklin County Career Magnet School
– project on conservative concrete
Thatcher Stevens- 11th grade –  James Buchanan Senior High School
– Investigating if the direction in which an object is created on a 3-D printer affects constitution

Rebekeh Cordell- 9th grade Waynesboro Area Senior High School
– What melts ice faster?
Chase Murray– 10th grade Chambersburg  Area Senior High School- sloped friction
In addition to the award-winning science fair presentations, the weekend exhibit will include:
A display  for the GLOBE citizen science project.  (The high school has won national and international recognition for its participation in the GLOBE program)
https://www.globe.gov
A display for the Appalachian Trail phenology program through Nature's Notebook.  (It tracks the changes in plants and animals throughout seasonal changes.)
https://www.usanpn.org/appalachian/home
3D Printing exhibits and displays courtesy of Penn State Mont Alto
Astronomy photographs and displays courtesy of Andy Smetzer and the Tri-State Astronomers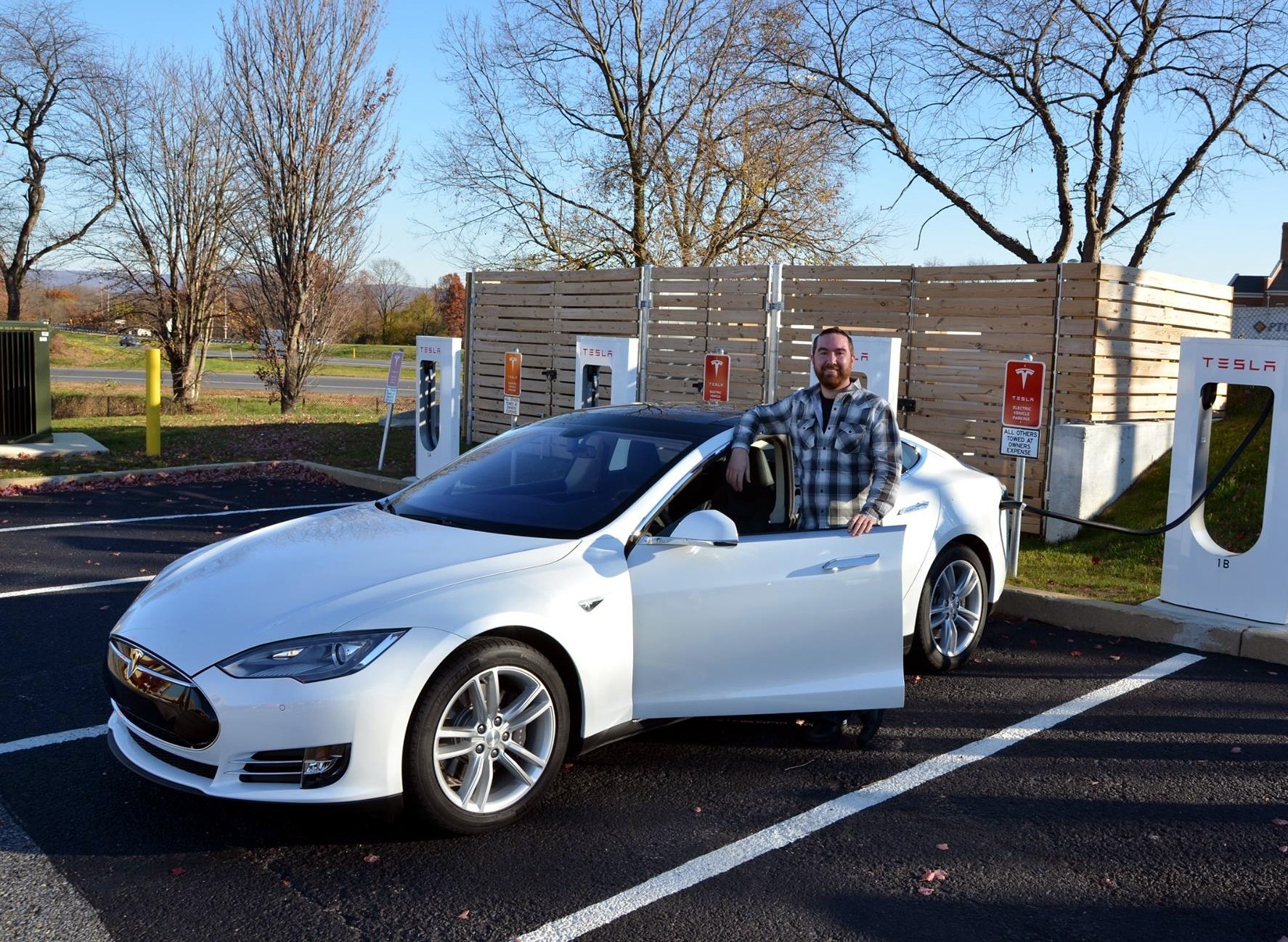 On Friday night, as an added bonus, Mike Cermack will be bringing his Tesla electric car and have it on display outside of the gallery, along with information about this technology.
The Science Fair exhibit at Gallery 20 East, 20 E. Main Street, Waynesboro, PA, is part of Destination ARTS!, an initiave of the Arts Alliance of Greater Waynesboro.  It will be open October 16, 17 and 18.
Wine Down Friday activities and receptions are planned at Gallery 50 (50 W. Main St.), 42 West ARTS Co-Op (42 W. Main St.), and the Ceramic Arts Center of Waynesboro (13 S. Church St.) between 5:00 and 8:00 pm.
Tresa Paul will be performing at Gallery 50 from 5:30 pm to 8:00 PM.  She has performed in multi-genres including classic rock, blues, soul, rhythm and blues, hippie-funk, folk, and sang back-up for an Elvis tribute show for some years! You will hear influences from all these genres in her performances.  Her recently released CD called "Old Soul" features a collection of standards and her repertoire of popular songs from the 1930s to the 1970s.

Patric Schlee will be creating original improvisational music on guitar, didgeridoo, flute and drums at 42 West ARTS Co-Op.  The public is invited to join in.
Saturday, October 17
Ed Beard will be demonstrating Wood Burning Techniques to create feathers and eagles at 42 West Arts Co-Op from 12:00 PM to 3:00 PM.  Ed Beard is an Educator/Artist and woodworker for 50 years. A graduate of St Johns College and the University of Florida, he has exhibited in art shows and galleries since 1966. He is a member of the Pennsylvania Guild of Craftsmen – Cumberland Valley Chapter, the Lincoln Highway Heritage group and a member of Woodsmith's advisory board.  "I enjoy working with wood species native to Pennsylvania to create functional art showing the natural grain and finish of the wood." Ed enjoys teaching kids and resides near Greencastle, PA with wife Pat – a handweaver.
Sunday, October 18
Ongoing Shows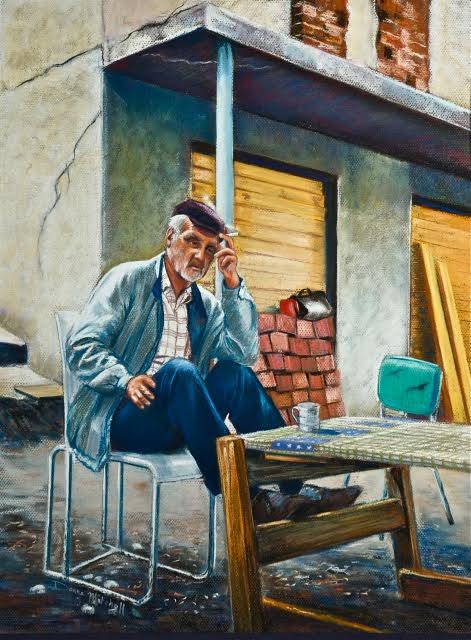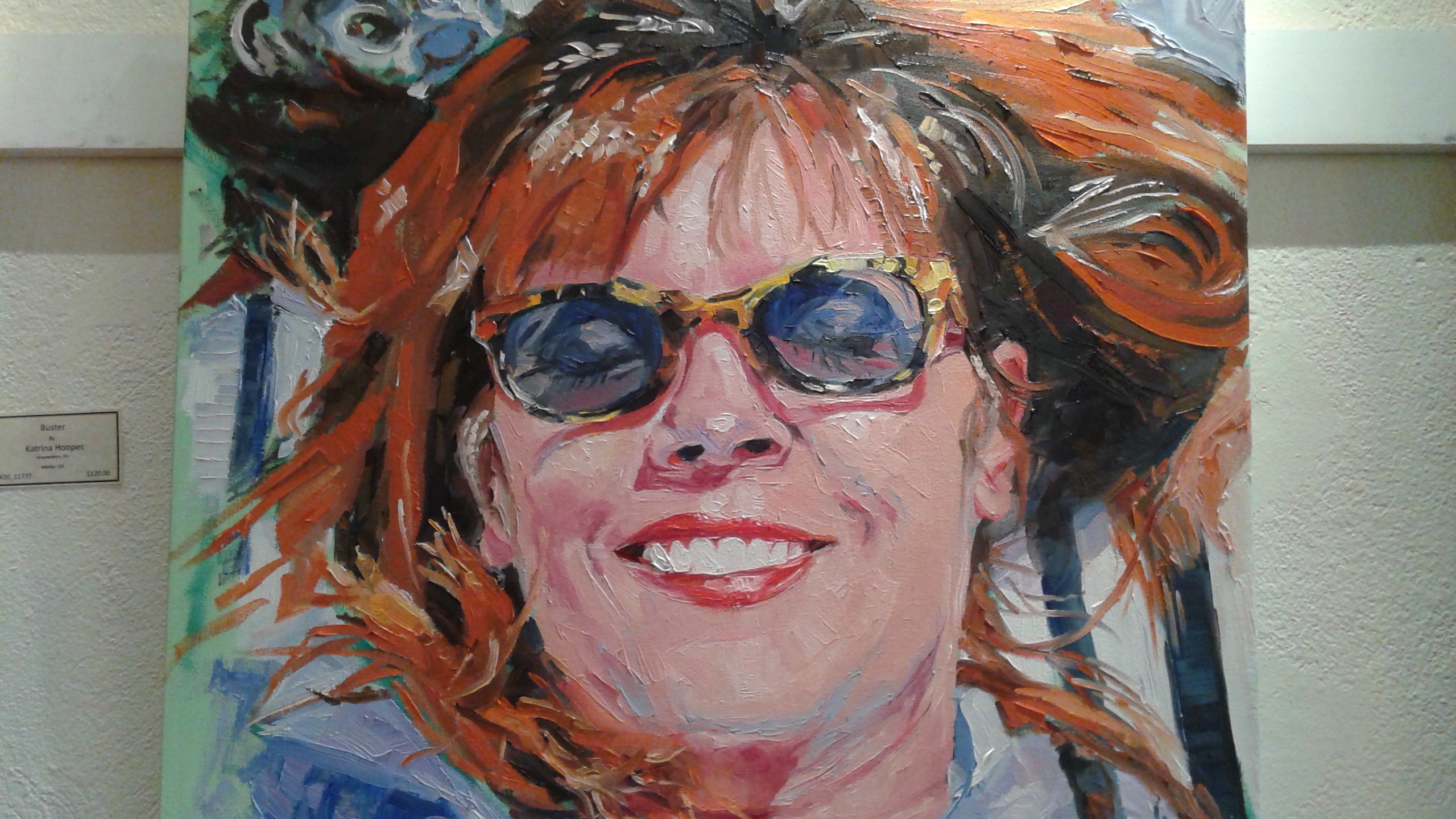 In addition to more than 800 pieces of art from some of the finest artists in the Mid-Atlantic states, Gallery 50 is currently featuring artists Katrina Hoopes and Donna Mitchell in a show called "2 Women, 2 Points of View". Katrina Hoopes, an impressionist oil painter, uses bold strokes in both large and small formats.  Donna Mitchell, a traditional realist, works in pastel using brilliant colors and interesting subjects in her compositions.
The members of the 42 West Arts Co-Op is continuing to spotlight a new show called "Forever Flowers" from 12:00 to 6:00. This show includes Donna Bingaman oil painting,  Lori Linthicum creative pottery, Tom McFarland painting, Denny Bingaman photography, Rod & Karri Benedict pottery, Ed Beard wood burning, Hollis Mentzer nature printing, Andy Smetzer photographer, and Jennifer Caldwell silver jewelry.

The Ceramic Arts Center of Waynesboro  hosts pottery classes and workshops including an introduction to Pottery Class, a Teen Wheel Throwing Class, a monthly Children's Class, and two hour Corks and Clay Workshops specializing in creating hand built projects.  The Ceramic Arts Center brings together area potters of all skill levels and ages with classes, pottery sales, and members have 24/7 access to the wheels and kiln.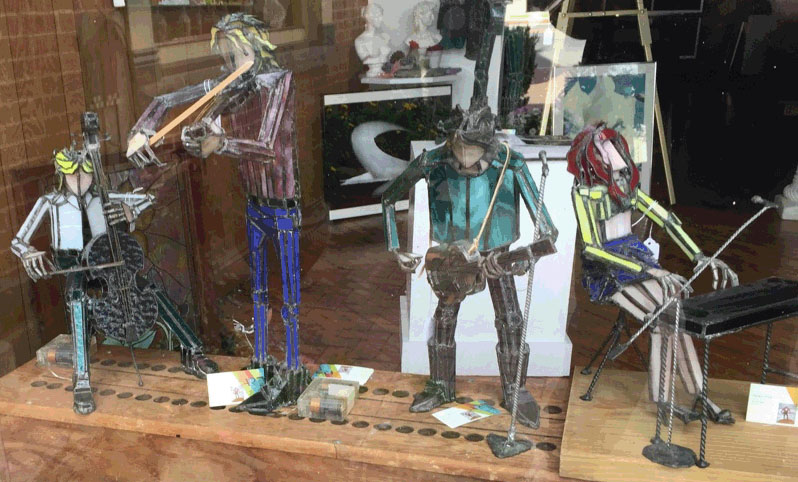 At the  Contemporary School of the Arts and Gallery stained glass artist George V. Grillo is having his first solo exhibit. The Contemporary School of the Arts and Gallery is located at 10 East Main Street.
Award-winning Science Fair Projects will be displayed at Gallery 20 East for this final day.  See information above for details.
Musical performances at Destination ARTS! are supported in part by the Pennsylvania Council on the Arts, a state agency funded by the Commonwealth of Pennsylvania and the National Endowment for the Arts, a federal agency.
Destination ARTS! currently includes:
Gallery 50 (50 West Main Street)
42 West ARTS (42 West Main Street)
Gallery 20 East (20 East Main Street)
The Contemporary School of the Arts & Gallery (10 East Main Street)
The Ceramic Arts Center of Waynesboro (13 South Church Street).
The galleries feature oil paintings, watercolors, pottery, sculptures, jewelry, photographs, furniture, and more. Most art is available for sale and  there is no charge for admission to the galleries.  This weekend, they will be open on:
Thursday from 1:00 to 4:00 p.m (select galleries only)
Friday from 5:00 to 8:00 p.m.
Saturday from 12:00 to 6:00 p.m.
Sunday from 1:00 to 4:00 p.m.
For more information visit www.artsalliancegw.org or call 717-655-2915.