Destination ARTS! activities continue in Waynesboro, PA with art exhibits, special events, and live music scheduled at Gallery 50,  42 West ARTS Co-Op, the Ceramic Arts Center of Waynesboro, and the Contemporary School of the Arts & Gallery.  All performances and events are free unless otherwise indicated.
Thursday, November 19
Gallery 50 and 42 West ARTS Co-op are open from 1:00 pm to 4:00 pm
Friday, November 20

Wine Down Friday activities and receptions are planned at Gallery 50 (50 W. Main St.), 42 West ARTS Co-Op (42 W. Main St.), and the Ceramic Arts Center of Waynesboro (13 S. Church St.) between 5:00 and 8:00 pm.
There will be a special Opening Reception in Gallery 50 from 5:00 pm to 8:00 pm to celebrate the launch of three new shows celebrating the Holiday/Winter season. Over 80 new pieces of art are being featured.  The west window gallery theme is "Winter White", and the east window gallery will present "It's a Wonderful Still Life".  The main gallery will showcase "Fins, Feathers and Fur," featuring artist, Carol Wilks and her animal paintings rendered in pastel.  Several artists will be in the gallery and available to discuss their work.
From 5:30 pm to 8:00 pm, Sharon Rost will play piano, performing  standards, showtunes, and well known popular music.

Patric Schlee will be creating original improvisational music on guitar, didgeridoo, flute and drums at 42 West ARTS Co-Op.  The public is invited to join in.
Saturday, November 21
Laura Shindle will demonstrating the structured patterns of Zentangle art from 1:00 to – 3pm at 42 West ARTS Co-Op.  Laura Lewis Shindle was born and raised in Hagerstown, MD. She studied art at the Ringling School of Art in Sarasota, FL.  Her work consists of watercolors, oils, pen and ink, printmaking and more. Laura's studio is in the Greencastle area where she teaches and does commission work.
Donna Bingaman will be demonstrating painting a portrait in oil at 42 West ARTS from 12:00 pm to 2:00 pm.  A native of Waynesboro, PA, she is an impressionist, realist, and a blender of originality and tradition, winning many best of shows and numerous other awards for her portraits and other subjects from flowers to genre, including sculptures in bronze.  As a child Donna was fascinated by faces and started sketching from life at an early age.  At the age of 16 she started to paint pastel portraits of her neighbors and family.  For many years she painted pastel portraits by commissions.  She discovered oil paint and it has been her favorite medium for portraits & commissions ever since.  Donna is a graduate of the Washington School of Art and has studied with several regionally and nationally artists.  She enjoys painting people and strives to capture the unique personality of each.  Donna's portraits have been exhibited at the Cumberland Valley and the Valley Art Show held at the Hagerstown Fine Art Museum, and she has been selected to have a one-woman show of her portraits at the Washington County Museum of Fine Arts.
Souls Fire, a Christian contemporary rock band, will perform at the Contemporary School of the Arts and Gallery from 4:00 pm to 6:00 pm.
Sunday, November 22

Galleries open 1:00 pm to 4:00 pm
Ongoing Shows
The members of the 42 West Arts Co-Op is continuing to spotlight a new show called "Forever Flowers" from 12:00 to 6:00. This show includes Donna Bingaman oil painting,  Lori Linthicum creative pottery, Tom McFarland painting, Denny Bingaman photography, Rod & Karri Benedict pottery, Ed Beard wood burning, Hollis Mentzer nature printing, Andy Smetzer photographer, and Jennifer Caldwell silver jewelry.

The Ceramic Arts Center of Waynesboro  hosts pottery classes and workshops including an introduction to Pottery Class, a Teen Wheel Throwing Class, a monthly Children's Class, and two hour Corks and Clay Workshops specializing in creating hand built projects.  The Ceramic Arts Center brings together area potters of all skill levels and ages with classes, pottery sales, and members have 24/7 access to the wheels and kiln.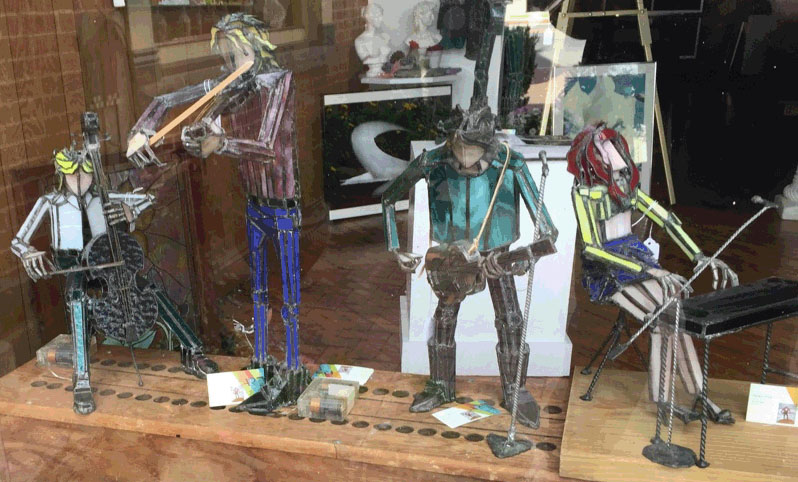 At the  Contemporary School of the Arts and Gallery stained glass artist George V. Grillo is having his first solo exhibit. The Contemporary School of the Arts and Gallery is located at 10 East Main Street.
Musical performances at Destination ARTS! are supported in part by the Pennsylvania Council on the Arts, a state agency funded by the Commonwealth of Pennsylvania and the National Endowment for the Arts, a federal agency.
Destination ARTS! currently includes:
Gallery 50 (50 West Main Street)
42 West ARTS (42 West Main Street)
Gallery 20 East (20 East Main Street)
The Contemporary School of the Arts & Gallery (10 East Main Street)
The Ceramic Arts Center of Waynesboro (13 South Church Street).
The galleries feature oil paintings, watercolors, pottery, sculptures, jewelry, photographs, furniture, and more. Most art is available for sale and  there is no charge for admission to the galleries.  This weekend, they will be open on:
Thursday from 1:00 to 4:00 p.m (Gallery 50 and 42 West Arts Co-Op)
Friday from 5:00 to 8:00 p.m.
Saturday from 12:00 to 6:00 p.m.
Sunday from 1:00 to 4:00 p.m.
For more information visit www.artsalliancegw.org or call 717-655-2915.