Destination ARTS! activities continue in Waynesboro, PA with art exhibits, special events, and live music scheduled at Gallery 50,  42 West ARTS Co-Op, the Ceramic Arts Center of Waynesboro, and the Contemporary School of the Arts & Gallery.  All performances and events are free unless otherwise indicated.   (42 West ARTS Co-op is open extended holiday hours.  Details below.)
Thursday, November 26

Galleries are closed for Thanksgiving!
Friday, November 27
Wine Down Friday activities and receptions are planned at Gallery 50 (50 W. Main St.), 42 West ARTS Co-Op (42 W. Main St.), and the Ceramic Arts Center of Waynesboro (13 S. Church St.) between 5:00 and 8:00 pm.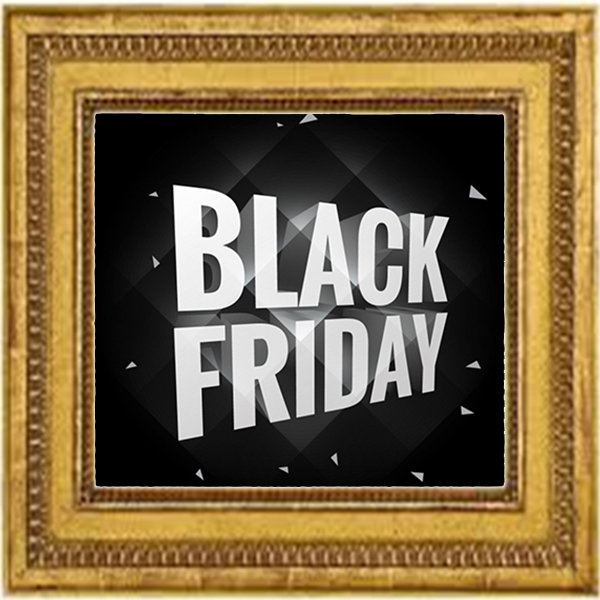 SPECIAL BLACK FRIDAY EVENT!  From 5:00 pm to 8:00 pm, an unprecedented sale at Gallery 50 — take 15% off of any items valued at $100 or more!  This is the first time we have ever discounted art and it may not be repeated.  Please come by and take advantage of this very special offer!  No limit on the number of pieces you may purchase, but each item must be independently valued at least $100.  The higher priced the artwork, the greater the savings!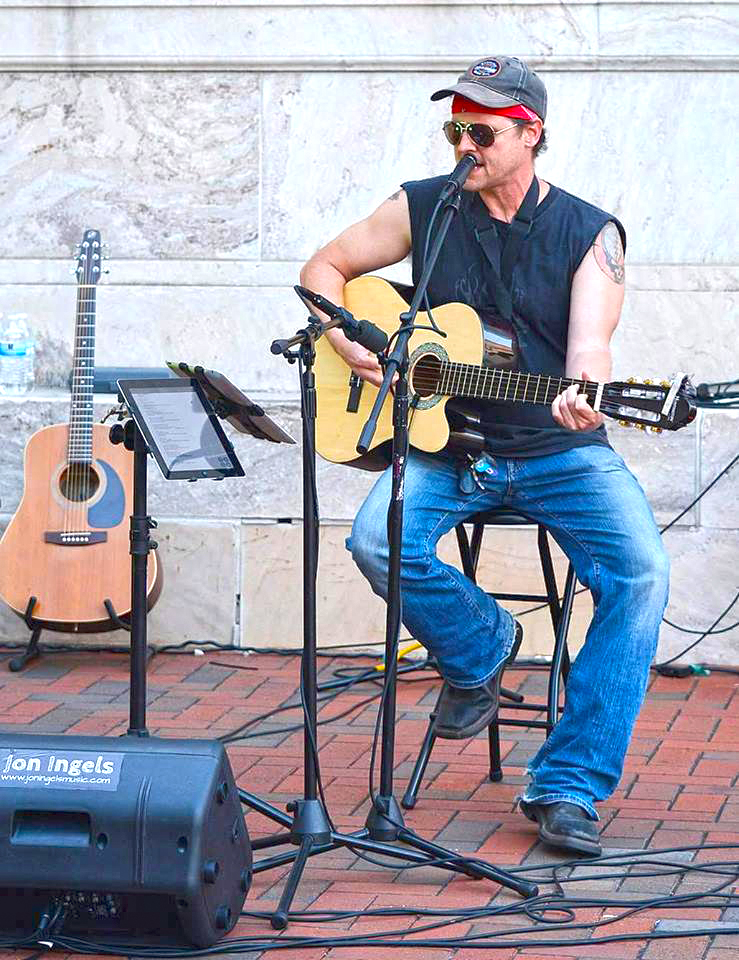 Singer-songwriter Brad Munn will bring his guitar and fiddle to Gallery 50 from 5:30 to 8:00 pm.    A member of the Lowdown Grasskickers and formerly with the Boro Boogie Pickers, Brad will perform a mix of bluegrass, country, classic rock, and original songs.

Patric Schlee will be creating original improvisational music on guitar, didgeridoo, flute and drums at 42 West ARTS Co-Op.  The public is invited to join in.
Saturday, November 28
Art Demonstration Saturday!
Donna Bingaman will be demonstrating painting a portrait in oil at 42 West ARTS from 12:00 pm to 2:00 pm.  A native of Waynesboro, PA, she is an impressionist, realist, and a blender of originality and tradition, winning many best of shows and numerous other awards for her portraits and other subjects from flowers to genre, including sculptures in bronze.  As a child Donna was fascinated by faces and started sketching from life at an early age.  At the age of 16 she started to paint pastel portraits of her neighbors and family.  For many years she painted pastel portraits by commissions.  She discovered oil paint and it has been her favorite medium for portraits & commissions ever since.  Donna is a graduate of the Washington School of Art and has studied with several regionally and nationally artists.  She enjoys painting people and strives to capture the unique personality of each.  Donna's portraits have been exhibited at the Cumberland Valley and the Valley Art Show held at the Hagerstown Fine Art Museum, and she has been selected to have a one-woman show of her portraits at the Washington County Museum of Fine Arts.
Denny Bingaman will present a slide show from 1:00 pm  – 3:00 pm of many of his nature and wildlife photographs taken over the past 25 years.  The slide show will have music in the background with smooth transitions between each slide.   Denny is a native of Waynesboro, PA, who photographs birds and wildlife in the local area as well as other parts of the country. He started into photographing wildlife about 30 years ago, and has filed some 65,000 images of birds and other animals.
Sunday, November 29
Galleries open 1:00 pm to 4:00 pm
Wednesday, December 2
The Writers Group – a part of the Arts Alliance of Greater Waynesboro, will hold its monthly meeting at Gallery 20 East,  20 Main Street, Waynesboro, from 5:00 pm to 7:00 pm.  The theme for the December meeting will be "The Gifts That Keep on Giving" . After the initial 'round and round' as members read  their contributions, they will then read any subject they're currently working on – be it prose, poetry, memoirs or story-telling. Interested writers are invited to join the group. . Inquiries may be directed to Jerry Kowallis at 352-8059 or email: gk684@netscape.net.


Ongoing Shows
The members of the 42 West Arts Co-Op is continuing to spotlight a new show called "Forever Flowers" from 12:00 to 6:00. This show includes Donna Bingaman oil painting,  Lori Linthicum creative pottery, Tom McFarland painting, Denny Bingaman photography, Rod & Karri Benedict pottery, Ed Beard wood burning, Hollis Mentzer nature printing, Andy Smetzer photographer, and Jennifer Caldwell silver jewelry.  Details at http://42westarts.com

The Ceramic Arts Center of Waynesboro  hosts pottery classes and workshops including an introduction to Pottery Class, a Teen Wheel Throwing Class, a monthly Children's Class, and two hour Corks and Clay Workshops specializing in creating hand built projects.  The Ceramic Arts Center brings together area potters of all skill levels and ages with classes, pottery sales, and members have 24/7 access to the wheels and kiln.   Details about upcoming classes and special events at http://www.ceramics-nccs.org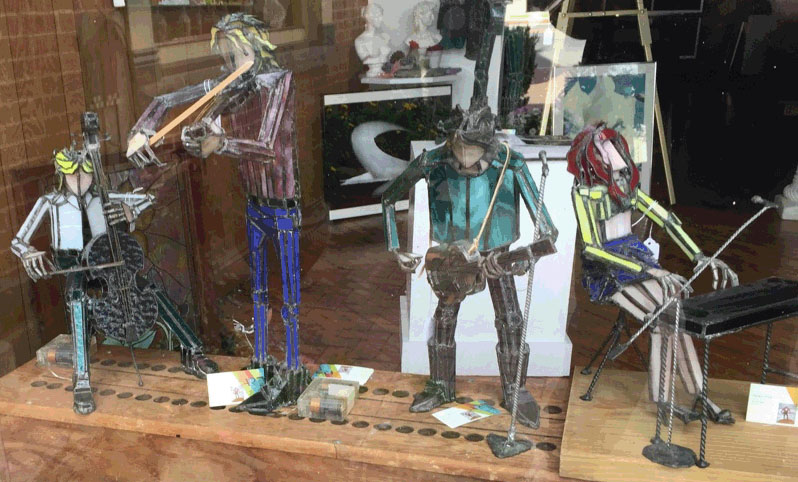 At the  Contemporary School of the Arts and Gallery stained glass artist George V. Grillo is having his first solo exhibit. The Contemporary School of the Arts and Gallery is located at 10 East Main Street.
Musical performances at Destination ARTS! are supported in part by the Pennsylvania Council on the Arts, a state agency funded by the Commonwealth of Pennsylvania and the National Endowment for the Arts, a federal agency.
Destination ARTS! currently includes:
Gallery 50 (50 West Main Street)
42 West ARTS (42 West Main Street)
Gallery 20 East (20 East Main Street)
The Contemporary School of the Arts & Gallery (10 East Main Street)
The Ceramic Arts Center of Waynesboro (13 South Church Street).
The galleries feature oil paintings, watercolors, pottery, sculptures, jewelry, photographs, furniture, and more. Most art is available for sale and  there is no charge for admission to the galleries.  This weekend, they will be open on:
Thursday – Galleries Closed for Thanksgiving
Friday from 5:00 to 8:00 p.m.  (42 West ARTS open 4:30 to 8:30 pm)
Saturday from 12:00 to 6:00 p.m. (42 West ARTS open 10 am to 6 pm)
Sunday from 1:00 to 4:00 p.m.
For more information visit www.artsalliancegw.org or call 717-655-2915.